Bara Mangwa Kalimpong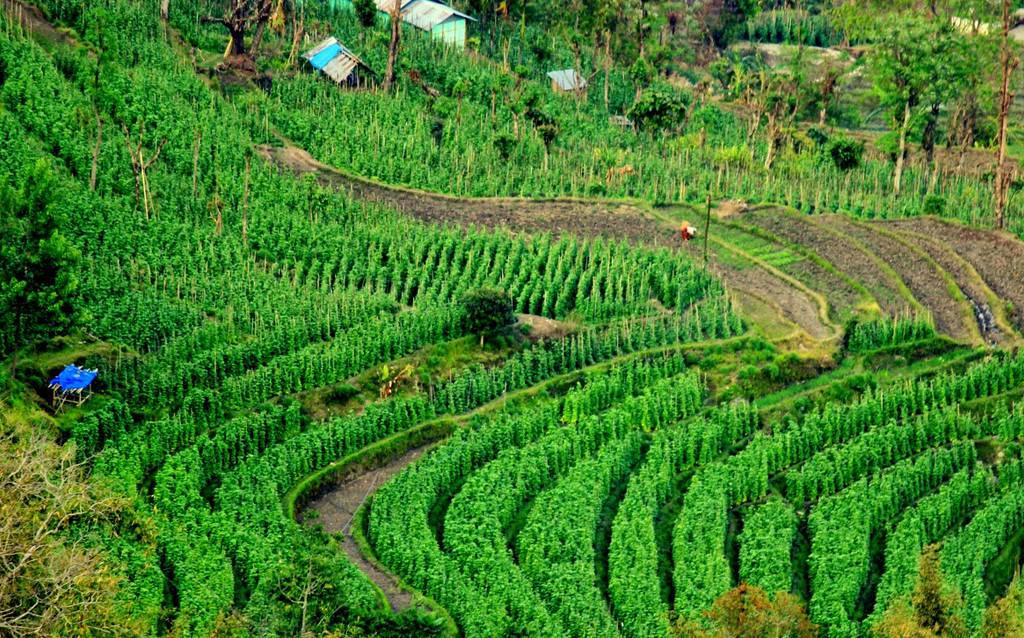 Located in the Darjeeling district, towards the western side of the Kalimpong Hills, in the Teesta Valley, the Bara Mangwa village is home to few terraced farms, local huts and too many orange orchards.

A virgin tourist's eco-friendly destination with tea Gardens, Orange Orchard, Teesta River and majestic Mt. Kanchenjunga making it the most promising and beautiful eco-tourism destination in Darjeeling. Exclusive remote retreats, with panoramic Himalayan views that will make your soul soar.
What makes Bara Mangwa a perfect Tourist Destination?
Bara Mangwa is a fascinating settlement in the Darjeeling district of West Bengal. Here you can spend a couple of spectacular days walking through the lush terraced fields, remote villages and pine and rhododendron forests and orange orchards in this un-spoilt region of Darjeeling hills. Bada Mangwa is a perfect place for adventure seekers and nature lovers.
What to See in and around Bara Mangwa?
There are many places around Bara Mangwa village where you can visit. Kalimpong is one such place which is located some 21 kilometres from Bara Mangwa. Cactus Nursery, Deolo Hill, Morgan House are the places to explore here.

Then there is Lava, which is located some 46 kilometres and is famous for being the entry point to the Neora Valley National Park. Darjeeling, the Queen of the Himalayas is also located close to Bara Mangwa, some 40 kilometres.

Other nearby places of attraction includes ChotaMangwa (1 km), Tinchuley Sunrise Point (9 km), Peshok and Lopchu Tea Garden (15 km), Tista and Rangit View Point (12 km), Teesta and Rangit Confluence (8 km), Mongpoo (20 km.), Delo Hill Top (33 km.), Loleygaon (68 km.), Pedong (35 km) and Gangtok located some 70 kilometers away.
Activities and Things to Do
Apart from the scenic beauty, Bada Mangwa is also a haven for all adventure seekers. Trekking and rock climbing are abundant and so is river rafting in the waters of Teesta if you want to do fishing, it is equally enjoyable in the waters of Teesta.

There is a Yoga and Martial Art Centre where you can learn some martial art techniques as well. The village of Bara Mangwa promotes local sports which are quite exciting activities to take part in.
How to Reach Bara Mangwa?
A convenient way to reach Bara Mangwa is to by road. Cars are available to hire from NJP or Bagdogra, the two nearest stations and airport. The distance from NJP to Bara Mangwa is about 60 km, whereas Bagdogra to Bara Mangwa is 65 km.
What is the idle Time to visit Bara Mangwa?
This scenic town can be explored at any season of the year. But the most suitable time to visit is during the winter season. During winter, the orange garden is full of oranges. The sky becomes transparent and you will get a mesmerizing view of the hill in the backdrop.
Where to Stay in Bara Mangwa?
Many homestays and resorts are available to stay at Bara Mangwa. The service of this homestays are top-notch and equipped with all kind of modern facilities. With North Bengal Tourism's entire Kalimpong Tour Packages, you can quite conveniently make a tour Plan including accommodation, meals and cars.
Conclusion
Bara Mangwa is a tiny village that gives you the opportunity of experiencing life in its simplest forms in a little and forgotten corner of the Himalayas. From lush orange gardens to roaring Teesta River Bada Mangwa is the perfect getaway destination for all the people who wants a break from their busy city life.
Places to visit in Darjeeling