BATASIA LOOP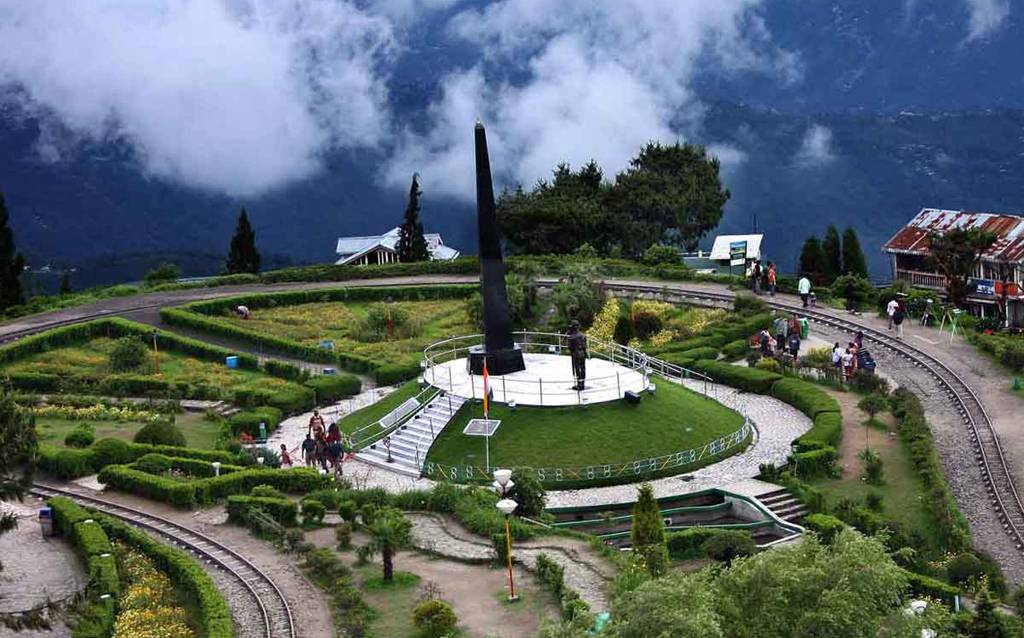 The Batasia loop situated almost 5 km away from the town is a gigantic railway loop where the Toy Train makes a 360 Degree turn. Located on a hill top, this is a garden like place through which the toy train passes in a loop-like pattern. This loop like structure plays a perfect host to the famous toy train in Darjeeling. From the Batasia Loop one can get a panoramic view of Darjeeling town with the Kanchenjunga and other snowy mountains in the back - drop. A beautiful garden has been laid for the visitors to spend time in the area. At the centre of the Batasia Loop is the War Memorial. This was opened in 1995 to commemorate the Gorkha soldiers of the Darjeeling Hills who sacrificed their lives in various wars after India's independence.
A war memorial within the loop has a 3 meter high bronze statue of a Gorkha soldier. From the Batasia Loop you can get a spectacular view of Darjeeling town with the Kanchenjunga and other snowy mountains in the back-drop. Batastia means airy space or open area. As you stand on one side of the garden and see the toy train making a complete loop while hooting its whistle along the way and trying to negotiate the spiral track with a double loop, it's a fabulous experience. There are seating areas as well to enjoy the views. The entire area along with the gardens and an approach bridge that leads to the garden is about 50,000 square feet. It has been covered with grass and beautified with both seasonal and perennial flowers and shrubs. There is also a well furbished market where visitors can buy locally made purses, bags and other decorative items. Batasia Loop is a must visit place while you are planning a trip to Darjeeling.
How to reach Batasia Loop
Batasia Loop is located at a distance of 72km from NJP which is well connected with the other parts of India. From NJP one can hire local taxis to reach upto Batasia Loop. Bagdogra Airport is the nearest airport of Batasia Loop. One can also get hired taxis from Bagdogra to reach Batasia Loop.
Places to visit in Darjeeling