BINDU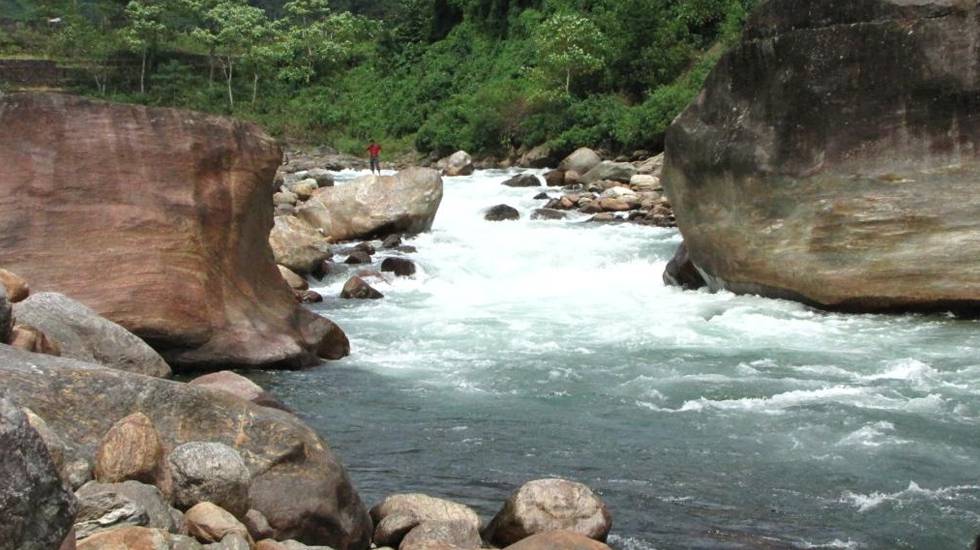 Bindu located 57km from Chalsa is a quaint village in Dooars. At an altitude of 600m or about 2000 feet, on the India-Bhutan border, Bindu is one of the famous offbeat destinations of Dooars. This quaint hamlet of Bindu is famous for its cardamom plantation in North Bengal and Dooars region. Situated on the Jhalong Bindu Road, Bindu is also the last village of West Bengal region.
What to do in Bindu, Dooars
Bindu is the location of Jaldhaka Dam, one of the oldest Hydro-electric projects between India and Bhutan. Tourists are not allowed to visit the Dam site of Bindu, but they can see it from a distance. During winter season the dam in Bindu attracts migratory water fowls from Central Asia and Ladakh. With Gorumara National Park rising as an important tourist hub of Dooars, Bindu has also become part of a day tour plan for visitors to Gorumara.
From Bindu one can visit places like Dhuley Forest and Dalgaon village. Another famous place to visit in Bindu is the Godak valley. Visitors need to cross the Orange Orchard and Cardamom plantation and along with Cardamom Curing Center to reach Godak Valley.
Located 27 kilometers from Bindu is Tshi Sang from an upcoming tourist destination and many people are travelling to the place to witness its scenic beauty. From Tshi Sang one can trek for an hour to spot Red Panda and Deer herd. The road leading to the village from Bindu is covered by tea plantations on all sides and the drive itself is an exhilarating experience. There is a conjunction of three streams at Bindu which has captivated the minds of many travelers. The three streams are Bindu Khola, Dudh Pokhri and Jaldhaka that originates from the Kupup Lake of Sikkim.
Where to Stay in Bindu
Although Bindu has caught the attention of many visitors but still being an offbeat destination of Dooars there are no fancy hotels in Bindu. Instead, visitors will find cozy homestays in Bindu. But tourists can opt to stay in the nearby places like Jhalong and Jaldhaka. These are other favored tourist places of Dooars and North Bengal.
How To Reach Bindu
Bindu located at a distance of 106km from Siliguri can be easily approached through roadway in buses and private cars. Bindu is the last village of Indian nation, close to the India-Bhutan border. You can even wish to make an onward journey to Bhutan which is undoubtedly beautiful and thoroughly picturesque. The roads passing through lush tea estates and other small calm villages along the way, gifts a memorable journey in Bindu.
Best time to visit Bindu
Being located at an elevation of 2000ft Bindu is blessed with temperate weather and except for monsoon season Bindu can be visited throughout the year. Bindu is one of the few places in Dooars which can be visited throughout the year. Winters are known to be the best time to visit Bindu. Since, during this time of the year, visitors can spot the migratory water fowls in Bindu.
Places to visit in Dooars