Bodaganj Bhramari Devi Temple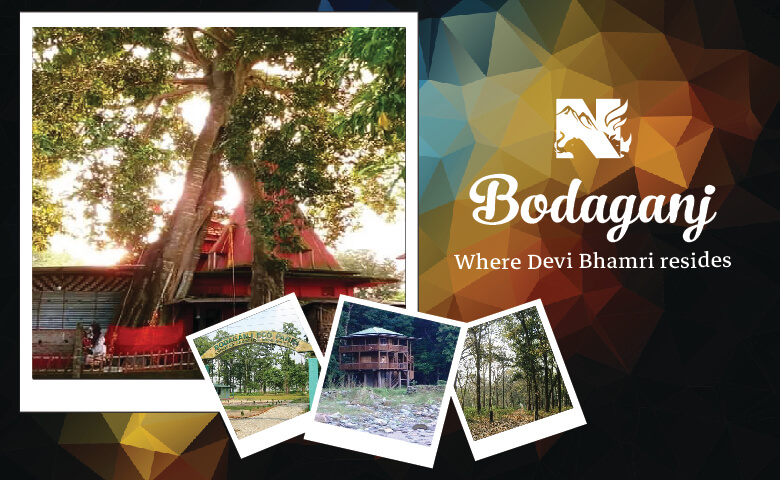 Nestled beside the green lush Baikunthapur Forest, Bodaganj is a small village popular for Bhramari Devi Temple. Just about 40 km distance away from the main town of Siliguri, Bodaganj holds a past with rich historical significance. According to the ancient legend, Decoit Queen Devi Choudhurani and her master Bhabani Pathak ruled the area and surrounding forest. Apart from its past full of history, there are some of the attractions in and around the village which make it a worth visiting tourist destination.
Attractions in and around Bodaganj
Bhramari Devi Temple dedicated to Goddess Sati is one of the major attractions of Bodaganj. It is one of the 51 piths of the Shakti Sect and being so, it is considered to be one of the holiest sites among the Hindus. According to Hindu Mythology, the leg of Devi Sati has fallen at this very site neat Teesta river.
Because of its unique location near the Teesta River, the temple is also called Tristrota Shakti Peeth. Thousands of devotees visit this Bodaganj Bhramari Devi Temple every year to worship the goddess and seek blessings from her.
Apart from this beautiful temple of Bhramari Devi, there is a huge statue of Lord Shiva at the entrance of the mandir. There is also a pond near the temple and the surrounding forested area looks truly captivating.
Just about 31 km distance away from Bodaganj, Teesta Barrage is a popular tourist site nearby. This Barrage attracts countless migratory birds coming from Central Asia and Ladakh. The place is truly the avid bird watcher's paradise.
The mythical Baikunthapur Forest is also quite adjacent to the village. The green lush vegetation and the complete serenity of nature here will make you spellbound for sure. Shikarpur Tea Garden is another tourist attraction near to this village. The great view of the vast stretch of Tea Gardens, Bodagonj Forest Bungalow makes this tea estate worth visiting.
How to Reach Bodaganj Bhramari Devi Temple
By Air: Bhramari Devi Temple is around 47 km distance away from Bagdogra Airport. This popular airport is connected with most of the major airports in India. From the airport, taxis are available to reach the village.
By Road: Jalpaiguri Bus Stand is just a 20 km distance away from the temple. Maynaguri is around 32km distance away whereas Siliguri is about 38 km distance away from the temple. Cars and even buses are available from these places.
By Train: The temple is a 20 km distance away from Jalpaiguri Railway Station and 31 km away from New Jalpaiguri Junction respectively. Board a train to any of these railway stations and from these railway stations, cab or taxis are available to hire.
Places to visit in Dooars