Car Rental Service in Siliguri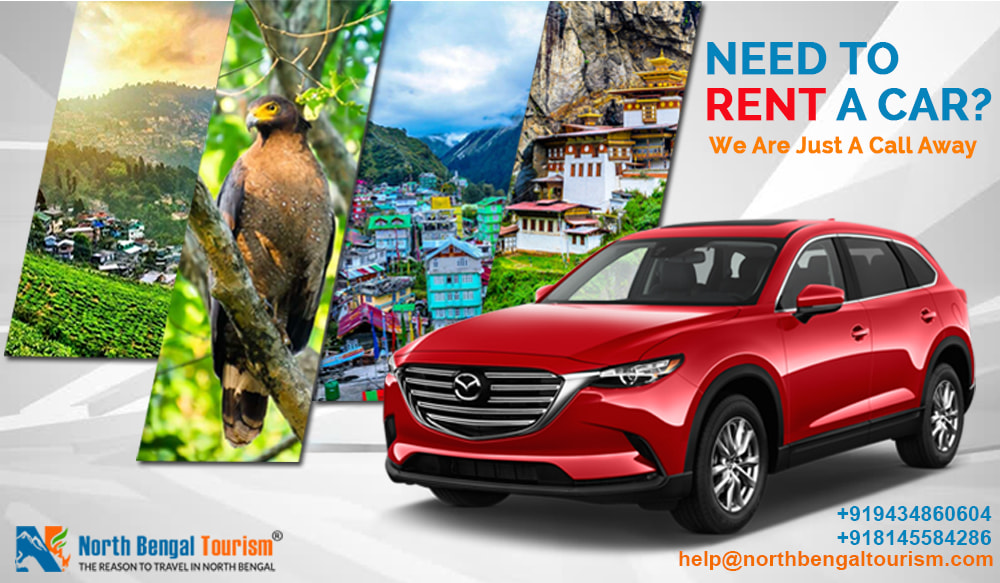 Are you tired of searching for a comprehensive car rental service provider in Siliguri which provides a hassle-free car renting? You will be glad to know that North Bengal Tourism is one such car rental service provider in Siliguri that not just provides a wide range of cars with a convenient booking facility but also thinks about customer's safety by always offering experienced and friendly drivers.

Whether you are traveling to Dooars, Darjeeling, Sikkim, Kalimpong or Bhutan, our ambitious venture has a complete range of travel solutions for all. From SUVs like Mahindra Scorpio (AC), Toyota Qualis (AC), Mahindra Bolero (AC), Tata Sumo (Non AC) to small cars like Tata Indica (AC) and Maruti Van (Non AC), North Bengal Tourism should be your one-stop voyaging companion as it offers wide range of cars that suits everyone's budget.

Now you can venture upon the less trodden travel destinations of Darjeeling, Dooars, Sikkim, and Kalimpong without worrying much about your safety and comfort as here at North Bengal Tourism, Customers' comfort and safety is our utmost priority.
Car Rental Service for Dooars
Snuggled in the foothills of Eastern Himalaya, Dooars is one of the very few places where nature is so green with its astounding beauty. Situated at an altitude from 90 meters to 1750 meters, Dooars region is a vast place occupying the plains of the Darjeeling District, the whole of Jalpaiguri District and the upper region of Cooch Behar District in West Bengal.

Blessed with rich flora and fauna, scenic tea gardens, dense mysterious forests, and Teesta River are some of the attractions of Dooars which are enough to lure any adventure seekers or thirsty travelers to visit this astounding pot of beauty.

With North Bengal Tourism's Dooars Car Rental Service, holidaymakers can easily travel to most of the tourist destinations of Dooars. Some of the renowned places to explore are - Gorumara National Park, Jaldapara Wildlife Sanctuary, Rocky Island, Murti, Gajoldoba, Suntalekhola, Alipurduar, Hasimara, Hollong, Madarihat, Birpara, etc.

Whether you're picking point is Jalpaiguri Town Station, New Mal Junction, New Jalpaiguri Railway Station (NJP), Bagdogra Airport or any other places, just contact us and we will pick and drop you to your desired location.
Car Rental Service for Darjeeling
Situated at an elevation of 2134 meters, Darjeeling is one of the prominent hill stations in North Bengal. Popularly known as the Queen of Hills, Darjeeling is replete with exquisite scenic beauty which lures lakhs of travelers every year towards it.

Enclosed by daunting hills and lush green tea gardens, it is one of the very few tourist destinations which never fail to mesmerize its travelers. The places like Batasis Loop, Himalayan Mountaineering Institute, Padmaja Naidu National Park, Ghoom Monastery are some of the must-visit destinations in Darjeeling.

With North Bengal Tourism's Darjeeling Cab Rental Service, you can quite conveniently explore all the tourist destinations of Darjeeling and its nearby places. Now, get rid of the hassle of hiring a car and bargaining with the drivers as here at North Bengal Tourism, we offers affordable car renting service for Darjeeling sightseeing.
Car Rental Service for Sikkim
Sikkim is a fascinating Indian State surrounded by daunting hills. The jaw-dropping view of Mount Kanchenjunga, many ancient Buddhist Monasteries and ruins of castles has enthralled the minds of many travelers.

Due to its Serene Ambiance and scenically blessed places, Sikkim has become one of the favored Holiday and Honeymoon destinations in the entire North East India. Explore the entire Sikkim by renting a car from North Bengal Tourism and see most of the tourist attractions such as Gurudongmar Lake, Lachung, Gangtok, Pelling, Yumthang Valley, Ravangla, Namchi, Silk Route, Dzuluk, etc without the hassle of changing cars all the time.
Car Rental Service for Kalimpong
Kalimpong is a tiny Hill Station in the Kalimpong district of West Bengal. Dotted with scenic views, breathtaking mountains and mesmerizing places, Kalimpong is one of the favored tourist destinations in North Bengal.

Explore all the prominent sightseeing places of Kalimpong by hiring a cab or taxi from North Bengal Tourism. Have a hassle-free journey with your loved ones while visiting tourist places like Durpin Monastery, Kalimpong Science Centre, Graham's Home, Deolo Park, etc.

Moreover, North Bengal Tourism also offers car rental services in Siliguri for Lava and Lolegaon, two scenic hamlets near Kalimpong. Now, not just spend your entire holiday in Kalimpong but also explore these scenic abodes without bearing the hassle of changing the car. Just contact us to book a car and reconnoiter them one by one.
Car Rental Service for Bhutan
Bhutan, the Buddhist Kingdom on the Himalayas' eastern edge, is a land of monasteries, fortresses and dramatic topography ranging from subtropical plains to steep mountains and valleys. Bhutan's Thimphu, Paro, and Punakha are the most famous destinations in this mesmerizing country. But, exploring all these scenic places is not going to be easy as it is hard to hire a taxi here in Bhutan.
With North Bengal Tourism's Car Rental Service in Bhutan, you can quite conveniently explore sightseeing places such as National Memorial Chorten, Motithang Takin Preserve, National Folk Heritage Museum, Cheri Monastery, Taktsang Monastery, Rinpung Dzong, Dungtse Lhakhang, etc without worrying much about your safety and comfort.
Our Pick Up and Drop off Points
Our Pick up points is flexible. Hence, you can book our car from any pick up points and for any drop off points at the lowest car fare. But, here are some of the popular pick-up and drop off points:
Siliguri to Darjeeling, Sikkim, Bhutan, Kalimpong, Lava and Lolegaon.
NJP to Bhutan, Sikkim, Darjeeling, Kalimpong.
Bagdogra to Bhutan, Sikkim, Darjeeling, Kalimpong.
Tenzing Norgay Bus Terminus (Siliguri Junction) to Bhutan, Sikkim, Darjeeling, Kalimpong.
Reasons for Choosing North Bengal Tourism as Your Travel Companion
North Bengal, being a vast region, has plenty of scenic tourist destinations to explore. While some of the destinations are quite famous and bustling, while others are less trodden and far from the bustling crowd. All these types of destinations have their own charm and magnetism which allure lakhs of travelers towards North Bengal.

But in order to venture upon these breathtaking destinations, travelers need a well-maintained vehicle from a trustworthy car rental agency which is hard to find in North Bengal or in Siliguri. However, cars are available outside the railway stations, airports and bus stand to hire. But the main problem arises when the drivers ask for high car fare instead of the exact price.

And to rescue travelers from this disturbing situation, North Bengal Tourism's Car Rental in Siliguri comes handy. Here at North Bengal Tourism, we not only provide a car or taxi at an affordable price but also offers complete tour packages. Now you don't have to book accommodation, cars, and meals separately when you can get them all at a reasonable rate from North Bengal Tourism.

Check out these budget-friendly yet best tour Packages including car, accommodation, Sightseeing, and meals.