CHIMI LHAKHANG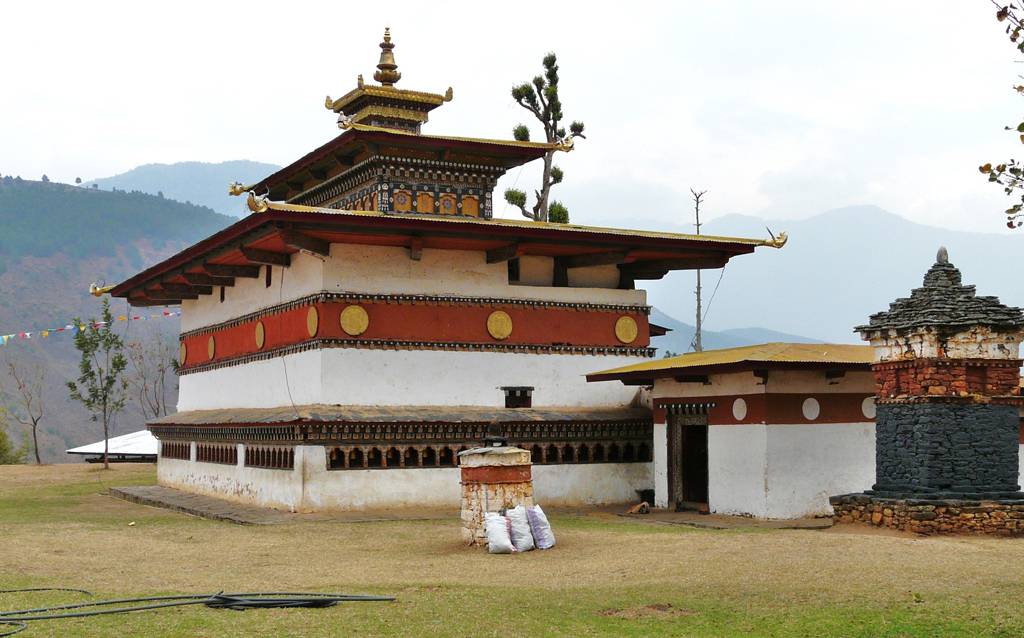 Chimi Lhakhang sited on round hilltop of Lobesa Valley is the famous fertility temple in Punakha Bhutan. Chimi Lhakhang was built in 1499 by the.14th Drukpa, Ngawang Chogyal, to honor the Divine Madman the maverick saint Drukpa Kunley.
According to the Bhutanese legend, the Divine Madman subdued a demoness of the nearby Dochula with his 'magic thunderbolt of wisdom' and trapped it under the rock nearby Chimi Lhakhang where now a Chorten stands. A wooden replica of the lama's thunderbolt has been made and preserved in the main sanctum of Chimi Lhakhang.
Overlooking the paddy fields and rolling hills Chimi Lhakhang with its strange tradition and legends has been one of the must visit places in Chimi Lhakhang.
Who Is Drukpa Kunley
Drukpa Kunley also known as the Madman of the Dragon Lineage was a revered saint who had built Chimi Lhakhang in 1499. Unlike other saints Drukpa Kunley was renowned for his strange way of enlightment. According to the records, Drukpa Kunley is known to claim himself as "The Fertility Saint". It is even believed that Kunley used to worship phallus and sought to encourage other monks to look above traditional teaching, in ancient days.
Interesting Fact About Chimi Lhakhang
Did you know? Chimi Lhakhang is popularly known as the Fertility Temple and is mainly visited by the childless couples. But it is still a mystery about the tradition of seeking fertility blessing since there are no written records and even oral sources to provide scant information on the tradition followed in Chimi Lhakhang.
Things To Do In Chimi Lhakhang
Be part of unique blessing technique in Chimi Lhakhang
Trekking through the paddy field enclosing Chimi Lhakhang
Travelers need to be prepared to see the images of phalluses adorning the walls of Chimi Lhakhang as they are the symbol of good luck
Things To See In Chimi Lhakhang
Statue of Kunley, in a monk's robe, in a reclining position with a ceramic statue of his dog Sachi in the main altar of Chimi Lhakhang
Murals of Zabdrung, Sakyamuni Buddha and Chenrezig
Images of phalluses painted on the various wall of Chimi Lhakhang
Hike To Chimi Lhakhang
Chimi Lhakhang or the Fertility Temple is located at a 30minute walking distance from the main road. Visitors can follow the trail which leads across rice fields to the tiny settlement of Pana, meaning "field". It then follows a tiny stream downhill to Yoaka and across more fields before making a short hike to Chimi Lhakhang. The astounding view of the paddy field covered in golden and yellow hue has left many visitor spell bound.
Timing Of Chimi Lhakhang In Punakha Valley
Travelers can visit Chimi Lhakhang in Punakha Valley anytime between 9am to 5pm and there is no entrance fee required to visit Chimi Lhakhang
How To Reach Chimi Lhakhang
The most convenient way to reach Chimi Lhakhang is by directly hiring a car from Punakha. Other option to reach Chimi Lhakhang is hitchhiking and trekking.
Distance: The distance between Punakha to Chimi Lhakhang is 29 kilometers.