DOCHULA PASS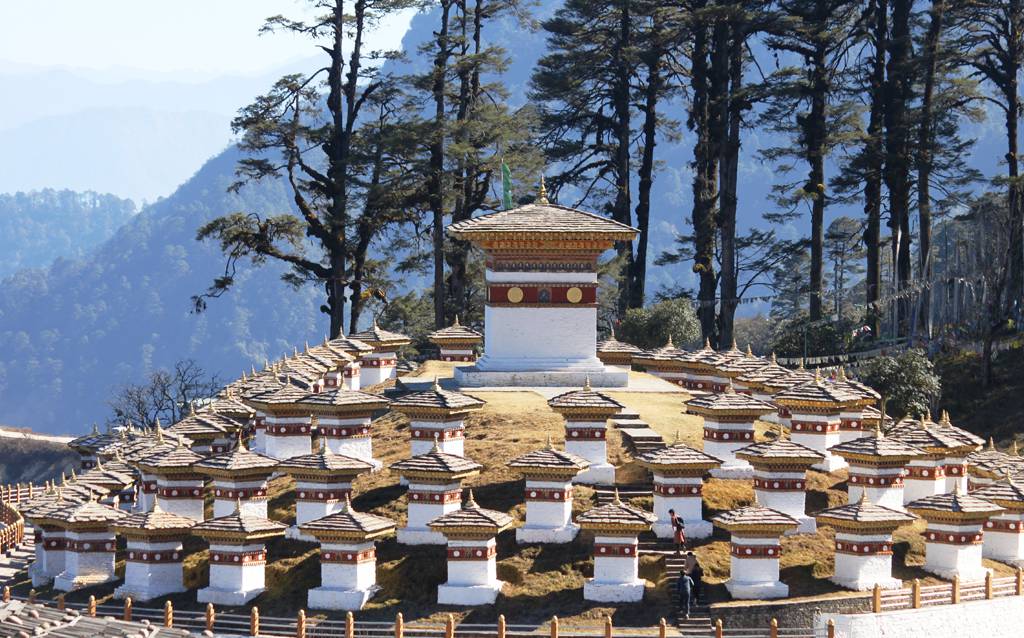 Dochula Pass, situated along the Thimphu to Punakha road is a mountain pass of Bhutan. Perched at an altitude of 3100mt, Dochula Pass is the highest motorable point of Thimphu. Overlooking the snowcapped mountains, Dochula Pass is marked by the 108 memorial chortens.
Festooned with colorful prayer flags, Dochula Pass is considered as a historic and religious site in Thimphu. With the surreal vista of shimmering Mt Gangkhar Puensum looming over the valley enclosing Thimphu Valley, Dochula Pass has become one of the must visit places in Bhutan and a favored sightseeing place in Thimphu.
Druk Wangyal Chorten
Established in 2005, the 108 memorial chortens also known as Druk Wangyal Chorten of Dochula Pass were built under the commandment of Queen Mother of Bhutan to commemorate the memory of the brave soldier who scarified their life in 2003.
Things See In Dochula Pass
108 memorial chorten of Dochula Pass
Druk Wangyal Monastery
The panoramic view of Mt. Gangkhar Puensum from Dochula Pass
Things To Do In Dochula Pass
Picnicking in Dochula Pass
Paying homage to the brave soldiers in the 108 memorial chorten
Mountain biking in the trail leading to Dochula Pass from Thimphu
Trekking in the forest enclosing Dochula Pass
Hiking to Druk Wangyal Monastery from Dochula Pass
Adorning the unique thangka and paintings depicting the impeccable blend of past and present in Druk Wangyal Monastery of Dochula Pass
Best Time To Visit Dochula Pass
April-June: During this time of the year, visitors can witness the view of valley enclosing Dochula Pass covered beneath the vibrant vista of blooming rhododendron.
July-September: During this time of the year, visitors can witness the astounding phenomenon of moisture-laden monsoon clouds descend from the heavens to the lower valley, especially early in the morning and late in the afternoons.
October-March: Winter season is the best time to visit Dochula Pass as during this time of the year, sky remains clear and it offers the unhindered view of snow capped mountain ranges looming over the scenic gorge and hills located adjacent to Dochula Pass.
How To Reach Dochula Pass
The most convenient way to reach Dochula Pass is by hiring a car from Thimphu. It is an overall 2hrs ride from Thimphu to Dochula Pass. If travelers are feeling adventurous they can also hike their way to Dochula Pass as the route leading to Dochula is reckoned for being one of the most pictorial roads in Bhutan.
Distance: The distance between Thimphu to Dochula Pass is 30 kilometers.