Dooars Travel Guide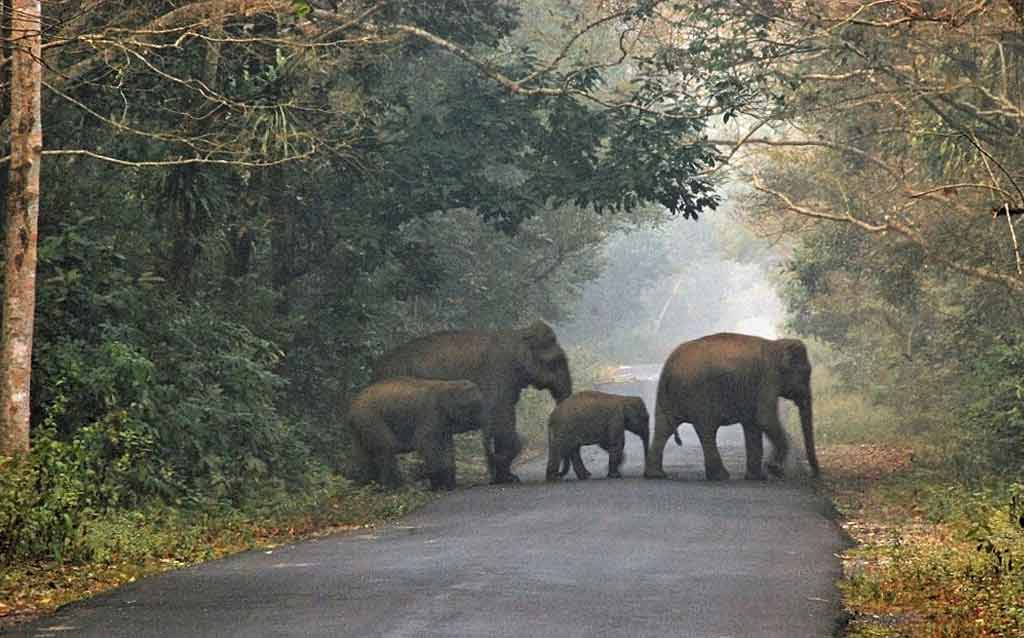 Dooars also spelled as Duars is a place where nature has kept its doors open for the outsiders. Dooars derived its name from the word "doors" as this alluvial floodplain is known for being the gateway to the whole of North-Eastern India, Bhutan, and the hill stations of Sikkim and North Bengal Region like Darjeeling. Blessed with dense natural forests, lush green tea gardens, crisscrossed by meandering river streams like Teesta, Raidak, Torsha, Jaldhaka, and Kaljani Dooars has become an abode for nature lovers. Dooars is synonymous with the term Terai used in Nepal and northern India and forms the only nitrate-rich soil in India. The altitude of the Dooars area ranges between 90-1,750mt. Many serene streams and shimmering rivers flow through these fertile plains from the mountainous valley of Bhutan. Dooars is divided by the Sankosh River into the two parts known as Eastern and Western Dooars which consists of an area of 8,800 km² (3,400 sq. mi). The Western Dooars is named the "Bengal Dooars" and the Eastern Dooars as the "Assam Dooars". Brahmaputra and Manas are the major rivers in Assam and Teesta in northern West Bengal.
Why Dooars is Famous
Dooars has not one but plenty of reasons for its popularity. This nature's paradise is quite famous for its rich biodiversity, dense forest, unique wildlife, always smiling people, and their culture. During the last two decades, Dooars has rapidly become a much-visit travel destination among calm and beauty-seeker tourists because of some notable forests like Gorumara National Park, Buxa Tiger Reserve, Jaldapara Wildlife Sanctuary, Neora Valley National Park, and Chapramari Wildlife Sanctuary. It is also quite popular because of Jungle Safari, Jeep Safari, Elephant Safari, and many more. Now in order to know everything about Dooars' popularity, let's dive into the attractive places Dooars has in his spellbound magical bag.
The beauty of Dooars not only lies in its lush tea gardens but also in the dense forest that covers most of its region. Dooars is dotted by several national parks and wildlife sanctuaries which attract a lot of tourists from all over India and abroad, making it an important contributor to the economy and also an employer of a number of people. Dooars also act as the doorway to Bhutan thus, the export-import industry also flourishes in the area. The towns of Jaigaon, Siliguri, and Phuentsholing are important hubs of the export-import industry. Dooars is not only renowned for its surreal beauty but it is also forest for its forest reserves like Gorumara National Park, Jaldapara Wildlife Sanctuary, Chapramari Wildlife Sanctuary, Buxa Tiger Reserve. These forest reserves are the most famous places for sightseeing in Dooars. A number of rare endangered species of animals like Tiger, Rhinoceros, and Elephant make found in these emerald green forests of the Dooars. Other animals include different types of deer, bison, birds, and reptiles.
Best Places to Visit in Dooars
Dooars is full of tourist places and the most popular ones are as mentioned below -
Gorumara National Park
Dooars has plenty of attractive places to visit and Gorumara National Park is one of them. Located on the bank of Murti and Jaldhaka Rivers, Gorumara National Park is quite famous for One-horned Rhinoceros. It is also a natural habitation of many wild animals such as elephants, Indian Bison (commonly known as Gaur), Leopards (locally known as Chitabagh), Rock Python, Malayan Giant Squirrel, and deer. Enjoy the jungle Safari in your Dooars Tour and get a chance to come closer to the wild magnificent animals. And, you can even take an Elephant Safari to enjoy the scenic beauty of the surrounding dense forest.
Jaldapara National Park
On your weekend tour to Dooars, Jaldapara National Park is another attractive place you should visit must. Situated in the foothills of Eastern Himalaya, the park is full of different wildlife and trees. Get a chance to see one-horned rhinoceros, tigers, elephants, leopards, and many more by taking a Jungle Safari or a jeep safari. You can even get a complete view of the surrounding jungle by taking an elephant safari.
Chapramari Wildlife Sanctuary
If you are trying to spend a weekend tour to Dooars, you should not miss visiting Chapramari Wildlife Sanctuary. Differentiated by the Murti River, it is located beside Gorumara National Park in the Western Dooars. Get lost in the dense forest of rich flora and fauna, come closer to the wild animals like tigers, deer, one-horned rhinoceros, Leopards, and many more. Get amazed by seeing some unique birds like parakeets, kingfishers, and green pigeons flying above the sky. Therefore, your trip to Dooars stays incomplete if you do not enjoy the beauty of Chapramari Wildlife Sanctuary.
Buxa Tiger Reserve
Buxa Tiger Reserve is one of the must-visit places in Dooars. Just 10 km away from Alipurduar, the Buxa Tiger Reserve is a natural habitat of tiger, leopard, elephant black panther, clouded leopard, Himalayan black deer, gaur, python, and, many more unique wild animals. As a result, tourists can see these unique wild animals closely and get amazed by seeing their fearful but stunning symmetry.
Jhalong, Bindu & Paren
Dooars is not just about forest and wildlife. There are many destinations too known for their complete serenity, lovely valleys, riverside picnic spots, a vast stretch of tea gardens. At an elevation of 2000 feet above sea level, Bindu is a pictorial hamlet with a beautiful view of the Bhutan Hills in the backdrop. You will get to see a Dam here built on the Jaldhaka River. Jhalong and Paren are the two nearby tourist attractions that are also full of natural beauty.
Samsing, Suntalekhola and Rocky Island
Samsing, Suntalekhola and Rocky Island are another three offbeat destinations in Dooars. Not more than 85 km driving distance away from Siliguri, Samsing is a pictorial hamlet known for its daunting hills and the tea gardens. Located at the Periphery of Neora Valley National Park, Sunatalekhola is all about its offering of natural beauty and serenity. The same goes to Rocky Island which is located on the riverbank of Murti River. All these offbeat destinations have become a safe haven for those who want to spend some quality time amidst nature.
Riverbanks of Murti and Jayanti
The banks of the Murti and Jayanti River are also two fascinating places to visit in Dooars. You can undoubtedly add it to your visiting list of Doors itinerary. The jaw-dropping view of the surrounding places of the river bank and many thirsty wild animals are coming to fulfill their thirst makes the river a must-visit place for travelers.
Where to Stay in Dooars
You don't have to worry about the accommodation in Dooars. Being a favored tourist place in North Bengal for nature lovers and wilderness explorers there are many options for accommodation while traveling in Dooars. Visitors will find numerous private hotels and resorts in Dooars but Government Lodges and Forest Bungalows situated within the dense forest are the most preferred place to stay in Dooars. You can browse through our well curated Dooars Tour Packages that include pick-up, drop, sightseeing and car along with accommodation.
Things to Do in Dooars
Get an Elephant Ride, Jungle Safari, and Jeep Safari to Jaldapara National Park, Gorumara National park, and come closer to nature and its wild animals. Spend some days alone with the one you love the most and watch the beauty of the snow-peaked mountains together by holding hands with each other. Take a ride in the lake and watch the beauty of green trees around it.
There are plenty of things you can do and love in Dooars and watching unique birds is one of them. Dooars is undoubtedly nature's paradise for bird lovers as it is full of colorful birds such as the cormorant, Northern Lapwing, River Lapwing, Grey Headed Lapwing, Indian Pond Heron, Common Teal, Tufted Duck, Bar Headed Goose, and many more.
Go to temples like Jalpesh Mandir and take the blessing of the mighty God Shiva. Come closer to God, Feel the presence of him everywhere you go and even in you. Trek through the hilly terrain and discover places where no one has ever gone. Or you can even comfortably sit in your resort and watch the beauty of Dooars and wonder how the heck this place is too mesmerizing.
How to reach Dooars
By Car: The main mode of transport in Dooars is roadways. Most of the places are well-connected by roads. NH31 is the main highway of the area. Located 56km from Siliguri, visitors can easily reach Dooars by hiring a car from Siliguri.
By Train: Visitors who are hailing from other regions can board a train for New Jalpaiguri Railway Station (NJP). Since, NJP is the major railway head, connecting Siliguri with another region. It is also the nearest railway station from Dooars.
By Air: Visitors can also board a flight for Bagdogra to reach Dooars. After reaching NJP or Bagdogra visitors can hire a car to travel towards any destinations of Dooars. A Car can be hired from a reputed car rental agency like Himalayan Wheels.
Best Time to visit in Dooars & Weather
The average rainfall in Dooars is about 3,500 mm. Monsoon in Dooars generally starts from the middle of May and continues till the end of September. Summer is mild and winters are cold and foggy in Dooars. Each season has its own charm to relish in Dooars but the summer season is considered the best to visit Dooars. Every year the forest area of Dooars remains close from 15th June to 15th September.
Summer: Summer in Dooars usually starts in March and lasts until early October. The month of July is the hottest month and the temperature stays from 20 degrees to 31 degrees. As you can see, summer in Dooars doesn't become intolerable due to the scorching heat.
Monsoon: The monsoon in Dooars starts from the end of July and can last up to the month of September. Dooars usually witness a rainfall of 48 cm during the months of Monsoon. In the season of Monsoon in Dooars, all the sanctuaries remain closed from 15th June to 14th September.
Winter: Winter in Dooars starts in early November and usually ends during the month of February. January is the coolest month in Dooars and the temperature can go down to 5 degrees to 8 degrees Celcius. However, if you have selected the Dooars tour package in winter, you won't be disappointed. You can see plenty of unique birds in Dooars during this season.
Places to visit in Dooars