DRUKGYEL DZONG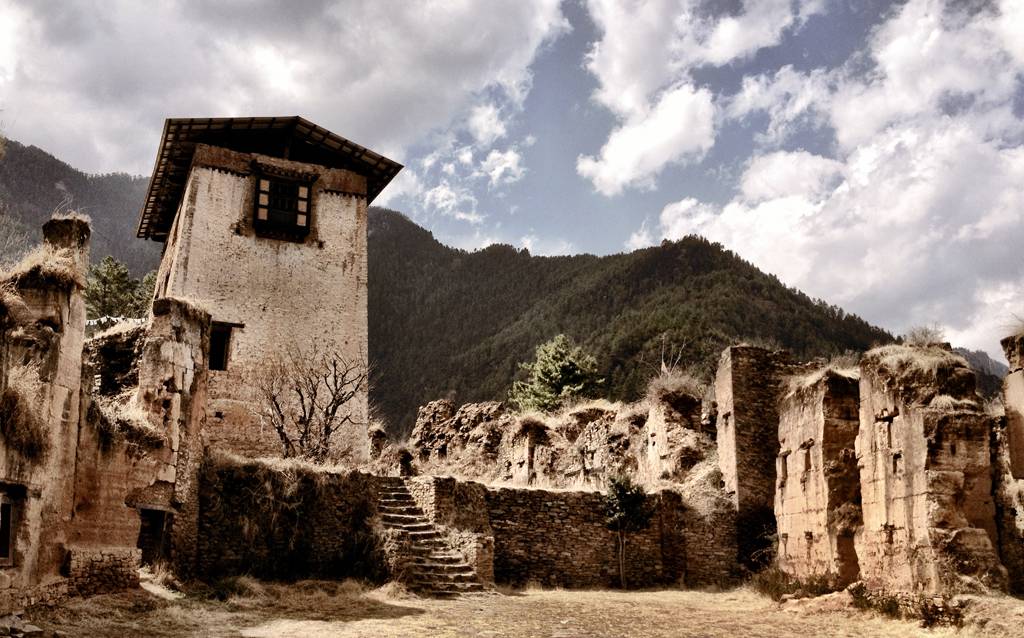 Situated atop a ridged in the upper Paro valley is the ancient ruin of Drukgyel Dzong. Considered as one of the most famous archeological sites in Bhutan, Drukgyel Dzong has become a must visit tourist place in Paro.
Drukgyel Dzong is a fortress and Buddhist monastery built by Tenzin Drukdra in 17th century at the instruction of Ngawang Namgyal Zabdrung Rinpoche to celebrate the victory over an invasion from Tibet. Thus, Drukgyel Dzong was built at a strategic site near the Tibet Border for strengthening defense against future invasions. In the native language the name "Drukgyel Dzong" stands for "Fortress of the Victorious Drukpa".
Interesting Fact About Drukgyel Dzong
Did you know? In 17th century Drukgyel Dzong had the best collection of armory in the whole region of Bhutan.
History Drukgyel Dzong
Drukgyel Dzong was built strategically near the Bhutan-Tibet Border for repelling the enemy forces. It was also one the four principal defense fortress of Bhutan. After the construction of this grandiose fortress, Drukgyel Dzong was nearly destroyed by fire of 1950.
Prior being destroyed by the fire Drukgyel Dzong was used as a summer residence by the Rinpung Rabdey. Unlike other Dzong built by Zabdrung Ngawang Namgyal and his successors, the sole purpose of Drukgyel Dzong was for serving defensive purpose without administrative and religious functions, especially against external threats from the border.
Things To See In Drukgyel Dzong
The ruins of Drukgyel Dzong
Watching sunrise over the snow capped Mt Chomolhari looming above the Paro Valley
Overseeing the remains of defense mechanism
Thing To Do In Drukgyel Dzong
Trekking
Learning about the ancient Bhutanese architecturing style
How To Reach Drukgyel Dzong
Traveler can either hike their way to Drukgyel Dzong or hire a car from Paro to Drukgyel Dzong. From Paro it an approx 40mins drive to Drukgyel Dzong. Distance: The distance between Paro to Drukgyel Dzong is 14 kilometers.
Best Time To Visit Drukgyel Dzong
April to June: During this season, visitors along with relishing the soothing weather of Drukgyel Dzong can beckon the beauty of vibrant color riot of blooming flowers sprawled in the valley from Drukgyel Dzong.
July to September: The road leading to Drukgyel Dzong can get bit difficult to pursue during the monsoon season, due to occasional rainfall.
October to March: Winter season is the best time to visit Drukgyel Dzong since during this time of the year visitors can witness the panoramic vista of snow capped peaks of Mt Chomolhari from the ruins of Drukgyel Dzong.