DUNGTSE LHAKHANG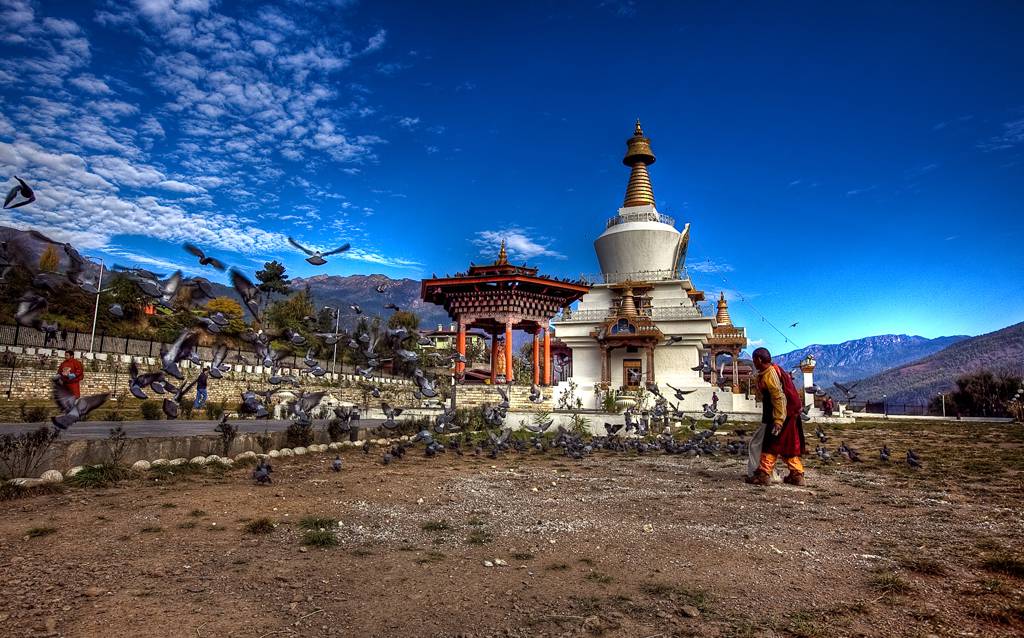 Built in 1421 by Drupthob Thangtong Gyalpo, the great iron bridge builder is Dungtse Lhakhang, famous Chorten-shaped temple in Paro. Also, known as the Jangtsa Dumgtseg Lhakhang or Paro Dumtse Lhakhang, Dungtse Lhakhang of Paro is a three storeys building.
The three floors of Dungtse Lhakhang represent hell, earth, and heaven. The current structure of Dungtse Lhakhang was built in 1841 by Sherab Gyeltshen the 25th Head Abbot of Bhutan.
Interesting Fact About Dungtse Lhakhang
According to the ancient legend Dungtse Lhakhang is said to build atop the head of demoness to subdue her as the demoness was spreading illness to the villagers and inhibits of the nearby places.
And as, per another legend, it is said that the hill on which the Dungtse Lhakhang stand is the head of black vicious snake.
History Of Dungtse Lhakhang
According to the ancient artifacts, it is said that on the day of construction of Dungtse Lhakhang, the founder himself appeared in the form of five vultures, and circled the temple showering his blessings before taking flight to Tibet and men of great stature and strength known as the 'Nya goe' were employed in the construction of Dungtse Lhakhang to lift the massive pillars used in the temple.
Things To See In Dungtse Lhakhang
Painting depicting the progressive stages of Tantric Buddhist
Figurine and painting of deities worshipped by Drukpa Kagyupa Sect
Central tower of Dungtse Lhakhang
Legend About The Flying Tower of Dungtse Lhakhang
There is strange legend about the central tower of Dungtse Lhakhang. Visitors can see the central tower (utse), the pinnacle of the temple, chained from four directions to the roof of the temple. It is believed that while the consecration was being performed the central tower of Dungtse Lhakhang moved and attempted to fly to Tibet. Thus, to stop the central tower from flying from Dungtse Lhakhang, it was chained down.
How To Reach Dungtse Lhakhang
Visitors can easily reach Dungtse Lhakhang from the main town of Paro as it is situated at a 10 mins walking distance.
Distance: The distance between Paro to Dungtse Lhakhang is 1 kilometer.
Timing Of Dungtse Lhakhang
Tourists who wish to learn about the mythical tales and witness the decade old paintings of this unique temple should remember the timing of Dungtse Lhakhang. They can visit Dungtse Lhakhang of Paro anytime between 9am to 12pm and 1pm to 5pm.