Gorumara National Park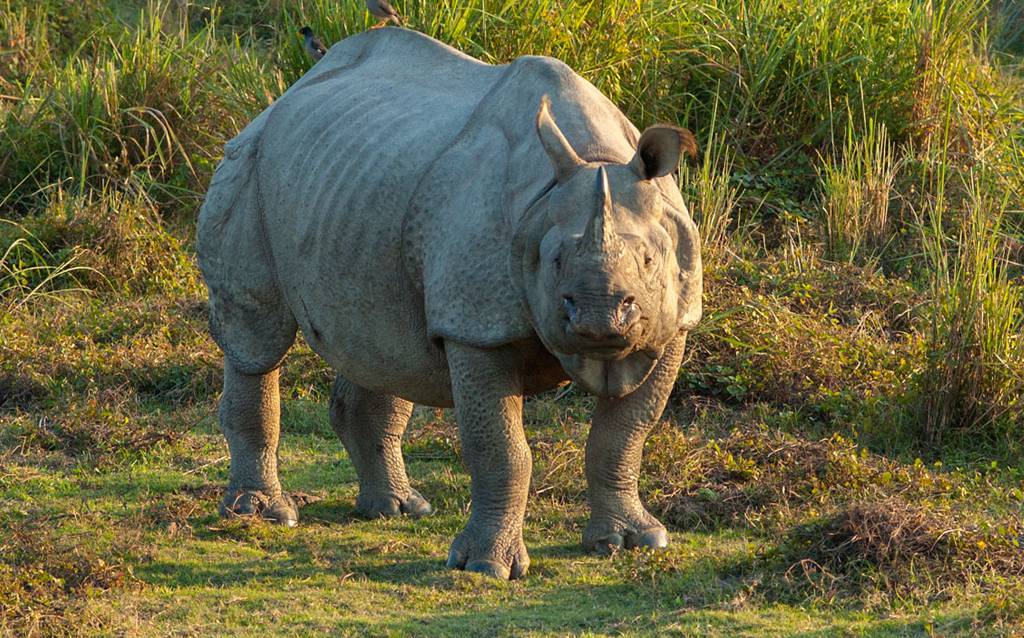 If you are planning for a visit to Dooars, Gorumara National Park is really a must visit point for any traveler having Dooars Tour. In 1949 Gorumara was declared as a wildlife sanctuary and in 1992 a National Park. Gorumara National Park is famous for its vast population of the Great Indian One-Horned Rhinoceros. Apart from this, it has a variety of wildlife like Elephant, Bison, Leopard, Jungle Cat etc.
What to Find in Gorumara National Park
For the visitors there are total 5 Watchtowers located in 5 corners from which a traveler can enjoy Gorumara National Park and its wild life.
Jatraprasad Watchtower
This is the oldest and the most popular Watchtower of Gorumara National Park. Jatraprasad Watchtower was named in fond memory of an Elephant named Jatraprasad who passed away after providing great and dedicated service to the West Bengal Forest Department. From here visitor can spot exquisite wildlife as well as the surreal beauty of the entire Gorumara National Park.
Rhino Observation Point
Beside the Jatraprasad Watchtower there is the Rhino Observation Point in Gorumara. From here the visitors can get a close view of Indian one horned Rhinoceros. The unique location of Rhino Observation Point makes it a vantage point to leisurely spot rhino and elephant as they come to the salt reservoir which is located just below the tower. But mind them, they can run as fast as humans so watch them in silence and peace and do not tease or irritate them and definitely no making sounds of any sort.
Chapramari Wildlife Sanctuary
The Chapramari Wildlife Sanctuary is located in the northern side of Gorumara National Park. It is another favored place for sightseeing in Gorumara. Here visitors can see diverse flora and fauna. The chief attractions of this Sanctuary are the Elephants that are found here in large numbers. It is a home to various other animals like Gaur, Wild boar, Leopards, Royal Bengal Tiger, Himalayan Langoor, deer, reptiles etc. The place is a real heaven for bird watchers.
Medhla Watchtower
Medhla Watchtower is more special one than other towers. Here you can take a buffalo cart ride to travel up to the tower. While enjoying such ride inside the Forest visitors are bound to get nostalgic. From this Medhla Watchtower one can view the inner part of Gorumara National Park.
Chandrachur Watchtower
Chandrachur Watchtower is another important of Gorumara National Park. This was also popularly recognized by another name that is Khunia Tower. If you want to see the wilderness and dense forest carved by rivers then this is the perfect place for you. A trip to or a stay near Chandrachur Tower can be arranged depending upon the tourists requirement.
Chukchuki Watchtower
If you are interested in photography then you must visit Chukchuki Watchtower. It is a paradise for bird lovers. Chukchuki Tower is the perfect place for viewing and photographing hundreds of birds. This spot of the Park provides clear view of countless birds that are native to Gorumara National Park.
Jungle Safari in Gorumara National Park
Gorumara National Park Jungle Safari is one of the most prime attractions for the travelers visiting Dooars. There are two ways to enjoy the Jungle Safari of Gorumara National Park.
Elephant Safari in Gorumara National Park
If you plan to spot Rhinos, wild elephants and Bisons in their natural habitat then a trip to Dhupjhora Elephant Camp in South Gorumara should be your choice. Dhupjhora is located close to river Murti which gives the most spectacular view of emerald green forest. Most importantly this part is still not touched by the modern society and nature can be witnessed in its pristine state. This Camp is a unique concept of eco tourism where the tourists gets the chance to feed the Forest Department's elephants, ride on them to the deepest parts of the Gorumara jungle to catch a glimpse of the wildlife. Crossing the Murti River on elephant back and entering the Gorumara Range is a unique experience. You can also enjoy staying in a tree house here.
Jeep Safari in Gorumara National Park
Another popular way to explore Gorumara National Park is through the jeep safari. Though elephant safari is the best way as the elephants can take you to the most interior parts of the jungle where the jeeps cannot reach. Still, Gorumara Jeep Safari has a thrill of its own. Gorumara Jeep Safari Timing is as follow, in the morning at 6a.m to 8 am or at 8a.m to 10a.m or at 1.30p.m to 3p.m or in between 3.30p.m to 5p.m. To experience the jeep safari you have to pay some mere charges as per the park rules. Dooars forest remains closed on every Thursday.
How to Reach Gorumara National Park
North Bengal Tourism has made reaching Gorumara National Park quite easy and convenient. Travellers who opt for our Dooars tour packages will be picked up from any nearby stations of Gorumara Wildlife Sanctuary. Travellers who prefer a train's journey can go up to Malbazar. Even though Chalsa is the nearest railway station, there is no stoppage. It will take not more than 45 minutes to reach Gorumara Wildlife Sanctuary from Malbazar Railway Station.

Bagdogra is the nearby airport of Gorumara Wildlife Sanctuary. Road condition is also quite good. As a result, travellers can reach Gorumara Wildlife Sanctuary simply by hiring a car or taxi. As NJP is one of the major railway stations, travellers can also have a journey towards Gorumara Wildlife Sanctuary by a car from NJP.
Accommodation inside Gorumara National Park
While visiting Gorumara National Park visitors can either choose to stay in Government Forest Bungalow or Forest Cottage which are located midst the dense forest of Gorumara National Park or they can opt to stay in private hotels and resort which are located adjacent to Gorumara National Park. There are four Government Resorts which are located inside the forest of Gorumara National Park-
Best Time To Visit Gorumara National Park
Gorumara Forest remains closed every year from 15th June to 15th September. So expect for this time Gorumara National Park can be visited throughout the year.
Questions may arise while planning to visit Gorumara National Park
Places to visit in Dooars