GURUDONGMAR LAKE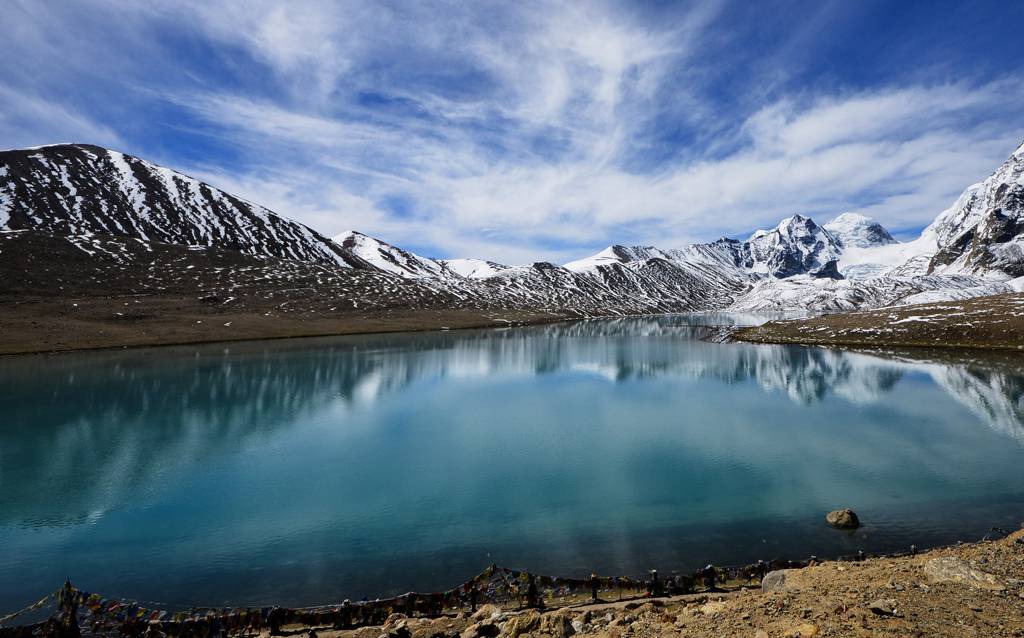 Gurudongmar Lake nestled on the foothills of snowcapped mountain is a sacred lake in Sikkim. Named after the revered saint Guru Padmasambava, Gurudongmar Lake is considered as a holy place for both Hindu and Buddhist. With an altitude of 5183mt, Gurudongmar Lake is also one of the world's highest lakes.
Located 173 km from Gangtok and 5km from Indo-Tibet boarder, Gurudongmar Lake is one of the amazing places to visit in Sikkim. The emerald blue color of Gurudongmar Lake shimmering under the sun has left many travelers spell bind with its ethereal beauty.
Amazing Facts about Gurudongmar Lake
There is a portion of Gurudongmar Lake which never freezes even when the temperature drops below minus degrees. And there is a legend behind this unfrozen part of Gurudongmar Lake.
As per the legend, during 15th century villagers requested Guru Rinpoche to solve their crises of water which they faced every winter, after hearing their pleas he touched a portion of Gurudongmar Lake with his staff and hence the specific portion remain unscathed even during the harsh winter.
Things to do in Gurudongmar Lake
Trekking to Zero Point via Donkiala Pass
Hiking to Yumthang Valley
Place To Visit In Gurudongmar Lake
Be engulfed by the cool winds of Himalayas while being mesmerized by unearthly charm of the glacial lake Gurudongmar. By availing Gurudongmar Tour Package from North Bengal Tourism you can explore other place like Lachen, and Yumthang Valley along with Gurudongmar Lake in a reasonable price.
How To Reach Gurudongmar Lake
By Air: The nearest airport of Gurudongmar Lake is in Bagdogra. From Bagdogra Airport it takes approx 10hrs to reach Gurudongmar Lake.
Distance: The distance between Bagdogra to Gurudongmar Lake is 265 kilometers.
By Road: The nearest railway station of Gurudongmar Lake is New Jalpaiguri Railways Station (NJP). It is an overall 10hrs journey from NJP to Gurudongmar Lake.
Distance: The distance between NJP to Gurudongmar Lake is 262km.
Where to stay in Gurudongmar Lake
Although Gurudongmar Lake is a famous place to visit in Sikkim, it is semi arid zone with no sign of settlement around it. The best option is the stay in Lachen. It is a small Himalayan hamlet. With North Bengal Tourism you can book hotels and homestays in Lachen to visit Gurudongmar.
Distance: The distance between Lachen to Gurudongmar Lake is 68 kilometers.
Best Time to visit Gurudongmar Lake
September to June is the best time to visit Gurudongmar Lake. It is best, if visitors avoid travelling to Gurudongmar Lake during monsoon season to prevent any misshape due to sudden landslide.