HAA VALLEY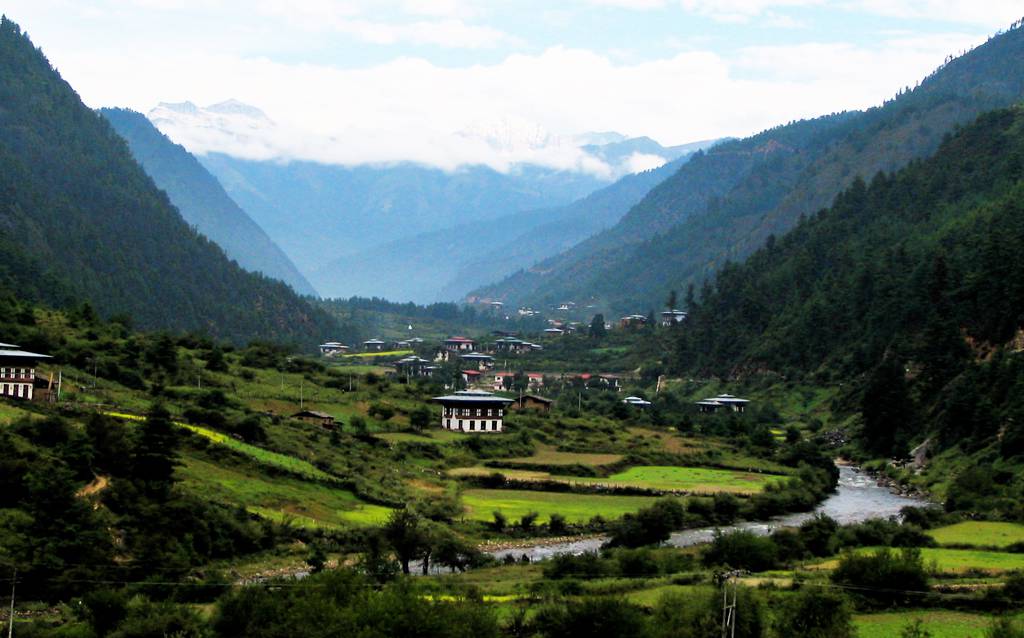 Haa Valley situated in the south-western region of Paro is a picturesque hamlet in Bhutan. Adorned with the view of pristine alpine forest and Majestic Mountain peaks, Haa Valley is at an altitude of 2670mt. Spread across an area of 1766 sq.km Haa Valley is also the ancestral home of the Queen Grandmother and the illustrious Dorji family. Boosting with scenic beauty and historic events, Haa Valley is one of the favored place to visit in Paro Valley Bhutan.
Haa Valley has made its way towards the heart of people who love to admire natural beauty with serene ambiance, but Haa Valley is still one of the less trodden tourist places of Bhutan. Haa Valley is also sometime known as Hidden-Land of Rice in Bhutan. Surrounded by the beautiful forest area and harboring untainted air Haa Valley has become a paradise for hikers and trekkers visiting Bhutan.
History Of Haa Valley
In ancient Pre-Buddhist era Haa Valley was known for its animalistic tradition. The residences then were enthused in offering animal blood to their local deities. However, in 8th Century, the gruesome animalistic belief were changed into more peaceful tradition when the tantric master, Guru Padmasambava, subdued the local deities like Ap Chundu and made them the guardians of the Buddhist tradition in Haa Valley.
Although, many centuries have passed, still the traces of those animalistic traditions can be found in the festivals of Haa Valley.
Things To Do In Haa Valley Bhutan
Trekking in the dense forest of Haa Valley
Bird watching in Haa Valley
Learning about the influence of animalistic rituals practiced in Haa Valley
Getting an insight in the indigenous lifestyle of Bhutanese people in Haa Valley
Things To See In Haa Valley Bhutan
Lhakhang Nagpo (The Black Temple)
Lhakhang Karpo (The While Temple)
Figurine of Amitabha Bhutan in Haa Goemba
With Bhutan Tour Package of North Bengal Tourism, travelers can explore the scenic land of Haa Valley and its surrounding places at a reasonable price. Along with being budget friendly, the Bhutan Tour Package of North Bengal Tourism is also custom-made according to the travelers' preference.
Hotels In Haa Valley Bhutan
Being one of the favored place to visit in Bhutan and a must visit place in Paro Valley there are many options of accommodation in Haa Valley. Visitors will find cozy homestays, resorts and budget hotels in Haa Valley.
With hotel booking service of North Bengal Tourism, travelers choose a place to stay in Haa Valley according to their liking and budget.
How To Reach Haa Valley Bhutan
The most convenient way to reach Haa Valley from Paro Valley is by directly hiring a car. Other option is hitchhiking. From Paro it is an overall 2½hrs journey to reach Haa Valley.
Distance: The distance between Paro to Haa Valley is 65 kilometers.
With Car Rental Service of North Bengal Tourism traveler can easily hire a car from Paro to Haa Valley at a reasonable price.
Best Time To Visit Haa Valley Bhutan
April to June: During this time of the year, the valley enclosing Haa Valley is sprawled with the blooming vista of vibrant flowers. Along with the amazing view of blooming flowers, visitors can also relish the serene ambiance and pleasant weather of Haa Valley.
July to September: During this time of the year, Haa Valley receives an average amount of rainfall. If visitors do not mind the slightly chilly temperature and foggy weather monsoon is also an ideal time to visit Haa Valley.
October to March: During this time of the year, Haa Valley showcases a mesmerizing view of snow capped mountains since the sky remains clear. This is also the best time to visit Haa Valley if travelers want to partake in adventure activities like trekking and bird watching.