Darjeeling Himalayan Mountaineering Institute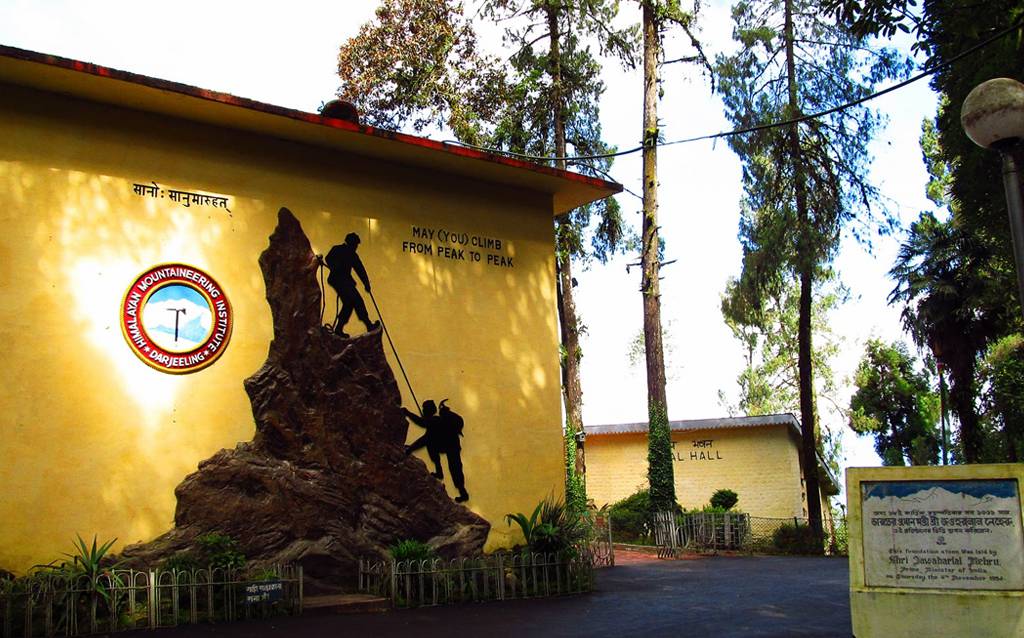 With the impetus provided by the first prime minister of India, Jawaharlal Nehru, Himalayan Mountaineering Institute was established in Darjeeling on November 4, 1954, to encourage mountaineering as an organized sport in India. It is located at 27.060, 88.254 at an altitude of about 7000 feet above sea level. Tenzing Norgay was the first director of field training for HMI. The objective of the Institute is to encourage and promote the science and art of Mountaineering amongst its members. It aims to train the enterprising members of the community, who in turn develop mountaineering activities in the Himalayas as a sport or as a scientific pursuit.
Where HMI Darjeeling is located?
One of the renowned Mountaineering Institutes in India, HMI is located at the main town of Darjeeling in West Bengal. Just 1 km away from the Darjeeling Zoo, you can reach this institution quite easily.
History of Himalayan Mountaineering Institute
Since its inception of 50 years, the Darjeeling Himalayan Institute of Mountaineering has trained more than 24,000 Indians. It also has trained about 1000 foreigners. In its endeavour to inspire women to take up mountaineering, the month of May is dedicated solely for the purpose of training women at mountaineering.

More and more women are mountain-bound these days. The Himalayan Institute of Mountaineering Graduation Certificate is a prized possession of a mountaineer. The certificate is recognized all over the world. The surprising aspect of this Institute is that it is the only institute that teaches the art of mountaineering and high-altitude trekking to the visually impaired.
What to see at Himalayan Mountaineering Institute?
The famous tea gardens and enchanting view of Kanchenjunga peak make your journey to HMI a memorable experience.HMI also houses the oldest mountaineering Museum in the country. It was established in 1957. The museum which displays a collection of models, paintings, sculpture, photographs, manuscript, autographs, books, mountaineering equipment belonging to famous mountaineers and other cultural belongings of hill folk.
Himalayan Mountaineering Institute Timings
The museum stays open from 9.00 am to 5.00 pm and stays closed on every Tuesday. You can visit Darjeeling Himalayan Mountaineering Institute and the Museum at any days of this specific time.
Interesting Facts about Himalayan Mountaineering Institute
In the beginning, only two mountaineering courses were run Basic Mountaineering and Advanced Mountaineering, in which trainees received theoretical as well as practical training in rock climbing, ice and snow craft. The courses culminated with the ascent of a peak of moderate height about 18000 ft. Earlier these courses used to be of 6 weeks, which has now been reduced to 4 weeks.

This is mainly because during those days trainees had to spend most of their times in trekking as there were no motorable roads. There is also the Tenzing Samadhi located at a nearby hilltop, at the place where this pioneering mountaineer was cremated.
Our Tour Packages offerings on Himalayan Mountaineering Institute
Travelling to Darjeeling and exploring sightseeing places like Darjeeling Himalayan Mountaineering Institute can be an amazing experience. But the problem arises when you are arranging a tour.

But, with North Bengal Tourism you can quite easily plan a tour to Darjeeling Himalayan Mountaineering Institute. So, let us arrange a tailor-made tour package for you and travel to Darjeeling completely worry-free.
Places to visit in Darjeeling