JALDAPARA WILDLIFE SANCTUARY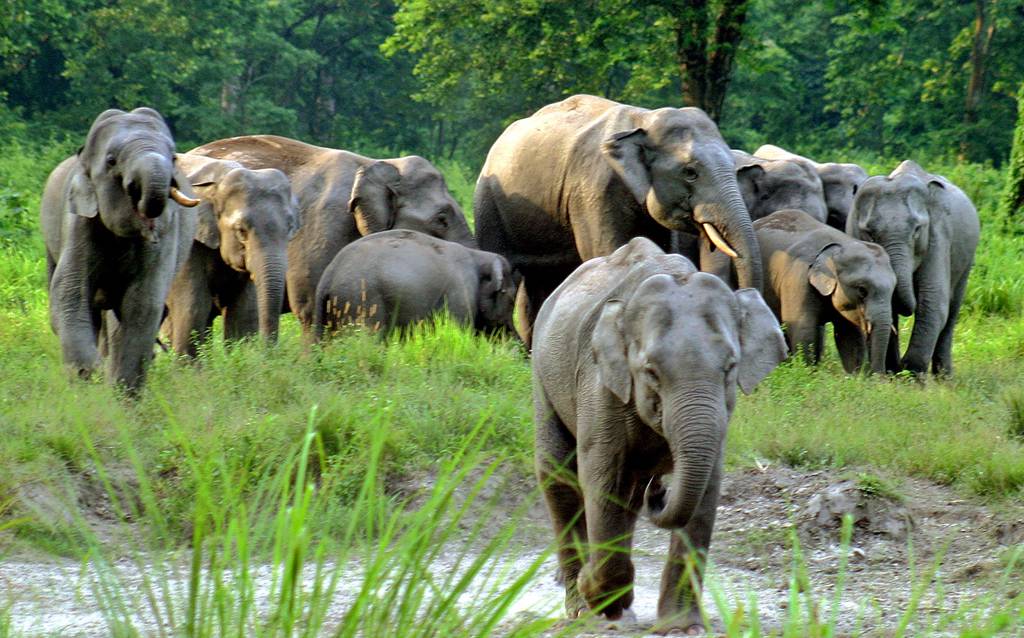 Jaldapara National Park situated in Alipurduar Sub-division of Jalpaiguri district in West Bengal is a protected forest of Dooars. This sanctuary was constituted in the year 1941 for the protection of Wildlife and in 2012 Jaldapara was entitled as a National Park. Jaldapara is the home to famous Indian one horned Rhinoceros. Jaldapara is renowned for housing the 2nd largest population of One Horned Rhinoceros in India after Kaziranga National Park of Assam. Along with being the home rare Asiatic Rhino, Jaldapara is one the few places in India where Bengal Florican has been sighted.
What Can You Do In Jaldapara National Park
An adventurous elephant ride in the morning is the most famous thing to do in Jaldapara National Park. Visitors can explore the core of dense subtropical forest in Jaldapara Elephant Safari. Please note that the elephant rides in Jaldapara are booked on the spot and cannot be reserved in advance. Jeep safari is another favored tourist activity of Jaldapara National Park. There have been more than 160 rhinos, apart from numerous bison, Deers, leopards and six Bengal tigers spotted in Jaldapara National Park. Some rare species like the hispid hare and the hog-badger are also found in Jaldapara National Park. Jaldapara is exceptionally rich in avifauna because of varied terrain, mosaic of vegetation and rich insect life. More than 240 species of birds-including Orioles, Barbets, Woodpeckers, Parakeets, Hornbills, Drongos, Cuckoos, Babblers, Brahminy ducks, and whistling teals–are found in variety of habitat- Grassland, water bodies, woodland. A wide variety of vegetation makes it a botanist's paradise as well. Visitors can witness all these wonders while going on a Jungle Safari Jaldapara National Park.
Jaldapara National Park Jungle Safari
Elephant rides are the most important activity in the park and this is extremely popular among the visitors in Jaldapara National Park. The best way to explore Jaldapara is by taking the one-hour elephant safari. A maximum of four people are allowed on each elephant. The safari from the Tourist Lodge at Madarihat is subject to the availability of elephants. The park authorities don't provide vehicles for safaris, so you'll have to rent one from the Madarihat Lodge or a tourist agency. A forest guard must accompany the jeep. The entry fee is Rs 100 per person for Indians and Rs150 per person for foreign nationals. Jaldapara Elephant Safari cost for Indians is Rs 500 per person and Rs 750 per person for foreign nationals. The park remains open on all days of the week all days of the week from 9:00 AM - 3:00 PM. Tourists can enter into the core area of the jungle and will get an opportunity to see the rare one-horned Rhino and Bison, Wild Elephant etc. The Elephant safari of Jaldapara only operates in the morning, while jeep safari operates in the morning and afternoon session.
Bird Watching In Jaldapara National Park
If you are a nature lover Jaldapara will be tremendously appealing, for it is the abode for a huge variety of birds. The sanctuary is also the last known habitat of the Bengal florican. So take a pair of binoculars and enjoy stopping birds from the watchtowers of Jaldapara. You can also walk around some areas just make sure that you have a forest guide with you. Jaldapara is truly a paradise for avid bird watchers. One can also view various other birds like Pallas's Fishing Eagle, Peafowl, Crested Eagle, Jungle fowl, Shikra, Pied Hornbill, Patridges and many more. A variety of birds, typical of grassland and open country, can be seen from watchtowers viz. Doves, Bee-eaters, Rollers, Hoopoe, Shrikes, Larks, Hill Mynas, Bulbuls, and Finches. Call of the Red jungle fowl is as common as the musical sound of crickets. Bengal Florican, Black partridge, Shaheen Falcon, Great Pied Hornbills, Forest Eagle Owl, Large Green billed Malkoha and White Rumped Vulture, Lesser Adjutant Stork are the endangered bird species found in the Sanctuary. Some fortunate visitors can see the Peacock displaying his full array of feathers during the breeding season.
Where To Stay In Jaldapara National Park
For the tourists visiting Jaldapara, accommodation can be arranged in the Madarihat Tourist Lodge and Holong Tourist Bungalow. Both of these lodges are situated midst the verdant forest of Jaldapara. The Forest Guest House and Forest Bungalow in Jaldapara are maintained by forest officials. Visitors can also choose to stay in Jaldapara Jungle Camp. On the vicinity of Jaldapara National Park visitors can also find few private hotels and resort which are also a good alternative to stay near Jaldapara.
How To Reach Jaldapara National Park
The closest railway station of Jaldapara National Park is in Madarihat. The distance between Madarihat Railway Station and Jaldapara National Park is 7km. Visitors can easily hire a car from Madarihat Railway Station to reach Jaldapara National Park.
Places to visit in Dooars