KUENSEL PHODRANG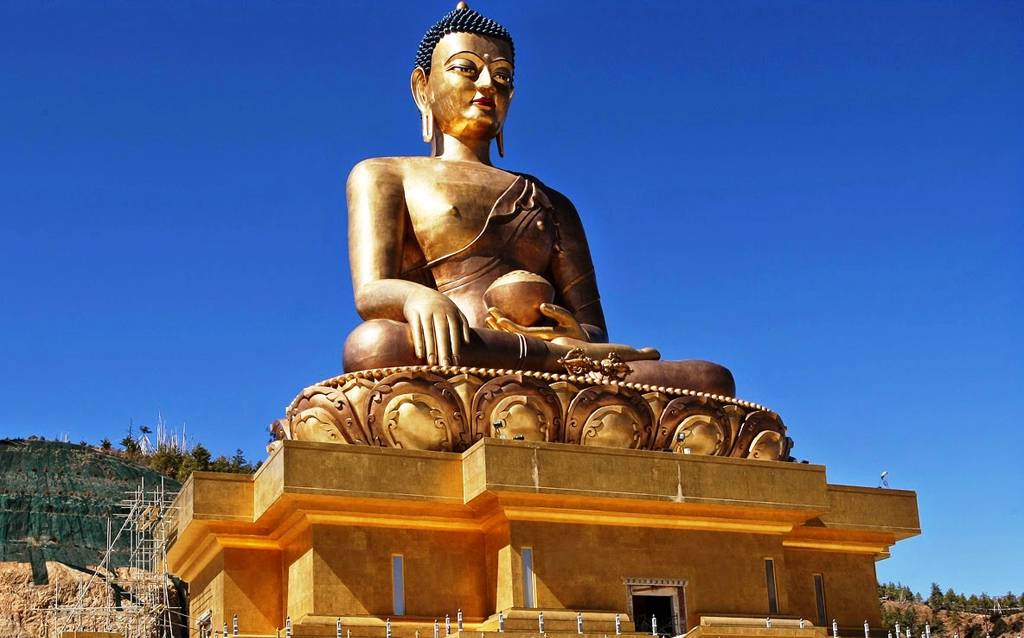 Kuensal Phodrang, overlooking the pictorial Thimphu Valley is one of the iconic landscapes of Thimphu Bhutan. Also, known as Buddha Point, Kuensal Phodrang is famous for housing the famous Great Buddha Dordenma. The gigantic Golden figurine of Sakyamuni Buddha has made Kuensal Phodrang a must visit place of Bhutan and a favored sightseeing place in Thimphu Valley.
Perched at an altitude of 2655 mt, Kuensal Phodrang is the most visible tourist destination seen from the Thimphu City. Surrounded by the alpine forest, the road leading to Kuensal Phodrang is known to be one of the most pictorial routes in Thimphu.
Legend Of Great Buddha Dordenma Of Kuensal Phodrang
According to Bhutanese Legend the site to lay the foundation of Great Buddha Dordenma of Kuensal Phodrang was foretold during the 8th century in an ancient terma of Guru Padmasambava. Later, after 800 years, the terma prophesying the making of Great Buddha Dordenma of Kuensal Phodrang was discovered by the Terton Pema Lingpa.
History Of Kuensal Phodrang
Consisting of thousand of identical figurine of Sakyamuni Buddha, the Great Buddha Dordenma of Kuensal Phodrang was inaugurated while celebrating the 60th anniversary of the Fourth King Jigme Singye Wangchuck on 25th September 2015.
Interest Fact About Kuensal Phodrang
Did you know? The statue of Sakyamuni Buddha located in Kuensal Phodrang with the height of 51.5 meters is the world's largest statue.
Things To See In Kuensal Phodrang
Gigantic statue of Sakyamuni Buddha sited atop the Kuensal Phodrang
Panoramic view of Thimphu Valley
Ruins of ancient palace of Sherab Wangchuck, the thirteenth Desi Druk, in Kuensal Phodrang Nature Park
Things To Do In Kuensal Phodrang
Watching the sunset over the Thimphu Valley from the Buddha Point of Kuensal Phodrang
Hiking from Thimphu to Kuensal Phodrang
Admiring the gigantic statue of Sakyamuni Buddha in Kuensal Phodrang
How To Reach Kuensal Phodrang
Kuensal Phodrang is located in the outskirts of Thimphu Valley. Visitors can reach Kuensal Phodrang by hiring a car from Thimphu Valley. It is an approx 10min drive from Thimphu to Kuensal Phodrang.
Distance: The distance between Thimphu to Kuensal Phodrang is 5 kilometers.