Kurseong Travel Guide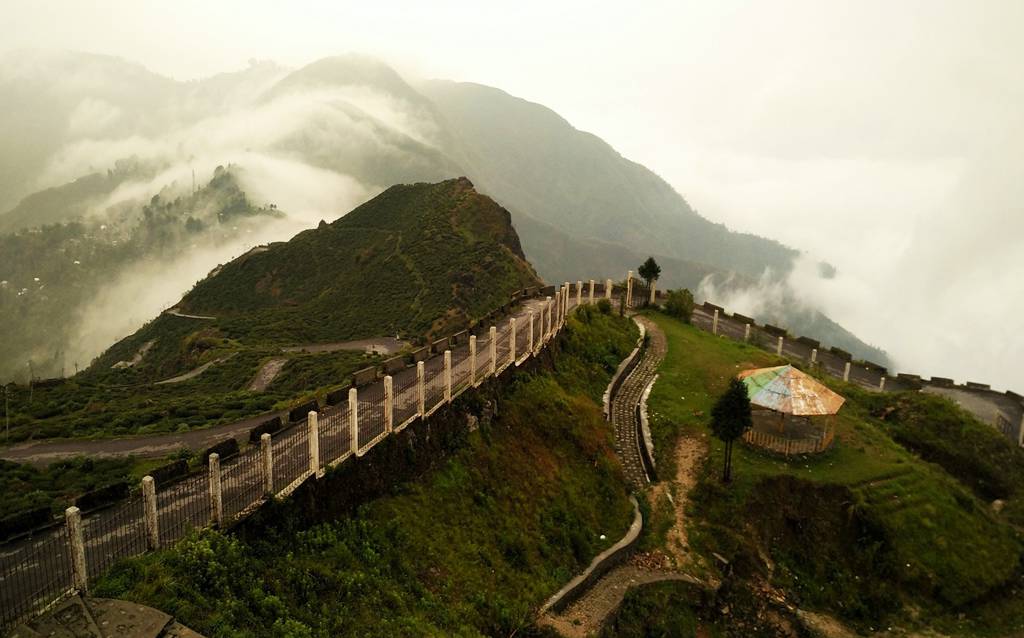 Kurseong, the subdivision of Darjeeling is a promising tourist destination. The name of this small town signifies the place of white orchids. Just at an altitude of 1458 meters (4860ft), Kurseong enjoys a milder and very healthy climate throughout the year. Travelers who want to experience the solace of nature and want to escape the intense heat of the plain flock to this hilly town every year in thousands. Located 33km (1:30min ride via car, 2h 30min via train) away from Darjeeling is sprawled with lovely tea gardens along the mountain slopes, forests with much different flora & fauna, quaint villages, and so on.
And expectedly, there are many viewpoints, tea estates, temples & churches, museums, as well as famous historic schools that were set up during the British colonial days. This complete travel guide of Kurseong will make sure travelers get the valuable information needed to explore the entire city at ease.
Tourist Places and Attractions in Kurseong
Kurseong with its rapidly increasing tourism offers plenty of sightseeing places to its visitors. Some of the renowned ones are as mentioned below.
Eagle's Craig
Eagle's Craig is one of the fascinating tourist places in the city. Eagle's Craig or as the local calls it E.C, is famous for its watchtower and well-maintained hilltop garden. It's 25 minutes of walk from the main town and located at the end of the road on the highest point on this mountain. On a clear day, you can see the panoramic view of Siliguri along with the valley and rivers surrounding it from the watchtower and during the evening the view is quite magical when the city is twinkling with thousands of lights. The viewpoint of the Eagle's Craig provides breathtaking panoramic scenery that is capable of bewitching every kind of traveler.
Giddapahar View Point
Another promising place to visit in Kurseong is Giddapahar ViewPoint, a 15min car ride along the hill cart road from where you can see the snow-peaked mountain and majestic Kanchenjunga on a clear day. The Tourism Department of the Gorkhaland Territorial Administration has developed this viewpoint which is adjacent to Netaji Subhas Chandra Bose Memorial Museum. There are several stairs to cross prior to reaching the viewpoint. Travelers will be prized with an alluring view of the entire valley and the snaking roads.
Kurseong Deer Park
Just 1 km from the heart of the city and in Dow Hill, Kurseong Deer Park was established to preserve the deer. The other name of the park is Dow Hill Eco Park where visitors can get to see the rare species of small birds and species. Apart from these, the serene environment and the soothing view of the pine trees are worth noting. Wild animal lovers will certainly be happy to be able to visit Dow Hill Eco Park.
Tea Gardens in Kurseong
Tea Gardens are a huge part of tourism in Kurseong. If you are a fan of the tea garden you won't be disappointed since the downtown of Kurseong is surrounded by two big tea estates Makaibari and Ambootia. These estates conduct a paid tour which shows you how the tea leaves are processed and let you know the history behind the establishment of the tea estate and you can also take part in the tea-tasting session. Wandering around these tea gardens while experiencing the tranquility of nature and taking countless Instagram worthy photos are truly some of the great activities to do.
Temples in Kurseong
Religious places have always had a special place in our hearts. Although Kurseong and its Tourism might seem small, it is filled with temples like Giddapahar Seti Mata mandir. It's considered to be very sacred and quite popular with the locals; Ambootia Shiv Mandir located within the estate is very famous not only for the religious belief but also for the scenic beauty. These temples in Kurseong are visited by both the devotees as well as tourists every year to experience the religious significance of that region.
Churches in Kurseong
Kurseong has many heritage churches made in the British Era like St. Paul's church, St. Andrew's church or St. Mary's Hill church. The scenic view of these churches is increasing tourism in Kurseong. The iconic St. Paul's Church built in the colonial era of 1905 is one of the finest religious sites in the region. This colonial architecture looks splendid in its white and red paintings from outside. Andrew's church and St. Mary's Hill church are the other two worth noting churches in the city attracting thousands of travelers every year.
Museums in Kurseong
For all the nature lover and history buff, there is a place for you to Forest Museum Dowhill where one can learn about the flora and fauna of that area, Netaji Subhash Chandra Bose Museum consists of the furniture used by the Netaji to articles, letters, and artifacts that reflect the life of this great Indian freedom fighter. There is lot to learn about the British Era here in the museum for which the history fanatics would certainly love to visit this place.
Kurseong Weather and Best Time to Visit
Blessed with moderate climate and beautiful surrounding Kurseong is undoubtedly a piece of paradise. Its pleasant weather and not too cool temperature is a delight for travelers.
Due to its charming weather, the town can be visited at any time of the year. However, the best times to visit Kurseong are between March end and May and again between the end of August and October.
How to Reach Kurseong
Kurseong can be reached by all the transportation systems available. Due to its immense popularity among tourists, the communication system is quite good.
Private and government buses are available from many major nearby cities such as Darjeeling, Siliguri, Bagdogra, etc.
New Jalpaiguri Railway Station is the major railway station near Kurseong. The distance between them is approximately 42 km. outside the railway station, many taxis are available to hire.
Situated at a distance of more than 40 km, Bagdogra is the nearest airport to Kurseong. After landing at Bagdogra, you will get taxis to reach your destination.
However, if comfort and luxury are your first priority, and if you hate bargaining while hiring a car, you can always look for North Bengal Tourism's Car Rental Service.
Here at North Bengal Tourism, we always provide a well-maintained car that is driven by an experienced driver. Now, reach your destination quite safely at the cheapest car fare available.
Where to Stay in the City
Staying at Kurseong is a memorable experience in itself as it offers a lot of accommodations options. From Budget hotels to deluxe ones, the town has all kinds of staying options for every kind of traveler.
Kurseong Tourist Lodge
Kurseong Tourist Lodge now known as Roudra Chhaya Tourism Property is a tourist accommodation run by the Government of West Bengal. The lodge offers plenty of view room from where you can have a breathtaking view of the valley and the astonishing mountains. With North Bengal Tourism's Kurseong Tourist Lodge and Resort Booking Service, you can book rooms by simply calling us.
Other Hotels in Kurseong
Many private budget and deluxe hotels are available to book in Kurseong. With North Bengal Tourism's Hotel Booking Service, you can quite easily book a hotel. Now don't bear the hassle of booking a hotel when North Bengal Tourism is just a phone call away.
Why Should You Visit this Town?
From temples to museum, tea gardens to viewpoint there are many places which you can explore in Kurseong so the saying 'Don't judge a book by its cover' stay fit for the town full of orchids or Kurseong it may seem small at first but you will know that this place is full of serene view and peaceful ambiance. It's a place where you want to keep coming back for more.
As you can see, Kurseong, the mesmerizing town beside Darjeeling has plenty of things to offer to its visitors. The ever-growing tourism of Kurseong lures every kind of traveler towards it. With North Bengal Tourism's complete Kurseong Tour Packages, get rid of the hassle of booking cars, accommodations, and meals separately. So, choose one of our tailor-made Kurseong Tour Packages and let us customize it as per your choice.
Important F.A.Q on Kurseong
Q. Why is Kurseong famous?
The city is famous for its soothing weather, historical architecture, religious sites, and the astonishing view of Kanchenjunga and the other Himalayan peaks.
Q. What are the sightseeing places in Kurseong?
There are a plethora of sightseeing attractions in the city. The worth noting ones are Eagle's Craig, Giddapahar View Point, Makaibari Tea Garden, Ani Gompa, Netaji Subash Chandra Bose Museum, Ambootia Tea Garden, St. Paul's church, St. Andrew's church or St. Mary's Hill church, etc.
Q. Why should you visit Kurseong?
Unlike other popular hill stations that stay congested with full of tourists every year, Kurseong is the comparatively secluded one making it an ideal hill station for peace-seeking tourists. Moreover, being full of sightseeing places and historical architectures, it is also the choice of the massed and historical enthusiasts.
Q. What is the best time to visit Kurseong?
March to June and then again September to December is considered to be the best time to visit the city. Visiting there during the monsoon is not recommended due to the intense shower and the frequent landslides.
Q. What are the foods available in the city?
Kurseong is known for its delicious cuisine. One can try Thukpa Noodle Soup and steamed momos at the roadside stalls. One can also try several drinks like Muscatel organic tea, Channg, Thongpa, and other kinds of Darjeeling tea.
Q. What are the activities to do in the city?
The city is not known for offering several outdoor activities. However, trekking can be enjoyed through the trekking routes. One can also go to explore sunrise viewpoint, churches, temples and other sightseeing places.
Q. How to Reach Kurseong?
Kurseong can be reached by a car, taxi or even a bus. Its nearest airport is Bagdogra (IXB) and the nearest railway station is New Jalpaiguri Junction (NJP). Rented cars are available from both Bagdogra Airport and NJP. Several buses also ply from Siliguri to Kurseong every day.
Places to visit in Darjeeling