LACHUNG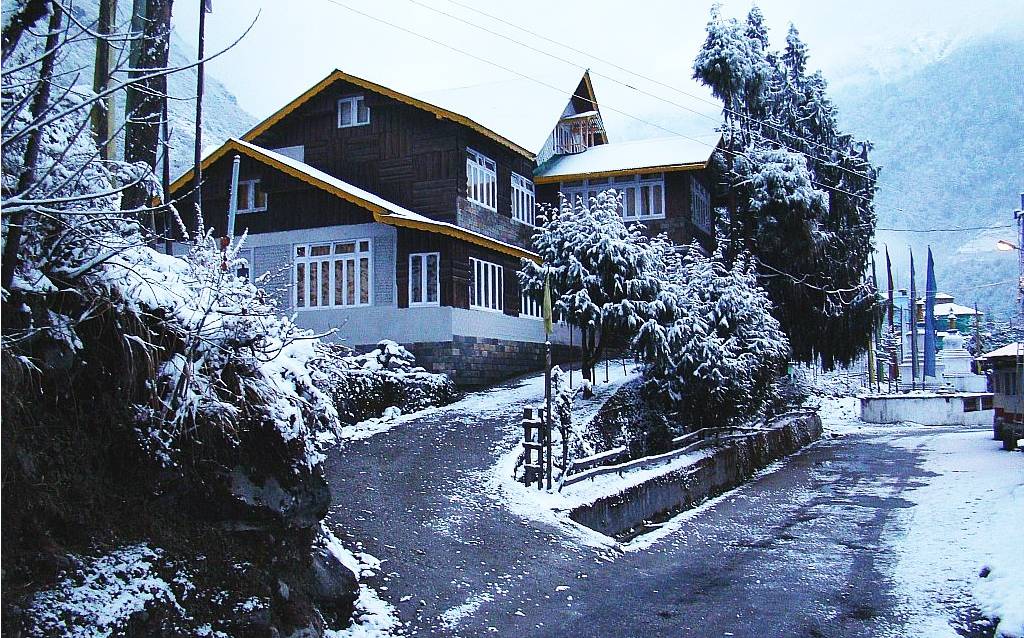 Lachung, perched at an altitude of 8200ft is a serene mountain hamlet of North Sikkim. Surrounded with magnificent mountains and awe-inspiring waterfalls, Lachung is situated in a pictorial location. Lachung has been described as the most picturesque village of Sikkim in the Himalayan Journal 1855 by Joseph Dalton Hooker. With its ethereal beauty, Lachung has been a must visit place in Sikkim.
Places To Visit In Lachung
Lachung Monastery
Zero Point
Yumthang Valley
Bhim Nala Waterfall
Things To Do In Lachung
Nature walking through the apple orchards
Tourist can reckon the scenic beauty of this serene mountain hamlet with the Lachung Tour Package of North Bengal Tourism. Lachung Tour Package provided by North Bengal Tourism is reasonable and exclusively made according to the convenience of the traveler choice.
Hotels In Lachung
Being a popular tourist destination, visitors can find many options of accommodation in Lachung. From cozy homestay to budget hotels, visitor can choose a place to stay in Lachung according to their convenience. With hotel booking service of North Bengal Tourism visitor can save their time and money in booking hotels in Lachung.
How To Reach Lachung
By Air: The nearest airport of Lachung is in Bagdogra. From Bagdogra Airport it is an overall journey of 7 hrs to reach Lachung.
Distance: The distance between Bagdogra to Lachung is 195 kilometers.
By Rail: The nearest railway station of Lachung is New Jalpaiguri Railway Station (NJP). It is approx 7hrs drives from NJP to Lachung.
Distance: The distance between NJP to Lachung is 192 kilometers.
Tourist can hire a car to reach Lachung from NJP and Bagdogra. The car rental service of North Bengal Tourism offers rental cars from NJP to Lachung and Bagdogra to Lachung at a reasonable car fare.
Tourist can also break their journey to reach Lachung by halting overnight in Gangtok and continuing their journey the next day. This allows them to have proper rest. It is an overall 5 hours journey to reach Lachung from Gangtok.
Distance: The distance between Gangtok to Lachung is 102 kilometers.
Best Time To Visit Lachung
April to June: This is the best time to visit Lachung. During this season visitors can enjoy the pleasant weather of Lachung along with the blooming of vibrant Himalayan Flora.
July to September: During this season weather in Sikkim become unpredictable. Monsoon Season is usually accompanied by heavy rainfall and sudden road blocks so most of the people avoid visiting Lachung during this time.
October to March: Being poised at a higher elevation winter are extremely cold in Lachung. But if visitors do not mind the freezing weather, they can visit Lachung during winter as it is the best time to witness the panoramic view of snow capped mountains enclosing Lachung.