LAMAHATTA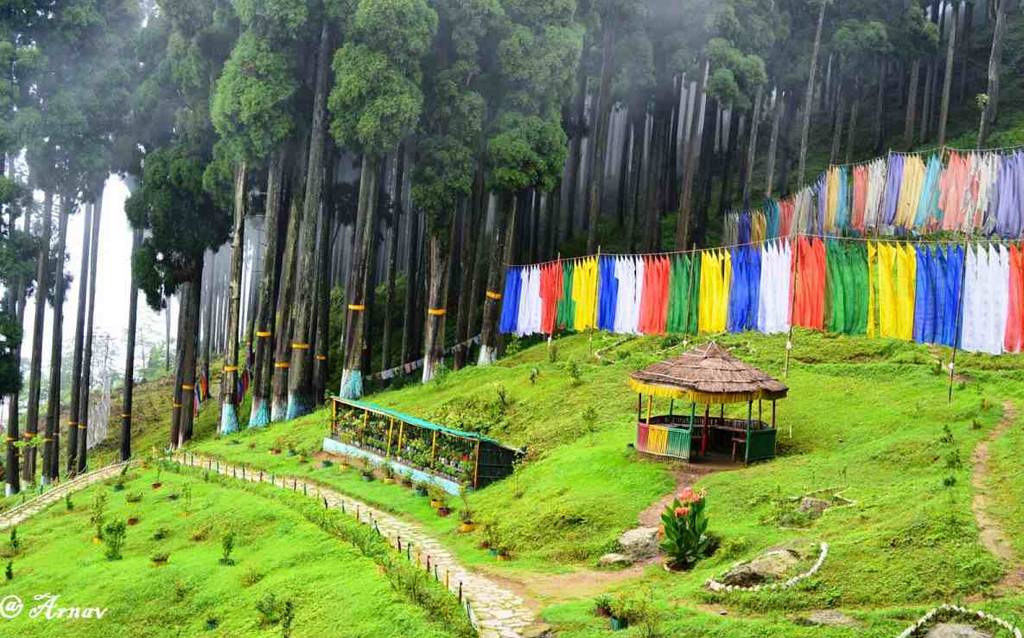 Lamahatta is a small village located 23km away from the main town Darjeeling. Surrounded by pine forest and beautiful view of Mt Kanchenjunga this picturesque village has been developed as an eco-tourism places in late 2012. Lama in Lamahatta stands for Buddhist monk and Hatta for hut - a monk's hermitage.
At an altitude of 6800 Ft. Lamahatta is a calm and peaceful place with Pine trees standing majestically with the looming Mount Kanchenjunga in the fore front. The Buddhist Prayer Flags fluttering at the slight breeze were 500 years old Buddhist Monastery is situated just 20 min. walks. The inhabitants are mostly tribal Buddhist people like Dukpas, Sherpa, and Yalmoos.
Major attractions in Lamahatta are the park and well manicured garden within the village. A trekking route has also been built that will lead tourists through the pine tree maze to two beautiful ponds locally called "jore pokhari" (twin ponds). Seats at vantage points have been placed with a watch tower overlooking the surroundings. Lamahatta is a perfect occasion destination for voyagers who wish to make tracks in an opposite direction from the buzzing about of urban life and appreciate regular isolation, with its uncommon and wonderful types of blossoms covering the scene and encompassing patio nurseries. Lamahatta is very much associated with all real traveler centers like Darjeeling and Kalimpong. You can visit Lamahatta throughout the year. Be that as it may, in the event that you are attached to blossoms then be at Lamahatta amid winters, when the blooms are in full sprout and the atmosphere is the most helpful.
Experience silence and beauty of Nature combined in Lamahatta. Seductive garden, watch tower, beautiful blossoms of orchids, prayer flags that waves along with direction of winds, attractive platform all are initiated by department of tourism for the tourist is really commendable job and as a result the loop of momentum has really shifted towards the gate of Lamahatta. Hilltop location and lights of beautiful ambiance where nature has perfectly settled and has blessed the whole atmosphere is really a treat for visitors who love walking into the corridor of an ecstasy. A place far from city pollution with one of the most mesmerizing view of Mt Kanchenjunga Lamahatta is an ideal place for a peaceful vacation amidst the nature.
Places to visit in Darjeeling