LATAGURI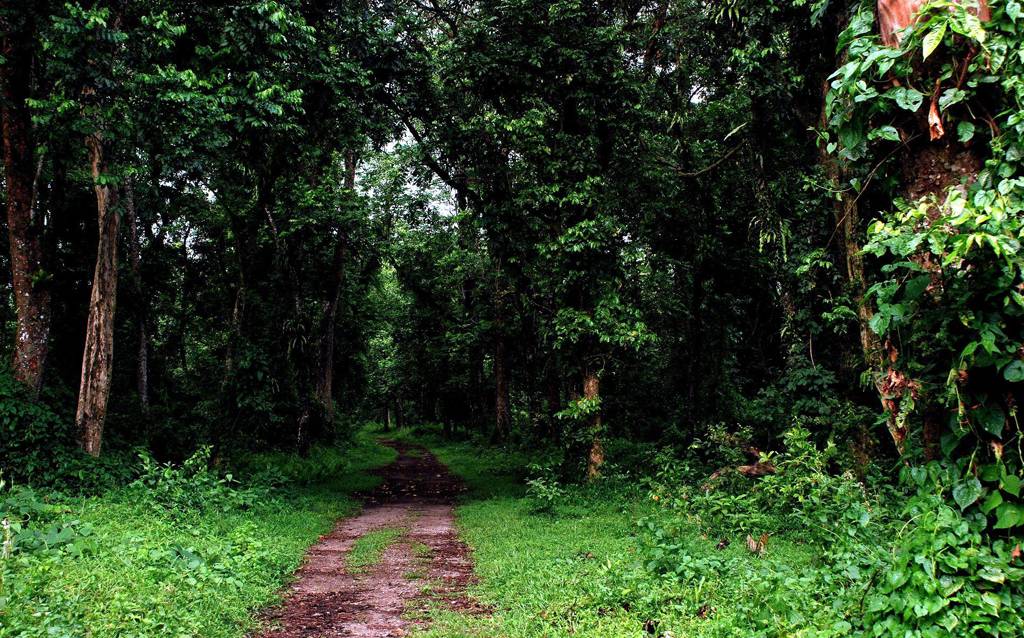 Lataguri is a quaint settlement located just outside Gorumara National Park on National Highway No. 31. It is considered as the entry point to the Gorumara Park. Lataguri is situated 30km from Jalpaiguri Town Station, 27 km from Jalpaiguri Road Station, 25 km from New Mal junction, 75 km from New Jalpaiguri Railway Station (NJP) and 95 km. from Bagdogra Airport (IXB). Lataguri has become famous as the base to explore the Gorumara National Park. Many serene river streams like Murti, Jaldhaka and Torsha flow through this verdant national park of Gorumara.
Why is Lataguri famous?
Tourism around Gorumara National Park started when forest resorts and hotels were built in Lataguri and its surrounding area. But today large number of tourist accommodation has come up all around the forest including in Murti, Ramsai and other area. Although, there are other places to stay near Gorumara National Park, still Lataguri remains the most preferred places to stay while traveling in Dooars. Enclosed with dense forest of Odal, Panisaj and Sal tree the natural beauty of Lataguri never ceases to amaze the travelers. Due to its proximity with the reserved forest permits for entering Gorumara and Chapramari Wildlife Sanctuary are given from Lataguri. This place is imprinted with beauty and charm. Along the eastern side of the Lataguri village there is a thick lining of dense forest of Gorumara National Park.
What to do in Lataguri?
The quaint forest village of Lataguri also has a "Nature Interpretation Center", where tourist can find information about the rich flora and fauna of the Gorumara. It is the most favored place for sightseeing in Lataguri. Cultural programs such as tribal dance etc. are also organized in Lataguri Nature Interpretation Centre in the evening. Morning or late afternoon nature walk in the amazing forest trail is one of the major activities which can be enjoyed by nature lover here in Lataguri. Jungle Safari in Gorumara National Park is anther favored tourist activity of Lataguri. This small village offers you the splendor of Gorumara and Chapramari National Park and also allows access to the famed Buxa Tiger Reserve which is located at a mere 2hours journey.
Why to choose Lataguri?
Lataguri offers the wider scope for the thrill and adventure to the visitors making a tour to this part of the Indian sub-continent. Being a small village it offers great tourism sites that have capture the attention of nature lovers and wilderness explorers from around the world. It is one of the most important tourist attractions of this area. When in Lataguri, the tourists can enjoy the wild drive in the wilderness, go trekking, visit the caves in the forests, watch a number of unknown birds, or enjoy the serenity of the forest. Since, Lataguri is a forested area, anytime of the year is the best time to visit Lataguri. Only the monsoons could be given a miss because this region receives heavy rainfall every monsoon and the weather would be swampy due to excessive moisture and humidity.
Where can you stay in Lataguri
Located adjacent to Gorumara National Park there are many accommodation options in Lataguri. Visitors can either choose to stay in cozy homestays or fancy hotels or forest resort in Lataguri. Most of the hotel rooms in Lataguri are facing towards the verdant forest of Gorumara National Park. If visitors are lucky then they can spot different wild life like elephants, peacocks, Barking Deer, Spotted Deer and Hog Deer, wild Pig, and gaur from their hotel in Lataguri. Visitors can also opt for to stay in forest bungalow inside the national park. But all the bookings are made in advance for Lataguri forest bungalows since they are maintained by the government officials.
How to reach Lataguri
The nearest railway station to Lataguri is in Jalpaiguri. The distance between Jalpaiguri Town Station to Lataguri is 30km and the distance between Jalpaiguri Road Station to Lataguri is 27km. And the closest airport from Lataguri is in Bagdogra located at a distance of 90km from Lataguri. Visitors can easily reach Lataguri by hiring a car from the respective junction.
Questions may arise while planning to visit Lataguri
Places to visit in Dooars