Mankhim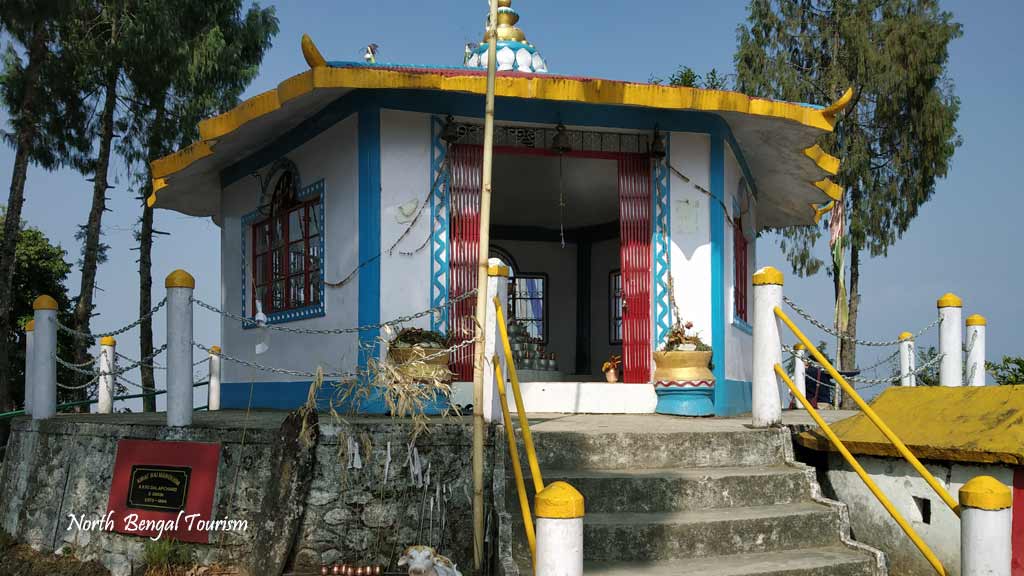 Mankhim is named by the temple of the Khambu (Rai), one of Nepal's most ancient ethnical groups is located at Aritar, Sikkim. Here the Khambu (Rai) community pilgrims twice a year for the celebration of Sakew, a day is fixed for worship (usually falling in the months of April or May). In the Nepali culture this worship is called Ubhauli.
Things to do in Mankhim
Mankhim is situated atop a hill in Aritar village; it is actually a viewpoint from where one can enjoy a mesmerizing view of the snow covered peaks of mighty Kanchenjunga. On a bright clear day, you can view the Jelep La Pass and the small village of Zuluk too. Apart from the peaks, Mankhim brings a breathtaking eagle's eye view of Lampokhri Lake in Aritar, which is significant for its emerald green water which looks like a human foot from that high altitude. Mankhim is also popular for the temple of Rai. The mesmerizing view of the surroundings from Mankhim will certainly hypnotize you from the hill top One can also pay a visit to the Lampokhri Lake for a boating session on the tranquil water or off for a short trek through the dense jungles to reach the Aritar Monastery, which includes several ancient Buddhist murals, artifacts and manuscripts.
What to see in Mankhim
There is a long jungle path across the hills covering various view points from Makhim to Lampokhri. You can take a nature walk along this path to Lampokhri Lake and can organize picnics at the popular picnic spot called Love Dara, located near Mankhim. The place is also ideal for the enthusiastic bird watchers. The Lampokhari Lake is must watch and popular tourist attraction in this region. The important element of this lake is its shape, which resembles a human foot. Emerged by equally lush green forest consists of Pine and Fir trees, the lake is perfect spot for a laid back paddle boating sessions across its calm waters. Located at a short distance away from the lake is a lodge and cafeteria where tourists can refresh themselves. Those who are fond of art they should make it a point to visit the Aritar Monastery, which is a curator of some magnificent works of vintage art including exotically painted wall paintings, ancient Buddhist artifacts and rare manuscripts from an outmoded era. The temple of Mankhim is marinade in history as it belongs to the medieval Hindu craze known as Rai, which believed to have originated in the Maity village. Besides visiting the temple, tourists can get a rampant view of Mt. Kanchenjungha. Apart from this, other tourist attractions in the area consists The Dak Bungalow, a colonial era establishment which was built in 1895, the historic ruins of the Damsang Fort and the most popular Cross Hill near Pedong can also be covered up in a day trip.
How to reach Mankhim?
You can hire vehicle from Siliguri and then reach to Aritar in 5 hours. The route is Teesta Bazar - Kalimpong - Algarah - Pedong - Reshikhola - Rhenock - Aritar - Mankhim and if you are coming from any sort of destination in Sikkim, you have to come across via Rangpo - Rorathang - Reshikhola - Rhenock - Aritar - Mankhim. Many tourists also hire vehicles and make tour to Aritar and Mankhim from Gangtok it takes roughly 3 hours.
Where to stay in Mankhim?
The surge hills of Mankhim consists of few homestays that offer you a homely atmosphere stocked with dining and lodging facilities. There are couple of cottages facing towards the mighty Kanchenjungha range, which provide basic amenities including fresh Indian cuisine and a hygienic place to stay. Tourists can also stay at glasshouse cottage that is situated in the backdrop of the Kanchenjunga range and located at the edge of the ridge.
What is the best time to visit Mankhim
Although the region is infamous for bone chilling winters, still Mankhim is open for the tourists all round the year. If you want to visit this hill top paradise in winter it will give you the opportunity to catch a picturesque view of the sunrise over the icy peaks of Mt. Kanchenjunga. Its cool climate and glittering flora during the summer months provide tourists with an ideal sanctum to escape the soaring mercury in the plains down below.