Mekhli Ganj near Cooch Behar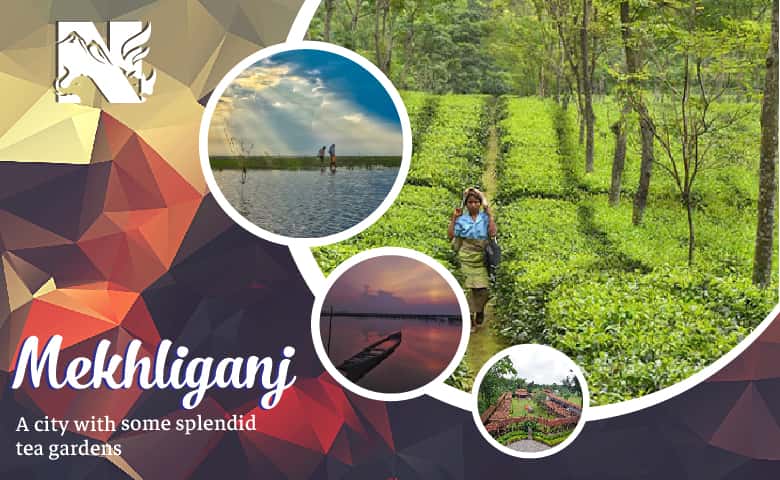 Mekhli Ganj or Mekhliganj is a sub-division of the Cooch-Behar District of West Bengal. Ornamented with a plethora of tea gardens, nestled beside the shimmering Saniajaan River and just 3 hours driving distance of Siliguri, Mekhliganj is an alluring hamlet known for its serenity and the Tea Tourism.
What to See in and around Mekhliganj
Mekhliganj Tea Estate is the major attraction of the village along with snaking Saniajaan River, several rice fields, Tin Bigha Checkpost, etc. Apart from the alluring green lush tea gardens, ceremonial border closing between India and Bangladesh named Tin Bigha Chackpost attract visitors towards the village.
Mekhliganj is known for its nearby tourist attractions. Gorumara National Park is 55 km distance away whereas Jaldapara National Park is 105 km distance away. The Rajbari of Cooch Behar is the finest sightseeing places to see nearby.
Things to Do in and around the Village
If you are fond of nature-walking, you will be going to love strolling around the riverbank of Saniajaan River and within the luxuriant tea estates. Watch the tea plucking activity or try yourself for once. Visit the tea factories to watch the tea processing.
Get the glimpse of Bangladesh by visiting the ceremonial Border closing at Tin Bigha Corridor between India and Bangladesh. Dooars Tour stays incomplete without visiting the renowned jungles of it. Hence, having a trip and the Jungle Safari will be one memorable activity to do. Coochbehar and its Iconic Rajbari can be visited with a short day trip.
How to Reach Mekhliganj Cooch Behar
Mekhliganj is well connected with its entire major nearby cities. It is 87 km distance way from Siliguri, 98 km from Hasimara and 105 km from Alipurduar. Hired car to reach the offbeat village is easily available from anywhere.
Best time to Visit Mekhliganj Village
Mekhliganj due to its perfect weather can be visited at any time of the year. Monsoon is considered to be the best time as the lush greenery all around become most prominent. However, bird enthusiasts can have a tour here during winter as it attractions plethora of migratory birds during this time.
Places to visit in Dooars