Badamtam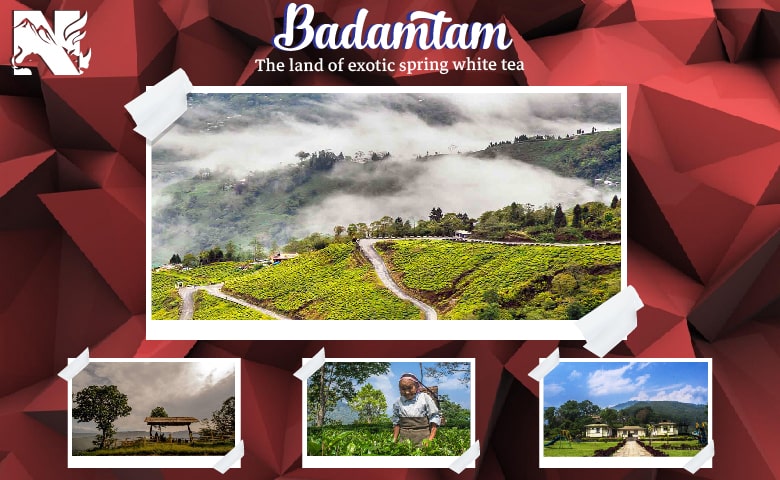 In the Darjeeling District of West Bengal, Badamtam is an offbeat destination known for its vast stretch of tea gardens. The enchanting view of Kanchenjunga and the calmful ambiance makes it a great destination to experience the splendid tea tourism of Himalaya. The tea estate of Badamtam has a rich history. In the year 1858, before commercialization by the Lebong Company, the tea estate was first planted by Christine Barnes. The name of the estate could have been derived from a local Lepcha word which means bamboo water carrier.
About 17 km distance away from the main town of Darjeeling and situated at an elevation of 6000 feet in Lebong Valley, Badamtam Tea Estate can provide you with the perfect serenity and peace of mind.
What to do see and do near Badamtam?
Owned by Goodricke, Badam Tea Garden has a lot to offer to its peace-seeking visitors. Here are the attractive things you can see and do in and around this tea estate.
Far away from the hustle and bustle of city life, you can enjoy the intense serenity of nature this tourist site has to offer.
The entire Darjeeling and its sightseeing places can be covered (HMI, Tiger Hill, Batasia Loop, Darjeeling Ropeway, Darjeeling Rock Garden, Ghoom Monastery, etc.)
Badamtam Monastery, Manjitar-Bridge, and Chulidara Statue of Lord Buddha are the major sightseeing attractions near Badamtam.
Watch tea plucking and tea processing while witnessing the dazzling view of Kanchenjunga in the backdrop.
Meeting with the local villagers will be a fun activity to do as you will get to know about their culture and lifestyle very closely.
Enjoy the bird watching activity while walking through the nearby forested area.
Where to Stay near Badamtam Tea Estate?
For a comfortable night stay of the visitors, Badamtam has several homestays which are run by the friendly villagers. The welcoming attitude of the hots makes the guests feel homely. The amenities here in these homestays are neat and clean rooms, attached western bathrooms, 24 hours of electricity, geysers, and more. The foods served here are made with organic sources and they are quite delicious to have.
How to Reach this Tea Estate?
By Air: One has to board a flight to Bagdogra Aiport which is the maiden airport at a distance of around 90 km via Ghoom and Darjeeling. After successfully landing at Bagdogra Airport, you require to take the help of a rented car to reach the Tea Estate within 4 hours.
By Road: To reach Badamtam Tea Estate comfortably by road, cars are available to hire from all its adjacent locations and cities like Siliguri, Bagdogra, NJP, etc. It would take around 4 hours to reach the tea garden from these places.
By Train: The major nearby station is New Jalpaiguri Junction (NJP) at a distance of around 86 km. You have to board a train to this railway station then get a cab to reach this tea estate within 4 hours.
Best Time to Visit Badamtam Tea Estate
Apart from the season of Monsoon, Badamtam can be visited at any month of the year. Kanchenjunga stays visible for most of the time and the temperature also stays quite soothing and does not fall to a great extent. Hence, you would truly love to stay near this Tea Estate.