Icchey Gaon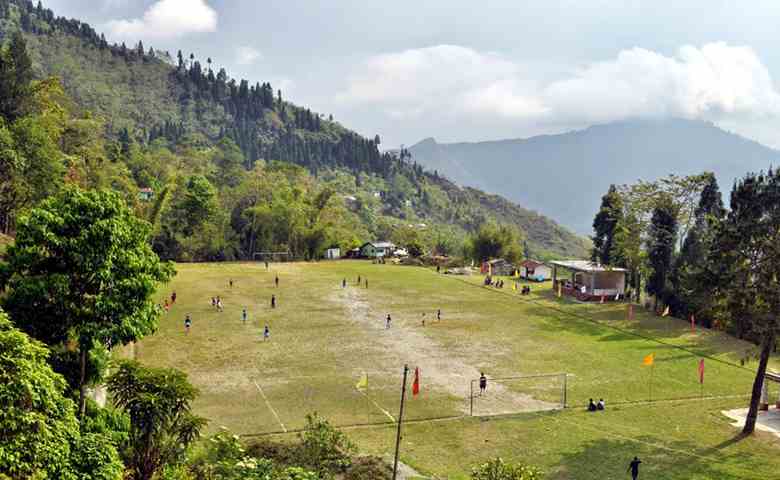 Perched at an altitude of 5800ft is a serene hamlet called Icchey Gaon. Tucked amidst the alpine forest of pine and conifer tree Icchey Gaon is an offbeat destination of North Bengal. Icchey Gaon also spelt as Icche gaon or Echey Gaon is located at a distance of 17km from Kalimpong. This quaint settlement has caught the attention of travelers with its astounding view of Mt Kanchenjunga and rustic style of living. Overlooking the beautiful township of Darjeeling and Sikkim, during the night time the whole valleys light up like fireflies. The night view from Icchey Gaon has captivated the mind of many travelers.
What To See In Icchey Gaon
Bounded by verdant forested area Icchey Gaon is surrounded with astounding trekking routes. Those trekking route lead towards some of the most pictorial viewpoints of Icchey Gaon like Ramitey Dara, Tinchuley, and Jalsa. Ramitey Dara offers the panoramic view of River Teesta making the legendary 14turns through the mountainous Himalayan Valley.
On a clear day visitors can catch the unhindered view of Mt Kanchenjunga along with the towns of Sikkim, Jelep La and Nathula from Tinchuley. At a distance of 6km from Icchey Gaon is an ancient monument called Damsang Fort. The fort was built in 1690 by the Lepcha ruler. After the Anglo Bhutan War the fort was destroyed and turned into ruins.
The Jalsa View point is known for offering the grandiose vista of Cinchona plantation. Apart from cinchona plantation visitors can adorn the colonial era architecture of British built Jalsa Bungalow.
Places To Visit Around Icchey Gaon
Destinations like Reshikhola, Pedong, Aritar, Mankhim and Sillery Gaon are all located nearby Icchey Gaon. Visitors while traveling to Icchey Gaon can cover all the sightseeing spots of these places. Icchey Gaon is situated close to the legendary Silk Route and act as the perfect base for the travelers who want to explore the less trodden destination of Silk Route
Things To Do In Icchey Gaon
Trekking and village walking are some of the favored things to do in Icchey Gaon. The trekking routes of Icchey Gaon are ideal to spot to for spotting some rare Himalayan birds.
Where To Stay In Icchey Gaon
Unscathed by the modernized society there are no fancy hotels or resorts in Icchey Gaon. Here, in Icchey Gaon, there is only one accommodation facility i.e. a homestay. The homestay of Icchey Gaon is equipped with all the basic amenities.
How To Reach Icchey Gaon
Icchey Gaon is located at a distance of 88 km from NJP and 91 km Bagdogra. It is an easily accessible destination. Visitors can directly hire a cab from NJP or Bagdogra to Icchey Gaon or they can take a shared cab till Kalimpong. From Kalimpong Icchey Gaon is located at a distance of 17km.
Best Time To Visit Icchey Gaon
The rustic beauty of Icche gaon can be relished throughout the year. But to witness an unparallel view of snow clad Mt Kanchenjunga and its surrounding ranges winter season (October to December) is the best time to visit Icchey Gaon.