Rampuria Darjeeling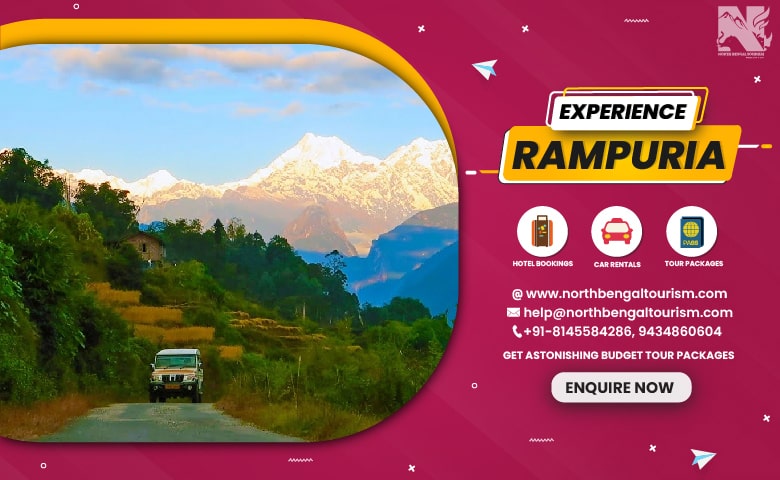 Not more than 20 km driving distance away from the heart of Darjeeling town, Rampuria is a forest village located within the lush green vegetation of Senchal Wildlife Sanctuary. A small hamlet where farming and cattle rearing are the major sources of income, it has risen in popularity as a tourist destination in recent years due to its picturesque landscape and tranquil setting. Rampuria Village is one of the top birdwatching destinations in the world. From this settlement, you can see the entire Kanchenjunga range. The lush green landscape of the Runglee Rungliot Tea Garden would undoubtedly soothe your eyes from here. Now, let us describe why it should be your next holiday destination with North Bengal Tourism.
What to See and Do in Rampuria
The virgin settlement Rampuria is all about natural beauty. However, around it, there are lots of tourist attractions to see and activities to do. The major attraction surrounding the village is the Senchal Wildlife Sanctuary which is one of the oldest wildlife sanctuaries in India. Here you will get to see several species of flora including Magnolias, Primula, Wild Orchid, Rhododendron, Ferns, Conifer, Bamboo, Oak, etc. The animals you will get to see here are Barking deer, Common leopard, Asiatic black bear, Wild Boar, Yellow-throated marten. It is also a paradise for bird watchers as one can sight birds like Treepie, Magpie, Drongo, Tit, Babbler, Thrush, and more.
Mungpoo town noted for its Cinchona plantation, Rabindranath Tagore Museum, orange orchard, and cymbidium orchid center is just 7 kilometers driving distance away from the village. On one side, you can visit Lamahatta, Takdah, Tinchuley, Peshok, and Chota and Bara Mangwa; on the other, you can visit Chota and Bara Mangwa too. A sightseeing excursion to Darjeeling can also be done from the village to explore the sightseeing places and to witness a splendid sunrise from the iconic tiger hill. From Darjeeling, you can also visit several tea estates including Runglee Rungliot.
How to Reach Rampuria Forest Village near Darjeeling
By Road: This forest village is nicely connected with its entire major nearby places. Tiger Hill is 18 kilometers away, Ghoom Monastery is 14 kilometers away, and Tibetan Buddhist Monastery Darjeeling is 15 kilometers away. From any of these places, you can easily get a car to this village.
By Air: Bagdogra Airport is the closest airport, located 79 kilometers away. You can easily get a rented cab outside the airport.
By Train: NJP is its closest railway station. Outside the station, there is an abundance of rented cars available. You can also come to Siliguri first and from there get a taxi to the village.
Where to Stay in the Village
Homestay is the only mode of accommodation available here to stay. The rooms of the homestay are spacious and come with all the basic amenities such as view rooms, attached western bathroom, electricity, and more. Contact North Bengal Tourism to book your next holiday to Rampuria village near Darjeeling.
Best Time to Visit Rampuria Forest Village
You can visit Rampuria Forest Village at any time of the year, however, if you talk about the best time, it will be during the months of April to May and then again from October to March. Lush greenery and the breathtaking panoramic view of the hills will welcome you no matter when you visit the village. So why wait? Explore it now with North Bengal Tourism.