Rangbang Darjeeling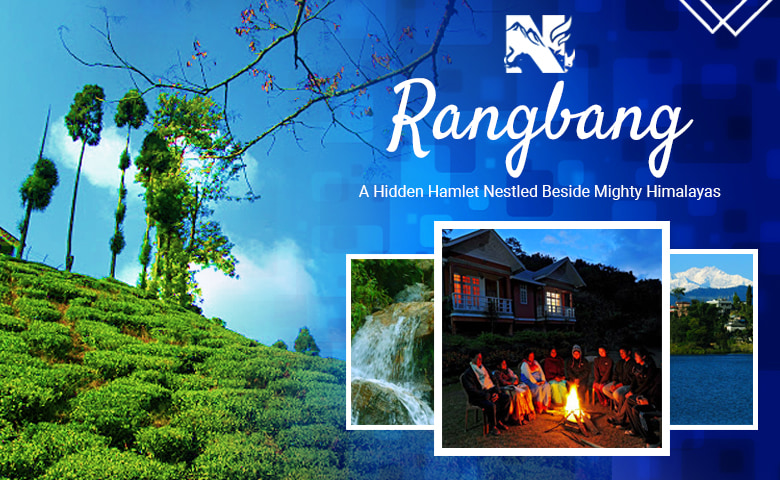 Just 58 km away from Siliguri, Rangbang is a tiny village where the quest of searching an ideal village ornamented with orange orchards, blue hills, White Mountains and endless tea gardens end. Far from the tourist rush and quite adjacent to Darjeeling and Mirik, Rangbang is flourishing rapidly as one of the most visited tourist places. Replete with a plethora of tea gardens, long nature walks, vibrant Himalayan Birds, colourful flowers and trekking trails, let us describe what it has to offer more to its nature-loving tourists.
Tourist Attractions and Activities to do in Rangbang
Tourist alluring proportions are in abundance in and around the village. Hence, visitors will not get bored at all. Here are the following activities they can do while staying at the Ranbang Homestay.
The shimmering Rangbang River floats across the valley of Rangbang which looks astonishing far from the village.
The charming beauty of the mountain peaks such as Mount Kanchenjunga can be caught from the village.
The naturally formed Rock Garden with some strange formations of Rangbang that lures tourist towards it.
Visit Mumrah Tea Garden, Thurbo Tea Garden and other tea estates. You will have a mesmerizing view of the blue hills of "Nagari" and "Mangarjung" from Thurbo Tea Garden.
There are many religious sites to explore here such as a Roman Catholic chapel run by the Salesian fathers, a Buddhist monastery and a Kabir Panth Math. Tin Tangay Waterfalls can also be explored thereafter.
You can have a short excursion to the popular tourist destinations like Darjeeling, Mirik, Kurseong and lesser-known offbeat destinations like Bunkulung, Jorepokhri, Sukhiapokhri and Lepchajagat, etc.
How to Reach Rangbang Darjeeling
Rangbang can be reached by road from any nearby cities or locations. Mirik is just 3 km and Siliguri is just 58 km away. The nearest airport is Bagdogra and the nearest Railway Station is NJP. Regular buses are available from Siliguri to Mirik. Moreover, you can even hire a taxi from NJP or Bagdogra to reach Rangbang via Mirik.
Lodging Facilities in Rangbang Darjeeling
Homestays and resorts are available for night stay in the village. Even though, a homestay, it comes with most of the modern amenities like attached western bathroom, cosy rooms, delicious homemade foods, etc. To get all these facilities without bearing any hassle, you may opt for a Darjeeling Tour Package from any renowned tour operator.
Ideal Time to Visit this Scenic Village
No matter when you plan a trip to the hamlet, you will always be welcomed with its open arms and its ever-smiling locals. The weather stays soothing most of the times and the temperature does not rise too high at all. The mountain peaks are visible quite beautifully at any months of the year. However, due to the heavy rainfall, it is advisable not to visit the village during monsoon as the road gets muddy and becomes prone to accidents.