Tabakoshi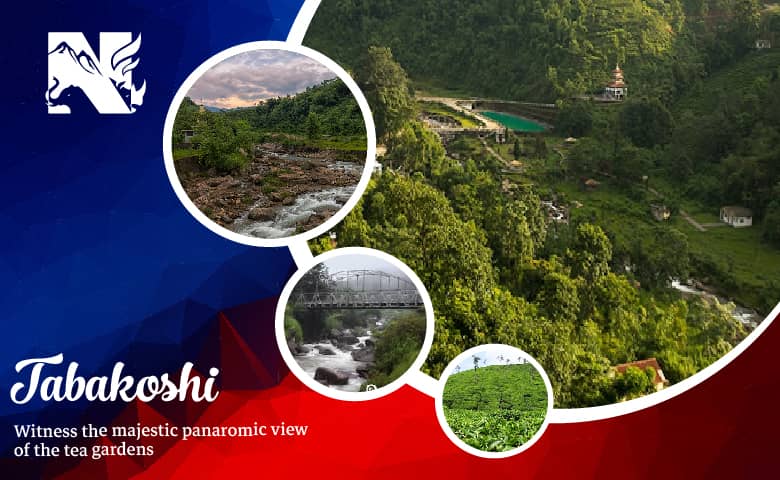 A new travel destination just about 3 km distance away from Mirik, Tabakoshi is an offbeat settlement tucked in the foothills of Darjeeling. Located just beside Rangbhang River and within the Gopaldhara Tea Estate, Tabakoshi at an altitude of 3000 feet is known for its scenic beauty and the alluring view of the daunting hills along with the surrounding lush green vegetation.
This secluded hamlet is far away from the urbanized world where travelers will find solace in the true sense and can rejuvenate their souls. The melodious chirping of the Himalayan birds, the numerous flowers and orchids, and the cool breeze will make them fall in love with this village for sure.
Tabakoshi Sightseeing Attractions
Tabakoshi has some attractive sightseeing attractions. In the village itself and near it, there are lots of worth visiting sites and some of the prominent ones are:
Shiva Temple: In the riverside of Rangbang, there is a temple dedicated to lord shiva. Visitors come here to worship and to enjoy the lush greenery of the surrounding. There is an old bridge over the river too.
Tea Gardens: Tabaksohi has some of the popular tea gardens in and around it. Gopal Dhara Tea Estate, Sangma Tea Estate, Thurbo Tea Estate, etc are some of the worth visiting tourist sites. The soothing view of the vast stretch of tea gardens is truly a treat to the eyes.
Mirik Lake: This popular town is just a couple of distance away from these offbeat settlements. Travelers can visit Mirik Lake. Also known as Sumendu Lake, it is approximately 6 km away from Taba Koshi.
Bokar Monastery: Bokar Monastery is another sightseeing attraction. It is a religious site on the way to Rameetay Dara and famous as a Buddhist meditation center.
Debisthan: Adjacent to Mirik Lake, Debisthan is a religious site dedicated to a Hindu goddess. Travelers can visit the temple to seek blessing while exploring the nearby sites.
Orange Orchards: The orange orchards of Mirik are truly a treat to the eyes as Mirik is famous for the production of high-quality oranges.
Mirik Church: Mirik Church is another sightseeing attraction near Tabakoshi North Bengal. This Catholic Church looks stunning and it is one of the biggest churches in the entire Darjeeling District.
Darjeeling: Travelers can also have a one-day sightseeing excursion to Darjeeling which is known for its splendid beauty and the jawdropping vista of Kanchenjunga. Worth visiting tourist places in Darjeeling are Rock Garden, Batasia Loop, Peace Pagoda, Padmaja Naidu National Park, Happy Valley Tea Estate, Himalayan Mountaineering Institute, and Darjeeling Himalayan Railway.
Tabakoshi Accommodation Options
As per the accommodation in Tabakoshi is concerned, homestay is the only option here. The homestay is equipped with attached western bathrooms, properly sanitized neat and clean rooms. The foods are made with organic ingredients and come with veg and non-veg options.
How to Reach Tabakoshi Village
By Train: NJP is its nearest railway station at a distance of around 65 km. Trains run frequently to this station from the major railway stations of Bengal.
By Air: Bagdogra is its nearest airport at a distance of around 61 km. Bagdogra is an essential airport in North Bengal. Travelers have to board a flight to Bagdogra and from there hire a cab.
By Road: One can hire can taxi or take a shared car from Siliguri to Mirik. Upon reaching, rent a jeep to finally reach the village comfortably.
Best Time to Visit Tabakoshi
Tabakoshi can be visited throughout the year for its unique location. It offers pleasant weather around the year. Winter is fun for the avid bird watchers whereas summer is to escape the intense heat of the plain. One can also visit the village during monsoon even though we don't recommend it because of the frequent landslides.