Latpanchar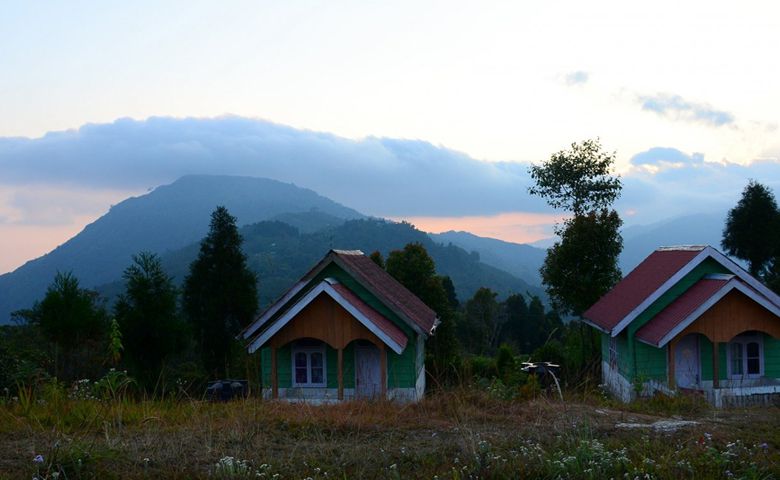 Perched at an elevation of 4500ft Latpanchar overlooking the roaring river Teesta is a picturesque forest village of Dooars. Nestled on the highest point of Mahananda Wildlife Sanctuary, Latpanchar is endowed with abundance of flora and fauna making it a paradise for nature lover. Located 41km from Siliguri, Latpanchar is a hidden jewel of Dooars region which tourists making it's a crowd free zone. Hidden amidst the hilly region Latpanchar has emerged as a favored offbeat destination in Dooars. Blessed with enthralling natural beauty and serene ambiance Latpanchar is an ideal place for tourists who want to spend their weekend far from hustle and bustle of rambunctious city crowd.
Surrounded by dense mixed-wet forest, Latpanchar is a sparsely populated and less trodden forest village of Dooars region. Latpanchar is a mesmerizing mirror of natural beauty covered with deciduous forests and Cinchona Plantation which are used for manufacturing medicines for malaria. The picturesque forest hamlet Latpanchar is dotted with numerous trekking trails. The most famous trekking trail in Latpanchar which has hyped the interest of tourist is the 6km treks through Mahananda Wildlife Sanctuary to Raja Rani Hill. During the Raja Rani Trek from Latpanchar tourist can spot the exquisite animals while listening to the alluring chirping of the exotic Himalayan birds and being overwhelmed by the fragrance of flowers, if lucky tourists may even find the footprints of the Royal Bengal Tiger.
There is a temple of the Lord Shiva at the peak of the Raja Rani Hills where the locals offer their prayers. The trails also lead to few astounding sightseeing destination in Latpanchar. Located at a distance of 3km is the famous sunrise point of Latpanchar. From Latpanchar Sunrise point tourists can witness a phenomenal sunrise above the Teesta valley with the figure of mighty Himalayan range looming over it. After witnessing the breath taking sunrise from Latpanchar Sunrise Point, they can explore the surrounding areas. A trek through the alpine forests and Cinchona Plantation of Latpanchar leads tourist to a lake called Namthing Pokhri, which is the abode of endangered Himalayan Salamanders.
Apart from being famous as less trodden destination, Latpanchar is also known for its vast collection of birds. In the dense forest enclosing Latpanchar more than 240 species of birds like Burn Swallow, and Ashy Backed Shrike, and Spotted Eagles has been spotted. But that's not all the thick wooded forest of Latpanchar is the home to the most elegant, colorful, and endangered species the Rufous Necked Hornbill. Rufous Necked Hornbill migrated to Latpanchar from Nepal hills due to its climatic condition making Latpanchar the birding paradise for avid bird watchers. The beauty of Latpanchar can be enjoyed through slow jungle walk where tourist can breathe in the musky fragrance wooded forest while being lulled by the alluring chirping of birds. Being a less trodden destination there are no fancy hotels and resort is Latpanchar but instead visitor will find cozy homestays and lodge to stay in Latpanchar.
Latpanchar blessed with enthralling beauty is the peaceful abode of the rare Himalayan Salamander and Rufous Necked Hornbill. Cuddled amidst the dense forest of sal, teak, pine and cinchona tree, Latpanchar located at the heart of Mahananda Wildlife Sanctuary with its serene ambiance which is only disturbed by the chirping of birds and panoramic view of the Teesta valley has become the ideal getaway destination for the tourist who are looking forward to spend some quality time in a place where nature still thrives at its pristine form.
Best time to visit Latpanchar
Every season has its own charm to relish in Latpanchar but to make most of the Latpanchar trip the best time to visit Latpanchar is between October and April. Between these times the weather in Latpanchar is pleasant and sky remains clear. It is also an ideal time for bird watching and trekking in Latpanchar.