Barmek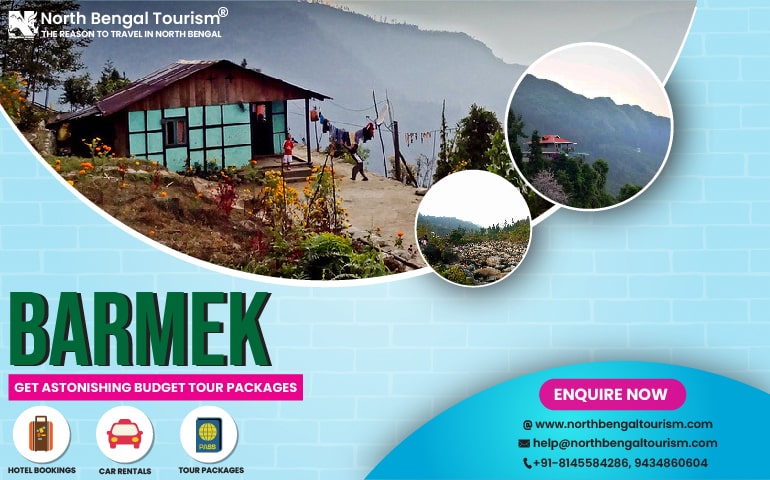 In the Kalimpong district of West Bengal, Barmek, sometimes pronounced as Burmiak or Bermek, is a small Himalayan hamlet blessed with intense natural beauty and a magnificent view of the surrounding hills. The mighty Teesta River and the stunning view of Mt. Kanchenjunga can both be seen from this small yet magnificent village. At an elevation of 4800 feet above sea level, Barmek is truly a splendid hamlet you should consider visiting during your next vacation. In the following lines, let us describe why.
Places to See near Barmek
A small village known for its Cinchona plantation, there are many places to visit near Barmek. The most prominent ones are as mentioned below.
Ramdhura
It is one of the best places to visit near Barmek. It is another newfound offbeat destination surrounded by a forest of pine trees. The average elevation of the place is 5000 feet above sea level and it offers a jaw-dropping view of Kanchenjunga, the third-highest peak in the world.
Icche Gaon
Also pronounced as Icchey Gaon, it is another beautiful place to visit near the village. The mighty Kanchenjunga looks stunning from here. Its several trekking routes also make it a paradise for trekking enthusiasts.
Daragaon
It is a pristine hamlet in Kalimpong district, perched on a hilltop surrounded by beautiful green forest with views of Mt. Kanchenjungha and the River Teesta. Dragon is without a doubt one of the best places to go if you want to get away from the hustle and bustle of the city. The inhabitants have dubbed it the "Balcony of Kanchenjunga" because it provides a spectacular view of Mount Kanchenjunga's snow-capped peak.
Activities You Can Enjoy in Bermek
Have a look at the activities you can enjoy during spending some quality time at Barmek. The major ones are as described below.
Explore the nearby viewpoints from where you can enjoy the breathtaking view of the Kanchenjunga peak and the surrounding.
Enjoy angling in the shimmering Teesta river just 8 km distance away.
You can always go for a nature walk through the woods to the adjacent hilltop Chortens.
Enjoy a sightseeing excursion to Ramdhura, Icchegaon, Daragaon, Kalimpong, etc.
How to Reach Burmiak
Take NH-31A directly to Teesta Bazaar from New Jalpaiguri Railway Station or Siliguri Bus Stop. You'll need to hire a car to get to Burmiak or Barmek from here. Bagdogra Airport is the closest airport. The approximate distance from NJP or Bagdogra Airport to this village is around 62 km.
Homestays in Barmek
You can stay at the homestay of Bermek. The homestay here offers all kind of basic amenities such as electricity, spacious rooms, running water, and more. The rooms come with a view of the Mountains and valley. In short, your night stay will be fun here for sure.
Best Time to Visit Barmek
Barmek can be visited throughout the year. The pleasant weather of March to May and then again from September to November makes these months best time to visit Barmek. However, you should abstain from visiting the hamlet in the monsoon season due to the frequent landslide and road blockage.