Daragaon Kalimpong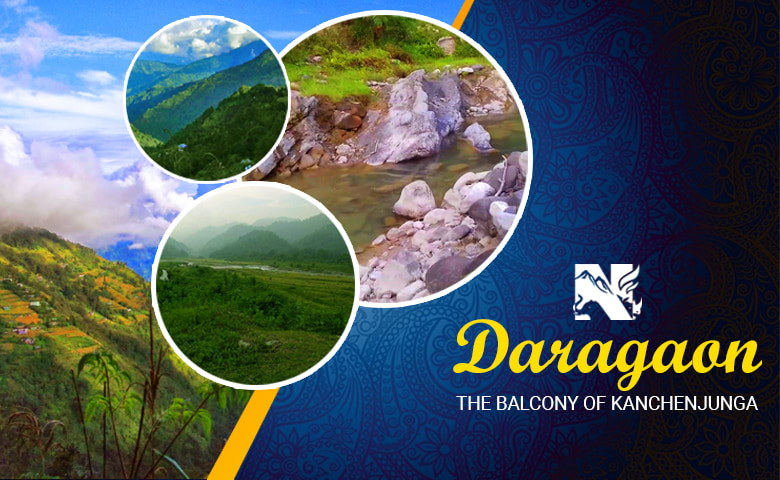 Perched on a hilltop surrounded by lush green forest facing Mt. Kanchenjungha and River Teesta, Daragaon is a virgin hamlet in the Kalimpong district of West Bengal. Also known as "Upper Icchey" among the local people, Daragaon is absolutely one of the best refuges for those who seek a silent corner, free from the noise of the city world. The villagers have tagged it as the "Balcony of Kanchenjunga" because it offers a fascinating view of snow-peaked Mount Kanchenjunga.
Tourist Attractions in and around Daragaon Kalimpong
Surrounded by luxuriant forest and astounding Mountain Peaks in the backdrop, there are plenty of things to see in and around Daragaon, Kalimpong. Here are the most striking tourist attractions as described below.
Dara Gaon Bungalow, a century-old property surrounded by orange orchards.
A breathtaking panoramic view of the Mount Kanchenjunga from the heart of the village.
Shimmering Teesta river cutting across the scenic valley of Daragaon.
Nearby tourist attractions in Kalimpong like Durpin Dara Monastery, Delo Park, Cactus garden, etc.
Adjacent worth visiting hamlets like Chota Mangwa, Bara Mangwa, Tinchuley.
Vibrant Himalayan birds and blossoming flowers of the village.
Activities to Do in Daragaon
From trekking, sightseeing to just spending times at leisure, there are lots of things to do in and around Daragaon. Soothe your mind and spirit by doing these alluring activities as mentioned below.
Walk around the village to witness colourful flowers, attractive bungalow pattern private houses and homestays.
Have an excursion to Kalimpong to visit Durpin Dara Monastery, Delo Park, Cactus garden, etc.
Enjoy the serene ambience of riverbanks of Teesta and Rangeet River while walking beside these rivers.
Witness the daily activities of villagers like farmers cultivating their terraced fields, children playing various sports, farmers returning from their fields and women plucking vegetables, etc.
Have a momentous picnic in the riverbank of Teesta, Rangeet and the picnic spot of Daragaon.
Revive a photographer in you by snapping the beauty of this hamlet in a photographic form.
Witness a remarkable sunrise and sunset from your Daragaon bungalow.
How to Reach Daragaon Kalimpong
Hiring a car or Taxi from NJP or Bagdogra airport will take you to the scenically blessed Daragaon Village. NJP is the nearest railway station at a distance of about 90 km from Daragaon whereas Bagdogra is the nearest airport at a distance of about 82 km. However, if you opt for our Kalimpong Tour Packages, you don't have to bear the hassle of hiring a car as we will take care of it for you.
Accommodation options in Daragaon
Homestays are available to stay in Daragaon. Moreover, Humro Home Daragaon, Daragaon Eco Village Heritage Homestay, Dara Gaon Bungalow are available for a comfortable stay. North Bengal Tourism can arrange the finest accommodation if you opt for any of our Kalimpong Tour Packages.