Keramtar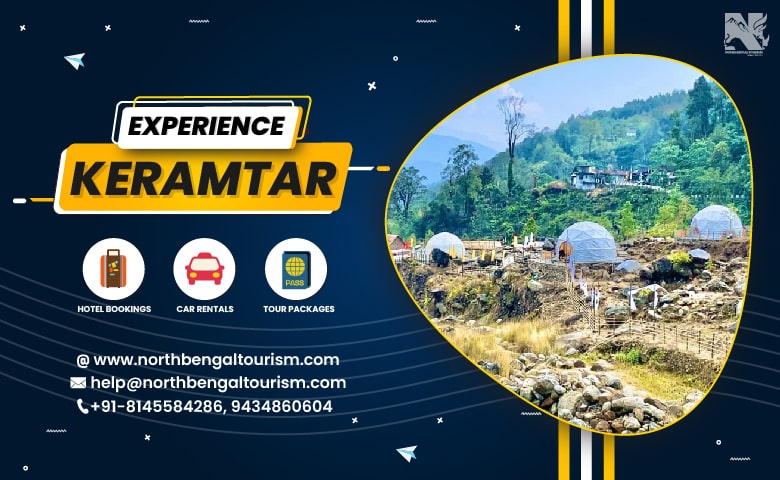 Nestled beside the shimmering Dawaikhola River, Keramtar is a newly found offbeat settlement in North Bengal. Far away from the hustle and bustle of city life, Keramtar also known as Keram Ter or Keram Tar is a secluded village surrounded by the green lofty hills, a meandering river, and green meadows. Situated close to the Indo-Bhutan border, the village is truly a piece of paradise offering serene ambiance, intense natural beauty, and the view of the hills covered with lush greenery. Due to the unmatched natural beauty of Keramtar, the village is rapidly becoming a must-visit destination for tourists who seek to have a memorable vacation amidst nature far from the tourist rush. You should consider visiting the village once too and let us describe why.
Places to Visit in and Around Keramtar
The route to this splendid village Keramtar is loaded with enchanting scenery, providing the travelers with a unique experience. The route leading to Keramtar passes through a lovely valley of densely forested area and several waterfalls on the side of the road providing travelers with a scenic delight. Here are the places travelers will get to see during their holiday in this village.
Todey and Tangta
Todey and Tangta are the two nearest places to visit. At an elevation of 4300 feet above the sea level, these two villages near Bhutan's Western border are truly beautiful to behold. The area is famous for black cardamon production and the major sightseeing attractions are the Tangta Monastery and the Tangta Pool.
Chisang
Chisang is a small but beautiful village that you must see. Chisang, located approximately 4 kilometers from the Indo-Bhutan border, is a lovely village with a stunning view of Bhutan's Tendu Valley and the Nathula Range. Travelers are often drawn to the tranquility of rural life and the thrill of adventure. Chisang is known for its medicinal herbs as well as its internationally renowned organic cardamom production.
Rongo
From Keramtar, you can also visit Rongo, a small yet attractive settlement located near the Indo-Bhutan border. Rongo, at an elevation of 450 feet, is a great place to escape the stresses of everyday life and lose yourself in the tranquility of nature. Rongo, surrounded by lush forest and several Cinchona plantations, gives stunning views of the surrounding hills, verdant forests, and the Jaldhaka river valley.
Jhalong, Bindu, Paren
The other three most prominent places to visit near Keramter are Jhalong, Bindu, and Paren. All these villages are located quite close to Indo Bhutan border and are known for offering jaw-dropping natural beauty and the breathtaking vista of the Bhutan Hills. The Jaldhaka Hydroelectric project is the major attraction of the area.
Activities to Do around the Village
Even though it is an offbeat settlement, visitors will be able to enjoy lots of activities. Here are the worth noting activities one can enjoy during their Keramtar Tour.
Visit the nearby Siddheswari Kali Temple which is around 14 km driving distance away from Keram Tar village.
Enjoy angling in the snaking Dawaikhola River. To get refreshed, you can also enjoy bathing in this river whose water is believed to be full of medicinal properties.
On your way downhill to Keramtar, stop at the roadside to behold the astonishing vista of the hills of Bhutan, Doklam, and several waterfalls.
Go for a sightseeing excursion to all the nearby destinations like Chisang, Rongo, Todey, Jhalong, Bindu, Paren, Dalgaon, and more.
Trekking enthusiasts can enjoy trekking from Jhalong to Keramtar through the trekking routes.
How to Reach Keramtar
By Train: From Keramtar, the distance of New Jalpaiguri Junction (NJP) is 113 km which is the nearest railway station. After reaching NJP, you will easily be able to rent a car to this village from outside the railway station.
By Air: Bagdogra Airport is its nearest airport at a distance of around 23 km. After landing at Bagdogra Airport, you require to rent a taxi to the village. However, to escape all the hassles, you can easily pre-book a car from North Bengal Tourism.
By Road: Keramtar can be easily be reached through road from all its major nearby destinations. It will take not more than 4 hours to reach the village from Bagdogra, Siliguri, or NJP via NH 10 and NH 17. The road condition is not good at all. But the beauty of the village you will be enjoying later is worthy of bearing a little hassle.
Homestays in Keram Tar
As of now, in Keram Tar there is only one homestay available for night stay. There are several dome-type tents with all kinds of basic amenities. There are attached western bathrooms, transparent view rooms to enjoy the moonlit as well as the surrounding, electricity, etc. The foods being served here are made from organically grown vegetables. Tourists can also enjoy Bonfires and Barbeque here. In short, staying in this homestay is fun which lets you keep yourself without any contact with the world.
Best Time to Visit Keramtar
Keramtar has very relaxing and peaceful weather no matter in which season you plan to visit there. Spring is astonishing, calming, and you may see flowers blooming from March to May. Visit between August and December to enjoy the autumn colors and a clear view of the surrounding hills. Pre-monsoon is also an ideal time to visit the village as you will be able to witness lush greenery all around and a completely refreshing look of the magnificent village named Keramtar.