Nokdara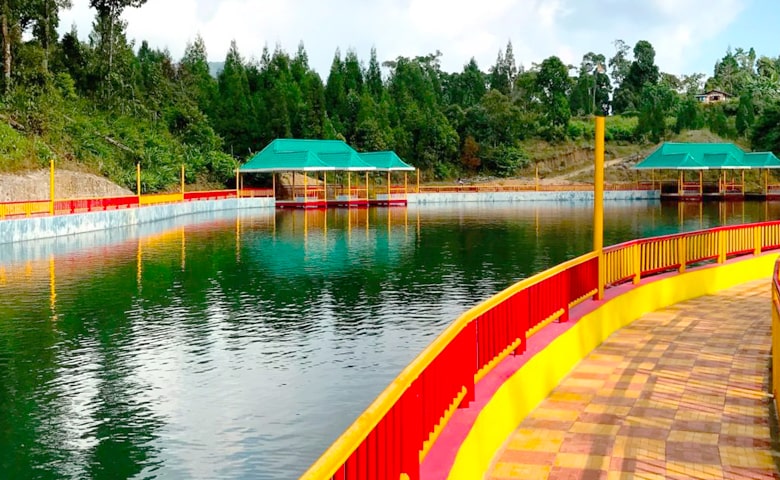 Nokdara or Nok Dara is one of the picturesque offbeat destinations just about 28 km of the main town of Kalimpong. Far from the tourists rush, Nokdara in Kalimpong is flourishing rapidly as a famous tourist destination.

The term "Nokdara" derived from a Lepcha word "Nok Hlo". In Lepcha Nok means Black, foggy or cold whereas hlo means hills. Moreover, the name of the place "Nokdara" was particularly given by the local Nepalese where "Dara" means hills.
What to See in Nokdara
Nokdara, a newly discovered hamlet adjacent to Kalimpong offers plenty of tourist attractions to see. Here are what to see in and around this newly found jewel named Nokdara.
The iconic Nokdara Jheel or Lake for which Nokdara is quite popular among tourists.
The view of Mount Kanchenjunga looks quite impressive from this tiny settlement.
There are a plethora of colourful flowers can be seen all over the village.
The lush green surrounding vegetation of Nok Dara Village and Nokdara Hill.
Magnificent sunrise hovering over the mountain peaks of the hamlet.
What to Do in Nokdara
Situated between Lava, Lolegaon and Kafer, the alluring beauty of Nok Dara can be enjoyed in a different way and by doing plenty of different activities. Here are the things you can do while having a tour to Nokdara Kalimpong.
Wander around the scenic Nokdara Jheel. Indulge yourself in boating activity.
Relish the beauty of the astonishing view of the snow-peaked Mount Kanchenjunga.
Stroll around the village to get familiar with local people's culture and traditions.
Enjoy a magnificent sunrise and sunset along with the melodious chirping of Himalayan Birds.
Relish a calm evening by listening to the songs of cricket.
Nearby Tourist Attractions
Tourists usually don't get disappointed while travelling to Kalimpong's Nok Dara as there are plenty of tourist attractions available to explore nearby. Here are some of the most prominent one as mentioned below.
Rishikhola: Rishikhola is an offbeat destination sited beside the Sikkim Border.
Silley Gaon: Sillery Gaon is a scenic hamlet in Kalimpong situated at an elevation of 6000 feet.
Milan Top: Milan Top offers a fascinating view of the snow-peaked Mount Kanchenjunga.
Pabong: Far away from the tourists' rush, Pabong is a lively settlement quite adjacent to Nokdara.
How to Reach Nokdara Kalimpong
Those who are willing to visit Nokdara can hire a taxi from Siliguri, Bagdogra or any other nearby places. NJP is the nearest railway station. Hence, you can Board a train to NJP and then hire a car or taxi to reach your alluring Nokdara Jheel in Kalimpong. Bagdogra is the nearest airport of Nokdara. After landing at the airport, you will get plenty of cars running to Kalimpong.
The convenient way to reach there is by taking a Kalimpong Tour Package from North Bengal Tourism. By taking a tour package, you don't have to bear any hassle and can have an excellent tour in Kalimpong.
Where to Stay at Nokdara in Kalimpong
Nokdara offers a modern accommodation option for those who want spend the night here at this scenic settlement. There is a lodge or homestay with all the modern amenities.