Panbu Kalimpong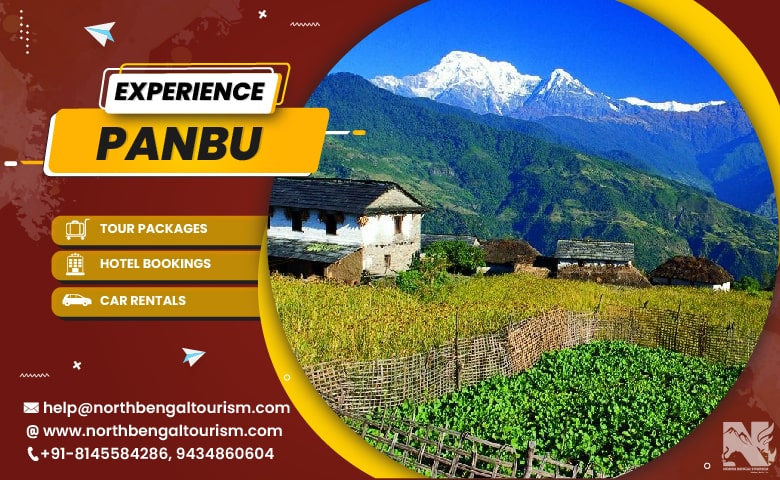 In the Kalimpong District of West Bengal, Panbu is one of the finest places yet to explore by travel enthusiasts. Not more than 50 km driving distance away from the heart of Kalimpong town, this place is blessed with scenic beauty and the fascinating panoramic view of the hill as well as the surroundings. With a population just below 50, Panbu's tranquil environment and unmatched natural beauty are capable of bewitching the minds of many travelers.
Attractions of Panbu Kalimpong
It hasn't been long since visitors and travelers discovered this place and its natural splendor. This splendid place attracted a lot of interest since it offered a clear view of the mountains and plains on both sides. Some of the finest attractions of Panbu are mentioned below.
Panbu provides breathtaking views of the spectacular Mount Kanchenjunga and the mountain range on one side and the Dooars plains on the other.
The Panbu Viewpoint is the most well-known attraction. This viewpoint offers clear sunrise and sunset views and also the view of Coronation Bridge.
The unique flora and fauna of this place are also the major attractions of Panbu.
Places to Visit near Panbu
There are some promising places to visit near Panbu. The worth noting ones are as mentioned below.
Lolegaon
Merely 25 km driving distance away from Panbu, Lolegaon is a breathtaking hilly settlement. It is located at an altitude of 1675 meters in the Kalimpong District of West Bengal, at the farthest end of the Himalayan range. It is unquestionably a natural haven, noted for its tranquility and panoramic views of Mount Kanchenjunga. Lava Jamgyong Kongtrul Monastery, Canopy Walk, etc are the other major attractions of the village.
Panbu Viewpoint
This viewpoint is one of the finest places to visit here. From this viewpoint, travelers get to see the captivating 360-degree panoramic view of the surrounding. The snow-peaked Kanchenjunga looks stunning from here as well as the flowing Teesta river.
Charkhole
Not more than 5 km distance away, Charkhole is another place to visit near Panbu. Charkhole is another splendid hamlet from where you can enjoy the astonishing vista of Kanchengu. It is also known to be a paradise for birdwatchers.
Kaffergaon
Another picturesque hamlet around 2 km from Panbu and is surrounded by steep snow-capped mountains, deep green forests, and a diverse array of unusual flora and species. Enjoy the breathtaking beauty of the sunrise from Bhutan's Eastern skyline and the amazing view of Mount Kanchenjunga.
Lava
Lava's Buddhist Monastery, Kagyu Thekchen Ling Monastery, is recognized for its beautiful scenery. This religious complex, also known as Lava Monastery, is surrounded by lush woodland and offers a breathtaking perspective of the surrounding area. From Panbu, the distance of Lava is around 25 km.
How to Reach Panbu near Kalimpong
By Train: New Jalpaiguri Junction (NJP) is its closest railway station. This railway station is one of the busiest. From NJP, you will easily be able to rent a car to reach Panbu.
By Air: Bagdogra is its closest airport which is also the only airport in the entire North Bengal. Several flights are available to this domestic airport from major Indian airports.
By Road: From Siliguri you can reach this place quite easily within one and a half hours via Kalijhora.
Best Time to Panbu
Panbu can be visited throughout the year. However, March to June is considered to be the best time to visit Panbu when the natural beauty of this place is stunning with a clear view of the surroundings including Kanchenjunga.