Phurun Gaon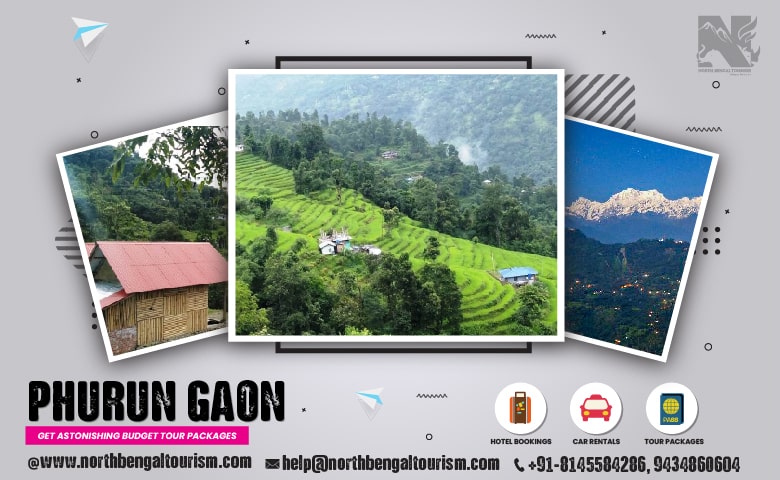 Phurun Gaon is a small village near Pedong in the Kalimpong district that is not yet recognized very well. It's over 4500 feet above sea level. If you enjoy peace and quiet, this is the spot for you. Kalimpong town is around 14 kilometers away from Phurun Gaon. This green small hideaway is a kid's favorite for a variety of reasons. This beautiful small village, nestled between thick forests and mountains, is one of the cheapest fast Himalayan escapes. Phurun Gaon, an undiscovered place is nestled between the Kalimpong hills and offers a beautiful view of step farming surrounded by mountains that changes color depending on the season. Organic farming is still the primary source of income in the community, but with increasing tourist interest, a new opportunity has emerged for the locals.
What to See and Do in the Village
Even though it is an offbeat village, spending time here will not be boring at all as you will be able to do lots of activities and can explore many beautiful places surrounding the village. You may go fishing in the nearby Rongli River, which is only 30 minutes driving distance away from the village. You can also go take a stroll through the village and spend some quality time only with nature. You can also go for a sightseeing excursion to its nearby places such as Rishikhola, Pedong, Lava, and Tendrabong.
How to Reach Phurun Gaon
By Road: From Kalimpong or any other nearby cities, you will be able to rent a car to reach the village quite comfortably. You can contact us to rent a well-maintained car with a skilled driver.
By Train: NJP is its nearest railway station which is well connected with all the major railway stations of Bengal. From outside the railway station, you will be able to rent a cab.
By Air: Bagdogra is its nearest airport. After landing at Bagdogra airport, all you have to do is just rent a car. You can book a car in advance to skip the hassle of bargaining with the driver.
Staying Options in Phurun Gaon
There are only homestays with basic amenities is there for tourists to stay. Electricity, big rooms, running water, and other essential conveniences are available at this homestay. The apartments have a view of the valley and mountains. In short, your night stay here will undoubtedly be enjoyable here and helps you collect a plethora of sweet memories.
Best Time to Visit Phurun Gaon
Phurun Gaon is well visited at any time of the year. However, if we talk about the best time, it will be March to May or September to November when the temperature remains pleasant and the view of Kanchenjunga is quite stunning. Contact us now to plan a tour of this magnificent settlement far away from the hustle and bustle of city life.