Barbing Sikkim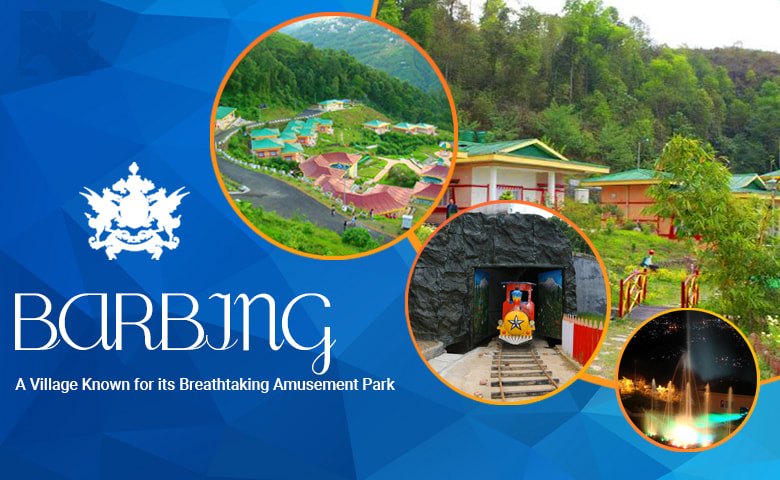 Settled at an elevation of 5000 feet above the sea level, Barbing is a newfound hamlet beside Gangtok. Shrouded with luxuriant forest from all around, Barbing is a scenic paradise to get closer to nature and relish the beauty of it. Quite known for offering a mesmerizing view of Gangtok at night, Barbing recently came to the limelight for its newly developed amusement park having toy trains, simulators, indoor swimming pool, bowling alley, video game parlour, joyrides, musical fountains, planetarium and children's park, etc.
Attractions to See in Barbing Sikkim
Apart from alluring natural beauties, the newly inaugurated amusement park is the major attraction of the village. Children and even adults can spend their time joyously in the park. One can have a joyful ride in the toy train, beat the intense heat of summer, play their favourite games in the game parlour. Moreover, there is a separate space for children to play their favourite sports uninterruptedly.

There is a monastery near the village named Lingdum which is just a few kilometres away from the main town of Gangtok. Ban Jhakri Waterfalls is another major tourist attraction of the village. Just about 5 km away from the hamlet, the cascading water of the Ban Jhakri along with a rhythmic offers a unique charm to the visitors.

Adjacent tourist attractions can also be explored easily from the village. Ganesh Tok, a renowned Hindu temple, is just 20 km away. Tsomogo Lake aka Changu Lake is just 50 km away from Barbing Village. The green emerald lake along with the jaw-dropping mountains in the backdrop is enough to hypnotize any nature-loving tourists.
Things to Do in Barbing Gangtok
Stretching across the 16 km of the settlement, having plenty of various activities in the Amusement Park is one of the most preferred activities in the village. In the park, one can have an exciting ride, play frisbee and around the park surrounded by lush greenery. A joyful ride on a toy train that breeze through a 75 m tunnel will awake up your adventurous soul. There is a multi-hued musical fountain which is a visual treat to the eyes. In the children's park, you will get to see see-saw, swing, a merry go round, explorer and a Hexa climber which your kids going to love for sure. Have a short excursion to all the adjacent sightseeing places like Ganesh Tok, Changu Lake, Gangtok, etc.
Best Time to Visit Barbing Village
Barbing can be visited at any months of the year. The temperature stays normal most of the time and the blue sky along with the fascinating view of the mountain peaks with its full glory can be seen at any time of the year.
Where to Stay in the Village
The Amusement Park of Barbing offers accommodation options to its visitors. This accommodation option offers most of the modern amenities such as air conditioning, room heater, running hot and cold water, attach bath etc.