Barsey Rhododendron Sanctuary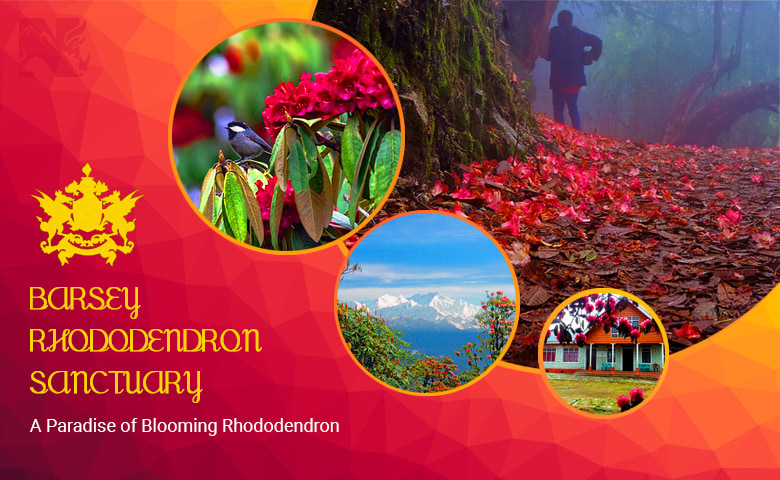 A pristine natural splendour destination in the state of Sikkim is Barsey or Varsey. This tiny village named Barsey is located at an altitude of 10,003ft. Barsey Rhododendron sanctuary covers an area of 104 square km laid alongside Singalila range. Barsey or Varsey is one one of the most alluring tourist destinations among the tourist due to its placid ambience, lush green vegetation and the captivating Rhododendron Sanctuary. A natural habitat of a wide verity of rare flora and fauna, the Rhododendron Sanctuary of Barsey has bewitched the minds of many travellers.
How to Reach Barsey Rhododendron Sanctuary
Taxis are available to hire from all the major nearby cities and railway stations like NJP, Siliguri, Gangtok, Bagdogra, etc. First, reach Hilley via Jorethang and Somabarey. Hilley situated at an altitude of 9,000 ft is one of the entry points of this sanctuary. From here it is a 4 km non-sweat trek through dense Rhododendron forest towards Barsey. Once you reach your destination smiling snow-clad peaks under the turquoise sky will welcome you on a clear day.
Best Time to Visit Barsey Rhododendron Sanctuary
To witness the wonderful array of flora and fauna, the ideal time to visit Barsey is during April and May when blooming Rhododendron ablaze the hill with vibrant colours. Apart from Rhododendron Hemlocks, Silver Firs, Magnolias are the important flora of this sanctuary. Among fauna, Barsey Rhododendron sanctuary is home for Red Pandas and Black Bears.
Activities to Do in and around Barsey
Stroll around the sanctuary to get a better feeling of Mother Nature. There is a covered watchpoint near the centre beside a small water body, where wildlife comes for drinking. If you want the thrill of watching them at night stay locked inside for a night. While trekking glimpses of Kanchenjungha will inspire your walk through the several trekking trails of Varsey.
Resorts or Homestays at Varsey
There are a couple of private resorts or homestays available for night stay at Barsey. All of these accommodation options are equipped with all kind of modern amenities which are needed for a comfortable night stay. Barsey can be approached from Bermiok, Uttarey via Dentam as well.