RAVANGLA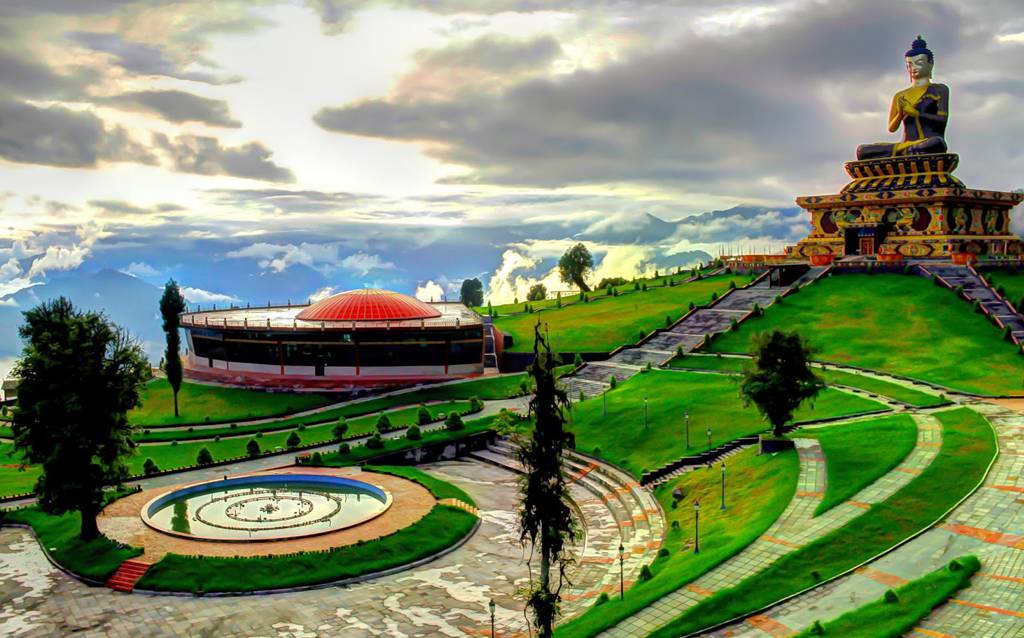 Ravangla also spelt as Ravongla and Rawangla nestled on the foothill of Maenam and Tendong Hill is a small transit town in South Sikkim. Enclosed with the lush conifer and pine trees Ravangla with its pictorial landscape has emerged as a new-found offbeat destination of Sikkim. The proximity with Maenam Hill and Borong has made Ravangla a base for trekker traveling in South Sikkim.
Poised at an altitude of 7000 ft, Ravangla is famous for offering an unmatched view of Greater Himalayan Range. Blessed with ethereal beauty Ravangla has been a must visit place in Sikkim for tourists looking for a retreat midst nature.
Places To Visit In Ravangla
Buddha Park (Tathagata Tsal)
Rayong View point
Damthang
Ralong Monastery
Borong
Gangtok
Tendong Hill
Maenam Hill
Things To Do In Ravangla
Trekking in Maenam Hill
Bird watching in Tendong Hill
With North Bengal Tourism Ravangla Tour Package, travelers can relish the surreal beauty of this scenic hill station of Sikkim. The Ravangla Tour Package offered by North Bengal Tourism is reasonable and custom-made according to the liking of travelers.
Hotels In Ravangla
Being a favored hill station there are many options of accommodations in Ravangla. From cozy homestay to budget hotels & resort, visitors can choose a place according to their liking in Ravangla. With the hotel booking service of North Bengal Tourism travelers can easily book a hotel or homestay or resort in Ravangla at a reasonable range.
How To Reach Ravangla
By air: The nearest airport of Ravangla is in Bagdogra. From Bagdogra Airport it is an approx 5hrs journey to reach Ravangla.
Distance: The distance between Bagdogra to Ravangla is 127 kilometers.
By rail: The nearest railway station of Ravangla is the New Jalpaiguri Railway Station (NJP). It is an overall 5hrs drive to reach Ravangla from NJP.
Distance: The distance between NJP to Ravangla is 124 kilometers.
With car rental service of North Bengal Tourism travelers can hire a car from NJP to reach Ravangla or rent a car from Bagdogra to reach Ravangla at a reasonable price.
Some travelers also prefer breaking their journey to Ravangla by halting overnight in Gangtok.
Distance: The distance between Gangtok to Ravangla is 65 kilometers.
Best Time To Visit Ravangla
April to June: During this time of the year, the weather of Ravangla remains soothing and the valley enclosing Ravangla showcases the vibrant vista of blooming flowers.
July to September: During this time of the year, Ravangla experience an average rainfall and this is usually an off-season in Ravangla.
October to March: During this time of the year, visitors can witness the panoramic vista of Kanchenjunga range. This is also an ideal time to partake in adventurous activities like trekking and hiking in Ravangla.