PUNAKHA RITSHA VILLAGE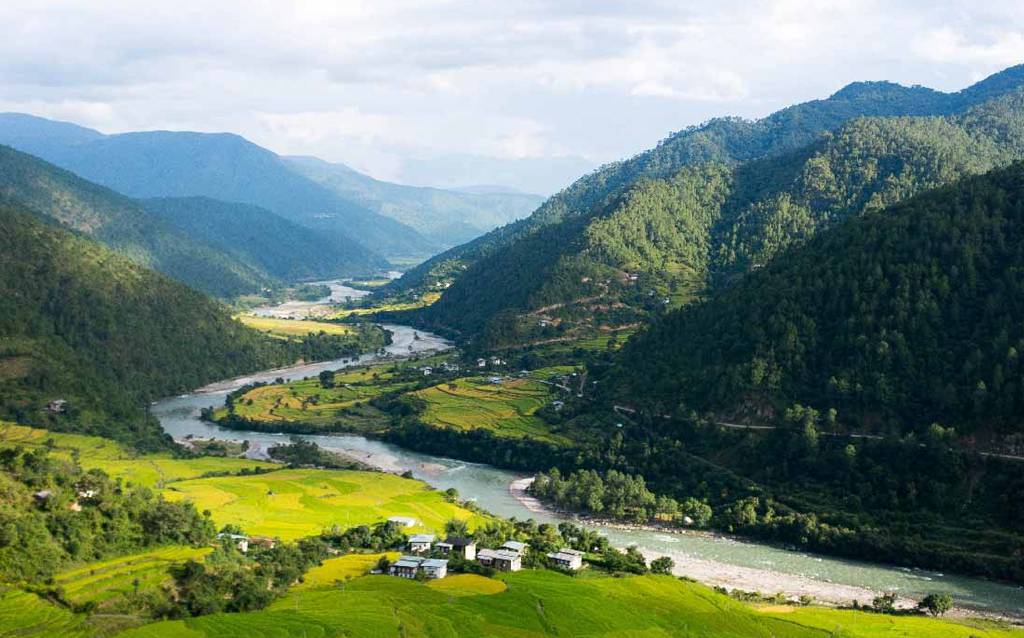 Ritsha Village situated along the banks of Po Chuu and Mo Chuu is a pictorial village of Punakha. Famous for its production of red and white rice in Punakha Bhutan is known for being the model rice growing village in Western Bhutan. With the rich alluvial soil of Po Chuu and Mo Chuu, Ritsha Village produces majority of rice of Bhutan.
Surrounded with paddy fields, gurgling rivers and daunting hills, Punakha Ritsha Village has been one of the must visit places in Punakha Valley. In native language, the word "Ritsha" means "At the base of a Hill".
Interesting Fact About Punakha Ritsha Village
Did you know? Punakha Ritsha Village is also known as Rice Bowl of Bhutan since it produces the major portion of Rice in Bhutan.
Things To See In Punakha Ritsha Village
Paddy Rice fields
Traditional Bhutanese House
Pictorial landscape of Ritsha Village
Panoramic view of lofty hills enclosing Ritsha Village
Things Do In Punakha Ritsha Village
Taking a stroll around the paddy fields of Ritsha Village
Learning about the traditional and modern farming methods used in Ritsha Village
Getting an insight of the traditional lifestyle of Ritsha Village
Trekking in the valley enclosing Ritsha Village
Mountain biking
River rafting in Po Chuu and Mo Chuu
Why To Visit Ritsha Village In Punakha
Ritsha Village is an ideal place to visit in Punakha Valley if the travelers want to learn more about the farming technique and structure of authentic Bhutanese farm house. Far from the hassle of city life, Ritsha Village is a scenically blessed hamlet where one can be engulfed in the untarnished air and get a glimpse in the indigenous life of Bhutanese people. Here visitors can also taste the food grown in organic method.
Best Time To Visit Punakha Ritsha Village
April to June: During this time of the year, the valley enclosing Ritsha Village is sprawled with blooming flowers. Along with enjoying the vista of vibrant flowers, visitors can also relish in the soothing weather of Punakha.
July to September: During this time of the year, the road leading to Punakha Ritsha Village becomes more prone to landslide due the sudden rainfall.
October to March: During this time of the year, Ritsha Village is blessed with amazing weather and it also the best time to visit Ritsha Village if visitors want to partake in adventure activities like trekking.