Rasikbill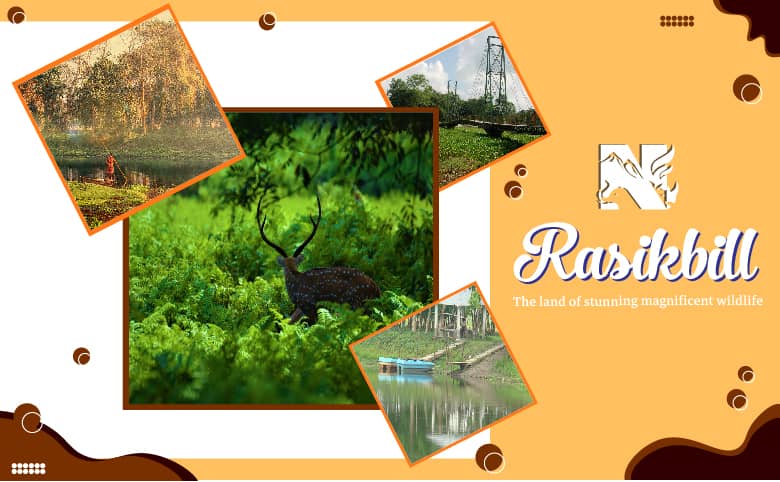 In the Cooch Behar District of West Bengal, Rasikbill is a vast lake known for offering jaw-dropping natural beauty. It is a birding paradise for bird enthusiasts just about half an hour distance away from Tufanganj. Spreading over an area of 175 hectares, the lake is surrounded by an emerald green forest. The tranquil environment, various migratory birds, a large aquarium, Rashikbil watchtower, a Deer Park, and a Crocodile Rehabilitation Center never fail to mesmerize the travelers visiting this eco-tourism hub of Dooars.
Attractions in and around Rasikbil
Rasikbil has lots of tourist attractions to see and explore. Some of the prominent ones are as follows:
Being a birding paradise, Rasikbil Bird Sanctuary offers to see a variety of birds such as cormorants, different varieties of storks, ibis, spoonbill, kingfisher, parrots, owl, and more.
Waterbirds such as Common Teal, White-eyed pochard, Red Crested pochard, Shoveler, Pintail, Wigeon duck, Lesser Whistling Teal, Grey-headed Lapwing, and many more.
Rashikbil itself is a major attraction here. The Hanging Bridge over the lake is also stunning to behold.
The deer park near the lake which offers to watch plenty of deer gazing and running.
The Crocodile Rehabilitation Centre of Rasikbill where this deadly wild creature can be seen.
The splendid Buxa Tiger Reserve is a major attraction nearby at a distance of around 40 km.
Cooch Behar's ancient Historical attractions like Coochbehar Rajbari, Madan Mohan Temple, etc.
Things to Do in and around Rasikbill
While having a trip to Rasikbill, here are the following activities one can enjoy and they are as mentioned below.
Relish the beauty of countless migratory birds. Use a binocular when your naked eyes are being unable to spot them.
Wander around the lake, enjoy the cool breeze, and the scenic view of the surrounding.
From Rasikbeel Watch Tower, witness a complete panoramic view of this tourist attraction.
Visit deer Park, a python house, a leopard house, Aviary, a tortoise rescue center, and a crocodile rehabilitation center to spot these wild animals from a safe distance.
Try boating in the serene lake of Rasikbill and enjoy the breathtaking view of the surrounding from the middle of the lake.
Go for a sightseeing excursion to Buxa Tiger Reserve and Cooch Behar's Rajbari Palace, Madan Mohan Temple, etc.
How to Reach Coochbehar Rasikbill
By Road: National Highway No.31 between Siliguri and Guwahati passes over Cooch Behar and Alipurduar. Taxis and buses are available from Siliguri, NJP, or Bagdogra to Coochbehar's Rasikbill.
By Rail: Kamashkhaguri is the nearest railway station at a distance of 6 kilometers. Howeevr, New Jalpaiguri and Siliguri Railway Station are the main railway station nearby. After you arrive at New Jalpaiguri or Siliguri, get a hired car to reach this tourist site.
By Air: The nearest airport is Bagdogra. It is a major airport connected with other airports of West Bengal. Upon reaching Bagdogra Airport, follow the above road route to reach Rasikbill.
Best Time to Visit Rasikbill
One can visit Rasikbill at any time of the year. However, the most suitable time is during the months of September to March just after the monsoon when the trees become greener and the soothing weather attracts countless migratory birds.
Questions may arise while planning to visit Rasikbill
Places to visit in Dooars