RINPUNG DZONG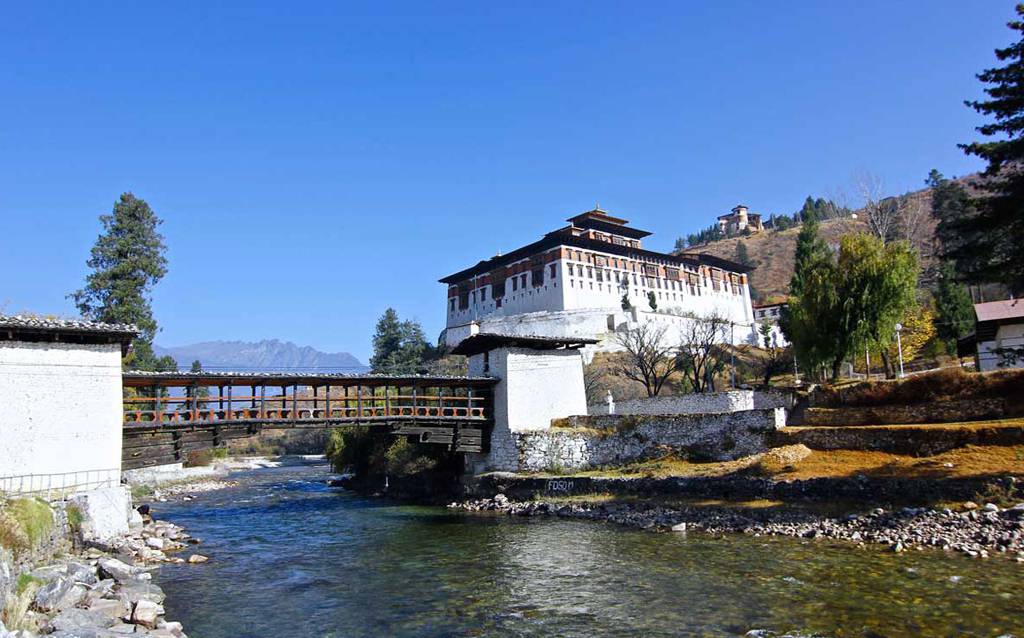 Built in 1646 by Zabdrung Ngawang Namgyal on a hill above Paro valley is the famous Rinpung Dzongkha. Originally known as Rinchen Pung Dzong, Paro Rinpung Dzong was built on the foundation laid by the Guru Rinpoche under the commandment of Zabdrung Ngawang Namgyal.
In the native language the name Rinchen Pung Dzong means 'the Fortress on a Heap of Jewels'. Overlooking Paro town, Rinpung Dzong with its elegant and harmonious structure has become the must visit tourist place in Bhutan.
History Of Paro Rinpung Dzong
Perched on the steep hillside of Paro, Rinpung Dzong during 17th and 18th century served as a bastion for the Bhutan against invasion from the north. With its intricate wood work, large beams slotted into each other and held together without nails Rinpung Dzong is regarded as one of the finest example of Bhutanese architecture.
Built with clay instead of stoned Paro Rinpung Dzong survived a massive earthquake in 1897 although it was destroyed by fire in 1906. Right after the fire, Rinpung Dzong was rebuilt by the Penlop Dawa Penjor.
Things To See In Paro Rinpung Dzong
Huge collection of sacred masks and customs
The sacred Thongdel
Intricate wooden design adorning the walls of Rinpung Dzong
Panoramic view of Paro Valley
Prayer hall of Paro Rinpung Dzong decked with amazing murals depicting the life of Milarepa, a point and saint from Tibet
Interesting Fact About The Sacred Thongdel Of Rinpung Dzong
Did you know? Thongdel of Rinpung Dzong is made out of the finest silk and cotton. And being considered as a sacred artifact it is only displaced once a year for a few hours during the annual tsechu.
Rinpung Dzong is also one of the sites listed in the Bhutan's Tentative List for UNESCO.
Festivals In Paro Rinpung Dzong
Annual Tsechu where visitor can witness the ancient masked dance. This dance is performed by the monks of Paro Rinpung Dzong.
How To Reach Paro Rinpung Dzong
Travelers can simply walk to Paro Rinpung Dzong from the main town of Paro Valley. From the main town it takes approx 20 mins to reach Paro Rinpung Dzong.
Distance: The distance between Paro to Rinpung Dzong is 3 kilometers.
Paro Rinpung Dzong Timing
Traveler should note the timings if they want to visit Paro Rinpung Dzong. The timings of Paro Rinpung Dzong are as follows: 8am-6pm from March to October and 8am-4:30pm from November to February.