Rishyap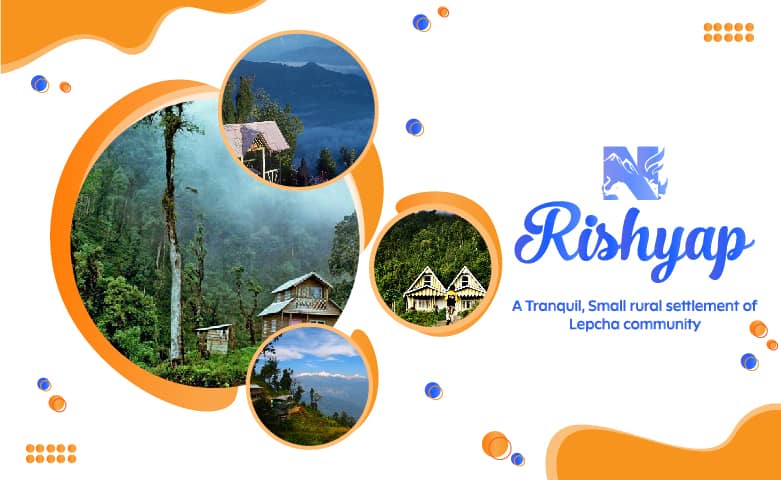 Rishyap also pronounced as Rishop is a magnificent Lepcha hamlet nestled in the Kalimpong Hills. At an elevation of 8100 feet above sea level, the village is quite adjacent to Lava and just about 28 km distance away from the heart of Kalimpong town. The mysterious quiet forest of Pine, Birch, Fir, and Orchids with soothing path following the chirps of birds and the splendid view of the majestic Kanchenjunga has captivated the minds of many travelers visiting Rishop to spend a great holiday amidst the lap of Mother Nature.
Apart from the great panorama of Kanchenjunga, a visitor can also see the Sikkim, Bhutan, and Nepal mountains including Jelep la from Rishyap. Nathula, the famous Into-Chinese border that has been opened up for trade, is also visible from here. From the year 1998, Rishop successfully emerged as one of the finest tourist destinations in the region which was just an inaccessible hamlet with very few households before. According to the local myths and ancient legends, the Ri in the name Rishop stands for mountain peak whereas shop means age-old trees in Tibetan.
Sightseeing Attractions in and around Rishyap
Rishyap has some of the finest sightseeing attractions in and around it. The worth visiting ones are as mentioned below:
Tiffin Dara: Tiffin Dara is one of the most visited tourist spots nearby. It is known for its viewpoint that offers an amazing 300-degree view of some of the most prominent peaks of the Himalaya such as Mount Kanchenjunga, Mount Kharg, Rakhtang, and other notable ones.
Lava: Just about a 12 km distance away from Rishyap, Lava is a secluded hamlet and an ideal sightseeing destination nearby. At an elevation of 2350 meters above sea level, Lava is known for its thickly wooded forest of pine and birch and a Buddhist religious site named Lava Monastery.
Lolegaon: More than 1-hour driving distance away from Lava, travelers can also visit Lolegaon from Rishop. Blessed with unique flora and fauna, Lolegaon captivates its visitors with a viewpoint from where a breathtaking panoramic view of Mt. Kanchenjunga can be witnessed. Canopy Walk in the forest of Lolegaon is another attraction here.
Neora Valley National Park: Known for its huge population of Red Panda, Neora Valley National park is another prime attraction nearby. Comprises of an area of around 100 acre of forest land, it hosts several endangered species of birds and wild animals.
Kolakham: At the entry point of Neora Valley National Park, Kolakham is a sleepy pictorial hamlet just 4 km distance away from Kolakham. At an elevation of 6500 feet above the sea level, the serene environment and the surrounding pine, rhododendron and the oak forest are the major attractions here.
Shiva Buddha Temple: This sacred religious site is dedicated to Lord Shiva as well as Buddha and is located in Seolo Village which is located at an elevation of 8450 feet above sea level. The temple exhibits a unique religious association and harmony.
Accommodation Options in Rishop
Rishop is far away from any modernized town. As a result, the only mode of accommodation here is the homestay. Local villagers are welcoming and they provide most of the basic amenities to its guests. Visitors will get a western bathroom, view room, hot running water, neat and clean rooms for their comfortable night stay.
How to Reach Rishyap near Kalimpong
By Air: Nearest airport is Bagdogra at a distance of around 117km. Board a flight to this airport which is well connected to most of the major cities of India. From the airport, visitors can get a cab or catch a state transport bus till Lava. From Lave, it will be just a few minutes' drives to reach the village.
By Rail: Nearest Railway Station is New Jalpaiguri Junction (NJP) at a distance of around 108km. Cars can be hired from outside the railway station.
By Road: Rishyap is just a 105 km distance away from Siliguri. Travelers can either go by taxi or catch a bus from Tenzing Norgay Bus Terminus to have a journey towards the village.
Best Time to Visit Rishyap Village
The best time to visit Rishyap is during the months of mid-April to Mid-July. These are the summer months here in Rishyap when the temperature ranges from 10° Celsius to 20° Celsius. Because of this kind of temperature, the weather stays soothing, the sky remains mostly clear and the rhododendrons are in full bloom.
However, due to its high elevation, winter is quite chilling here when the temperature ranges from 0°C to 7°C. The months of autumn (October to November) is another great time to have a Rishyap Tour. Just like summer, the splendid view of the entire Himalayan range including Kanchenjunga can also be enjoyed during this season of autumn. On the contrary, having a Rishyap Tour during the months of Monsoon (July to August) is not recommended because of the frequent landslides.
Places to visit in Darjeeling