RUMTEK DHARMA CHAKRA CENTRE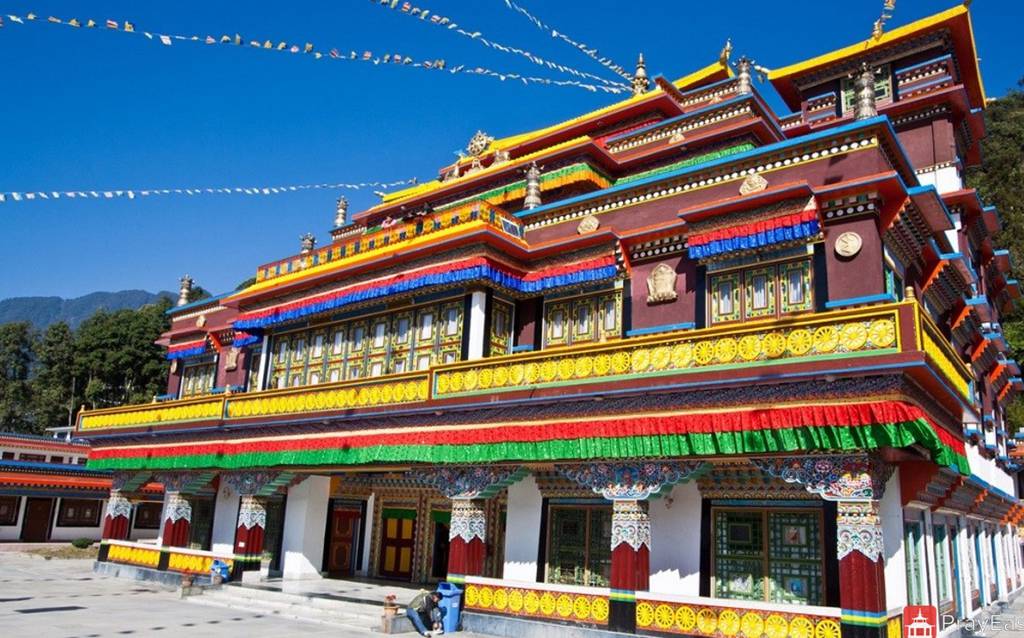 Rumtek Monastery also known as Rumtek Dharma Chakra Centre, sited midst the emerald green forest of pine tree is a Buddhist Monastery in Gangtok. Situated on the outskirts of Gangtok, Rumtek Monastery is one of the major seats of the Kagyu Order.
Overlooking the bustling town of Gangtok, Rumtek Monastery is known for housing many sacred relics. It is a must visit place in Gangtok for the travelers who want to get an insight in the ethics of Buddhist Philosophy.
Distance: The distance between Gangtok to Rumtek Monastery is 24 kilometers.
History Of Rumtek Monastery
Sited atop a pictorial hill the original foundation of Rumtek Monastery was laid by one of the Sikkimese Ruler. But after the arrival of His Holiness the 16th Gyalwa Karmapa in 1960 from Tibet, he rebuilt the Rumtek Dharma Chakra Centre.
Rumtek Monastery is the replica of the original Kagyu Sect headquarters in Tibet, which was then destroyed during the Chinese Cultural Revolution. To him, the site where now the Rumtek Monastery stand had all the auspicious qualities and was surrounded by the most favorable attributes like the flowing streams below with the backdrop of lofty mountain and overlooking a snow capped mountain range. It took in total four years to complete the structure of Rumtek Monastery.
Things To See In Rumtek Monastery
The Gems studded Golden Stupa of Karma Nalanda Institute of Buddhist Studies
The original foundation of Rumtek Monastery
Sacred relics and artifacts brought from the Kagyu Sect Headquarter in Tibet
Must Do Things In Rumtek Monastery
Spinning the prayer wheels
Being a part of the morning or evening prayer
Learning about the Buddhist Philosophy in Karma Nalanda Institute
Religious Events In Rumtek Monastery
Masked dance known as Chaam performed during Losar, the Tibetan New Year and in auspicious day of Saga Dawa.
Timing Of Rumtek Monastery
Tourists should note the timing of Rumtek Monastery to avoid any hassle during their trip. Rumtek Monastery remains open from 6am to 6pm. Tourist need to pay small an amount of rs10 to visit Rumtek Monastery.
Things To Remember While Visiting Rumtek Monastery
Visitors should not make loud noises within the premises of Rumtek Monastery as it is known to be disrespectful
Visitors should open their shoes before entering the building of Rumtek Monastery
How To Reach Rumtek Monastery
By Air: The nearest airport of Rumtek Monastery is in Bagdogra. From Bagdogra Airport it takes approx 4hrs to reach Rumtek Monastery.
Distance: The distance between Bagdogra to Rumtek Monastery is 125 kilometers.
By Rail: The nearest railway station of Rumtek Monastery is NJP (New Jalpaiguri Railway Station). It is an approx 4hrs drive to reach Rumtek monastery from NJP.
Distance: The distance between NJP to Rumtek Monastery is 122 kilometers.
Travelers can directly rent a car to reach Rumtek Monastery from Bagdogra and NJP. With Car Rental Service of North Bengal Tourism traveler can easily rent a car from Bagdogra to Rumtek or hire a taxi from NJP to Rumtek at a reasonable price rate.
Most of the visitors prefer staying in Gangtok and adding Rumtek Monastery in their Gangtok Sikkim Tour Plan. With Sikkim Tour Package of North Bengal Tourism travelers get an insight in the life of Buddhist Monk of Rumtek Monastery while visiting other famous tourist attractions in Gangtok by only spending a decent amount of money.