Sandakphu Trek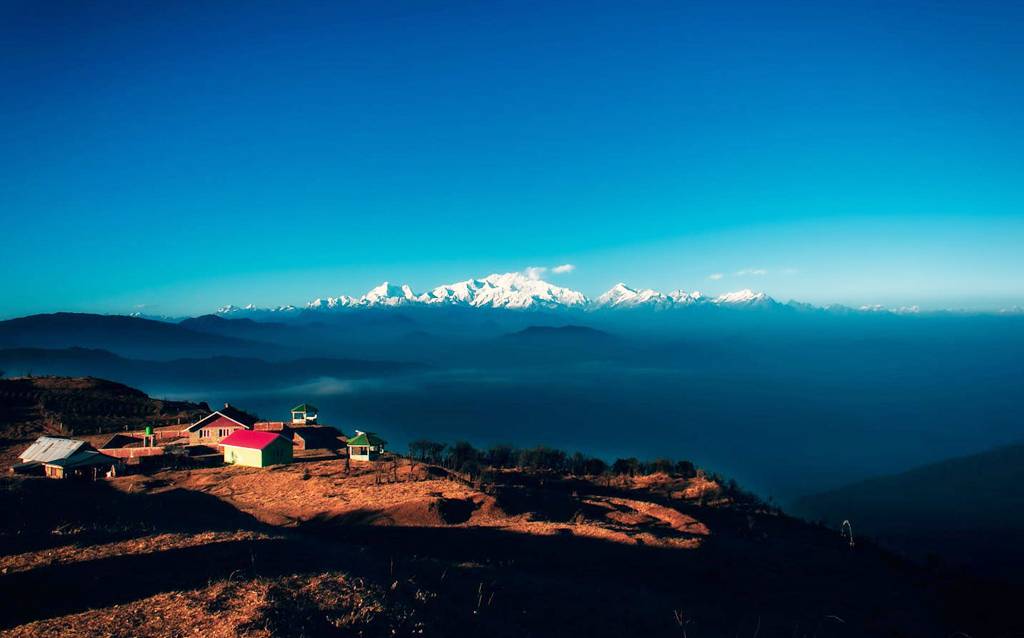 Sandakphu or Sandakfu or Sandakpur is the dreamland for all the trekkers. From Darjeeling, the distance to Sandakphu Trek is 58kms (26km up to Manebhanjan). Situated at an altitude 11,929ft (i.e. 3,636 meters) Sandakphu is the highest peak in the state of Ilam, Mechi, Nepal and West Bengal, India. It is the highest point of the Singalila Ridge in Darjeeling district on the West Bengal-Nepal border. Sandakphu means 'Height of poisonous plant' derives its name from the poisonous plant that grows on the hilltop. Offering the best of the views of the Everest, Kanchenjunga, Lhotse and Makalu, the tour to Sandakphu has got all the reasons to be known as the wonderland for all the trekkers.

Trekking through the forests of flowering rhododendrons of numerous types, giant magnolias, spruce and wide range of amazing orchids. There are over 600 varieties of orchids in this area, the largest concentration in any single geographical area in the world. You can see them bloom in spring.
How to Reach Sandakphu?
There are two ways to reach Sandakphu. One can take a car or trek. The route for trekking starts from Manebhanjan and passes through many areas before reaching the final destination. Here are the possible transportations you can use:
Sandakphu Trek by Train
If you are planning to visit Sandakphu Trek by train, New Jalpaiguri is the nearest Railway station (NJP) of it. NJP has a connection with other major railway station of Kolkata, Mumbai, Delhi, Chennai, etc. So, after reaching NJP.
Sandakphu trek by Air
Bagdogra is the nearby Airport of Sandakphu Trek. The distance between Bagdogra Airport and Sandakphu is approximately 115 km. Direct flights are available from all the major cities like Kolkata, Mumbai, Delhi, Chennai, etc.
Sandakphu trek by Road
Reaching Sandakphu by road is the most convenient way. Many Private and Government buses are available from Siliguri to Maneybhanjan via Sukhiapokhri. Buses are also available from Kolkata, Siliguri and Darjeeling. This mode of transportation is not recommended as it is quite tiresome and exhausting.

Hiring a car or taxi is the most suitable choice. If you book a complete tour package from North Bengal Tourism, everything will be managed by us so that you can enjoy your tour without indulging yourself in the complex arrangement process.
Sandakphu Weather
Due to its high altitude, the weather of Sandakphu Trek stays always cold. Sometimes the temperature can go down to zero during any seasons. Here is how the weather of Sandakphu will stay during your tour from January to December.
Sandakphu Trek in January to April
During the month of January, the temperature ranges from -5° Celsius to 6° Celsius. It is one of the coolest months and this is the less crowded time for trekking.

The temperature in February ranges from -6° Celsius to 7° Celsius. Due to its chilled weather, you should carry warm clothes along with you. Moreover, heavy snowfall happens during this time.

During the months of March to April, the temperature ranges from -2° to 12 ° Celsius. Sandakphu Trek in March to April is going to be a memorable one as the weather is charming and the blooming rhododendron can be seen here.
Sandakphu Trek in May to August
The climate from May to June ranges from 6° to 15° Celsius. During these months, the weather of Sandakphu is pleasant and quite charming. Snowfall does not happen in these months. But it is advisable to carry raincoats and umbrella.

The temperature of Sandakphu sticks around 7° to 16° Celsius in the months of July and August. These are not the idle months to have a trekking tour in Sandakphu.
Sandakphu Trek in September to December
September to December is considered to be an idle time to have a trekking tour at Sandakphu. The weather and temperature become quite bearable and pleasant. The breathtaking vista of blooming rhododendron and snow-peaked Kanchenjunga is what you will observe during your Sandakphu Tour.
Best time to visit Sandakphu
There is no particular time or season to trek your way towards Sandakphu every season has its own magic. If you love colours, visit Sandakphu during the springs. See the rhododendrons bloom in a riot of colours. The whole path will be blasting in red, pink and white.

Sandakphu will bear a dreamy look in the monsoons. With the clouds hanging just above, you will be transported to the misty and dreamy land. However, it is advisable to avoid the monsoon season since the land becomes more prone to landslides.

October will give you the best view of the ranges. The sky will be clear and Kanchenjunga will appear with all her glory in front of you. And if you love snow, visit Sandakphu during December and January. The path will be covered with snow and you might even see a few frozen waterfalls on the way! Sandakphu will itself be snow-covered during this time.
Sightseeing on Sandakphu Tour
The best thing about the trek is that the view of the ranges stays with the trekker throughout the trek. You don't have to wait for a day; the first clear view of Kanchenjunga is seen on the very first day of the trek, at Upper Chitrey. And Kanchenjunga plays hide and seek with you throughout the trek.

After a tired and torturous hike, all your tiredness melts just at a look at the Kanchenjunga! However, you can also take a jeep from Darjeeling or Manebhanjan and head to this wonderful destination for a jeep safari that you may have never experienced before and beware the car ride will be really bumpy since it's a trekking route you won't be seeing any well-maintained road.

Apart from being a wonderland for all the trekkers, Sandakphu is also a paradise for all photographers from mesmerizing sunrise and sunset to a sky full of stars with a view that tends to take every trekker's breath away Sandakphu has got all of it.
Sandakphu Trek Cost
If you have planned to have a tour and wondering about the price, the Sandakphu Trek Cost will be about 500 to 700 per day per person including foods. Moreover, the complete tour cost is more than that including accommodations, meals and cars.
Hotels in Sandakphu
From the budget offering to the deluxe one, Sandakphu has all kind of accommodation options available. With the help of North Bengal Tourism, you can book an entire tour package with cars, accommodations and meals just by contacting us.
Conclusions
You may be a trekker, traveller, photographer or just a nature lover Sandakphu is a haven for all those who crave to feel and see the beauty of Mother Nature. You need to endure a moderately difficult trek in order to reach the summit, but you will be rewarded with awesome views of the snow-capped mountains. So, wait no more! Make a holiday schedule and explore this trekking paradise with North Bengal Tourism's tailor-made tour packages.
Places to visit in Darjeeling