Siliguri Tourism & Places to Visit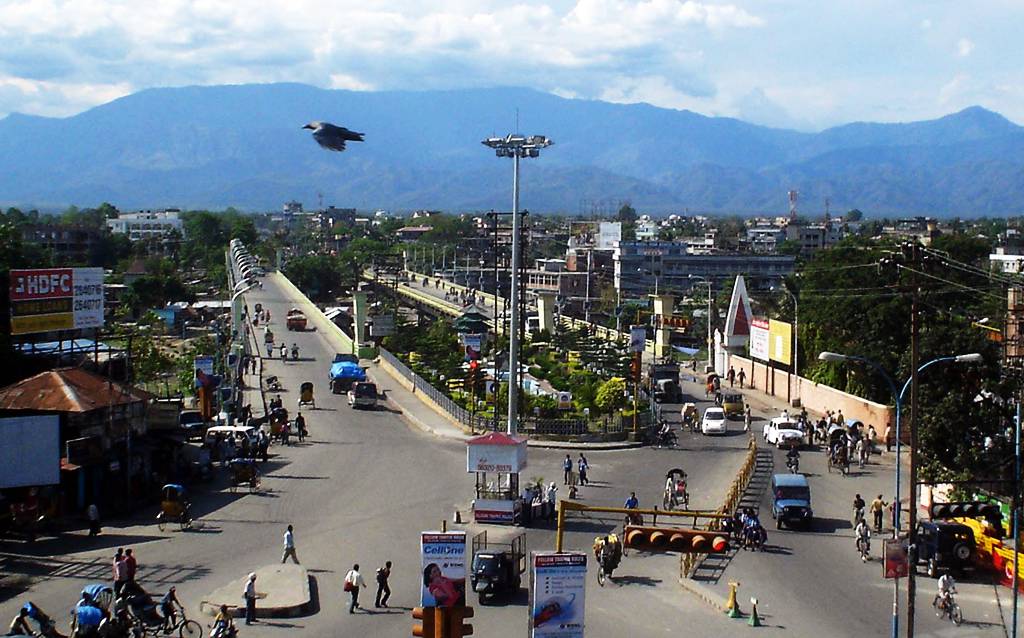 Known as the gateway of Northeast India, Siliguri is the second most important city in the state of West Bengal, after Kolkata due to its thriving tourism, business opportunity, and scenic location. Located at the foothills of the glorious Himalayan range, the city, apart from boasting a panoramic view of nature, has a number of tourist attractions to its credit. Right from the holy and sacred ISCKON (International Society for Krishna Consciousness) Temple and monasteries to the numerous shopping centers and the informative, yet entertaining Science City, Siliguri has a number of places that are worth watching.
Siliguri Sightseeing Places
Siliguri, also known to be "the gateway of North East India" has all the proportions to bewitch its visitors. Abundant with myriad sightseeing places, you can blindly include Siliguri in your next holiday checklist. Here are some of the places to see in Siliguri.
Sed-Gyued Monastery
One of the popular monasteries is The Sed-Gyued Monastery, Salugara. It is a sacred Buddhist destination near Siliguri. Sed-Gyued Monastery is located in Salugara, belonging to the Gelugpa. It was inaugurated by the Dalai Lama in November 2001. There is also a researcher center for Buddhist studies. It is famous for its 100ft tall stupa and certainly one of the best tourist attractions in Siliguri. Travelers can enjoy the view of the monastery from inside and outside. For those who seek inner peace, this Buddhist religious site is certainly a must-visit.
North Bengal Wild Animals Park
Also known as Bengal Safari Park, North Bengal Wild Animals Park is one of the reasons for thriving tourism in Siliguri. Blessed with rich flora and fauna, North Bengal Wild Animals Parks offers tourists to get closer to wild animals. Some of the wild animals you will get to see here are Tigers, leopards, crocodiles, Asiatic Black Bear, etc. Moreover, birds like Red Jungle Fowl, Kingfisher, Hornbill, dove, etc can also be seen here. Jeep safari can be availed here at a minimal price of rupees 200 (Ticket price is subject to change).
Suryasen Park
One of the most happening places in Siliguri is Suryasen Park. It is located within walking distance from International Market. The park offers a boat ride and lets the visitors take a stroll in the well-manicured garden and if you are tired from all the shopping you can take a tour of the whole park on the lookalike toy train. The park is mostly visited by the locals to spend the afternoon in a joyous manner. However, many tourists also visit the park when they spend a couple of days in Siliguri.
Savin Kingdom
If you want to do something more adventurous then you can go to the Savin Kingdom or the newly opened ice skating rink. From shopaholic to sports lover there is something for everyone in Siliguri. This amusement park offers several fun rides for its visitors to enjoy such as Break Dance, Paratrooper, Monorail, Swing Chair, Fume ride, Go Cart, and Dashing cars. Located near Darjeeling More at Durgapur, the Savin's Plaza has a large entertainment mall. There are several food courts and restaurants. A bar facility, a multiplex, and a resort retreat are also there. It is worth noting that the waterpark of Savin Kingdom opens at 10:30 am and closes at 6:30 pm whereas the Amusement Park opens at 11:30 am and closes at 7:30 pm.
North Bengal Science Centre
Run by the Indian government and located at Matigara, the North Bengal Science Centre is also one of the best places to visit in Siliguri. It is truly a heaven for science enthusiasts as they can have a wide array of experiences. The major attractions of the science centre are a digital planetarium, Taramandal, a mobile Science exhibition, a 3D theatre, a Park full of flowers and trees, a Fun gallery, a nature interpretation, etc. Visitors can also enjoy daily Science shows, sky observation and exhibitions shows here.
Mahananda Wildlife Sanctuary
You might be thinking that there is no place for nature lovers in this bustling city but you are wrong. Siliguri is also famous for its tea plantations on the banks of rivers Mahananda and Balsan. Siliguri is not as famous as Darjeeling for its tourist attractions but one cannot skip Siliguri as the few attractions that are there, are simply outstanding. Mahananda Wildlife Sanctuary is the most widely visited attraction of this town.
Coronation Bridge
Popularly known as Sevoke Bridge, Coronation Bridge is one of the major reasons for the growing tourism in Siliguri. More than 20 km distance away from the heart of Siliguri, the bridge is constructed above the shimmering Teesta River to connect Darjeeling with Jalpaiguri District. Built during the colonial era, it is one of the finest architectures near the city from where the scenic view of the daunting hills covered by the thick forest can be enjoyed.
How to Reach Siliguri
You can reach Siliguri by road, by air or by train. Being an important tourism and business hub near Darjeeling, the transportation system of Siliguri is quite superior.
By Road: Siliguri is linked with many major cities like Kolkata, Mumbai, Guwahati, Delhi, etc. Many private or government buses run every day from Kolkata to Siliguri. The distance from Kolkata to Siliguri is approximately 600 km and it usually takes 11 hrs.
By Air: Bagdogra is the nearest airport to Siliguri at a distance of 12 km. Directs flights are available from many major cities like Kolkata, Delhi, Mumbai, etc. After landing at Bagdogra Airport, Buses, and Taxis, and aurous are available to reach Siliguri.
By Train: Several trains are available from many big cities like Delhi, Mumbai, Kolkata, Chennai, etc. It is one of the most convenient ways to reach Siliguri. Just board a train and after reaching NJP, hire an auto or taxi.
Things to do in Siliguri
Siliguri and its tourism offer plenty of activities to its adventure-seeking tourists. Adventure enthusiasts, as well as every kind of traveler, will be thrilled to explore the city. The following are the activities they can do while staying in Siliguri.
Try Jungle Safari at Bengal Safari
Have a thrilling Elephant Safari and Jeep Safari in the North Bengal Wild Animals Park. Have a closer look at the wild animals like tigers, leopards, deer, etc. The jeep safari is quite a fun activity visitors would certainly love as they would go through the dense forest. Different kinds of safari can be availed here such as Mixed Herbivore Safari, Tiger Safari, Asiatic Black Bear Safari, Leopard Safari, etc.
Shopping in Siliguri
Shop at various malls and local markets in Siliguri such as Hongkong Market, Bidhan Market, Cosmos Mall, City Centre, etc. Shop your favorite things and be a part of the thriving tourism of Siliguri.
Visit Parks in Siliguri
Siliguri is full of theme parks and amusement parks. Parks like Baghajatin Park, Dreamland Amusement Park, Madhuban Park are worth visiting.
Explore Religious Temples
Explore religious temples like Salugara Monastery, Iskcon Temple, Sevoke Kali Mandir, etc. Witness and participate in religious programs of these temples and monasteries.
Have a Sightseeing Excursions
Adjacent to Siliguri, there are many tourist destinations. From the city, travelers can quite easily visit Darjeeling, Sikkim, Dooars, Kalimpong, and more.
Visit Picnic Spots in Siliguri
Have a memorable picnic at some of the renowned picnic spots in Siliguri. Some of the picnic spots in and around Siliguri are Dudhia, Madhuban Park, Rohini, Mongpong, Sevoke, etc.
Weather and Best Time to Visit
The weather of Siliguri stays charming all through the year. The temperature does not reach too high or does not get too low. Hence, the tourism of Siliguri is booming due to its appealing weather.
March to May is the months of summer in Siliguri. The temperature goes up to 37°C sometimes. The sky remains quite fair and sunny.
June to September is the season of Monsoon in Siliguri. This time heavy shower can be seen. The entire city starts to look green. During this season, the temperature ranges from 23°C to 30°C.
November to February is the season of winter in Siliguri. The temperature goes down rapidly from 30°C to 10 or 12°C. This is considered to be a pleasant temperature.
The best time to visit Siliguri is from November to February when the weather is pleasant and you can enjoy the beauty of this city at its most.
Our Best Tour Packages on Siliguri
The forest-covered foothills present a panoramic sight for the visitors of Siliguri. The myriad flora in the Terai to the north and the agricultural flats, along with tea gardens to the south combine to form beautiful vistas, thus Siliguri and its tourism are uncommon around most other cities of India. Its amazing views really charm the visitors to have a look at it. With most of our Darjeeling tour Packages and also Dooars Tour Packages, you can quite conveniently explore and witness the ever thriving tourism of Siliguri.
F.A.Q on Siliguri Tourism
Q. What are the best places to visit in Siliguri?
The top attractions in the city are Iskcon Mandir, Savin Kingdom, Mahananda Wildlife Sanctuary, City Center, Coronation Bridge, Suryasen Park, and more.
Q. What are the activities to do in the city?
One can visit the malls such as Vega Circle, City Centre. Explore religious sites like Salugara Monastery, Iskcon Temple, and Sevoke Kali Mandir.
Q. Is Siliguri worth visiting?
Siliguri is one of the most important cities in terms of tourism as well as business opportunities in West Bengal. Visitors can enjoy a great trip to sightseeing places while staying in the luxury resorts and hotels.
Q. Is this city safe for tourists?
Yes, it is quite safe. Recorded criminal activities are surprisingly lower as compared to the other cities in West Bengal.
Q. What are the accommodation options in the city?
There are many hotels and resorts available to book here in this city. Every kind of hotel (budget, luxury, deluxe) can be booked depending on the budget and requirements of the guests.
Q. How is the weather in Siliguri?
The weather of Siliguri is too pleasing. During the season of summer, the temperature does not cross above 40° Celcius, and during winter, it hovers around 12° Celcius to 20° Celcius.
Places to visit in Darjeeling