SIMTOKHA DZONG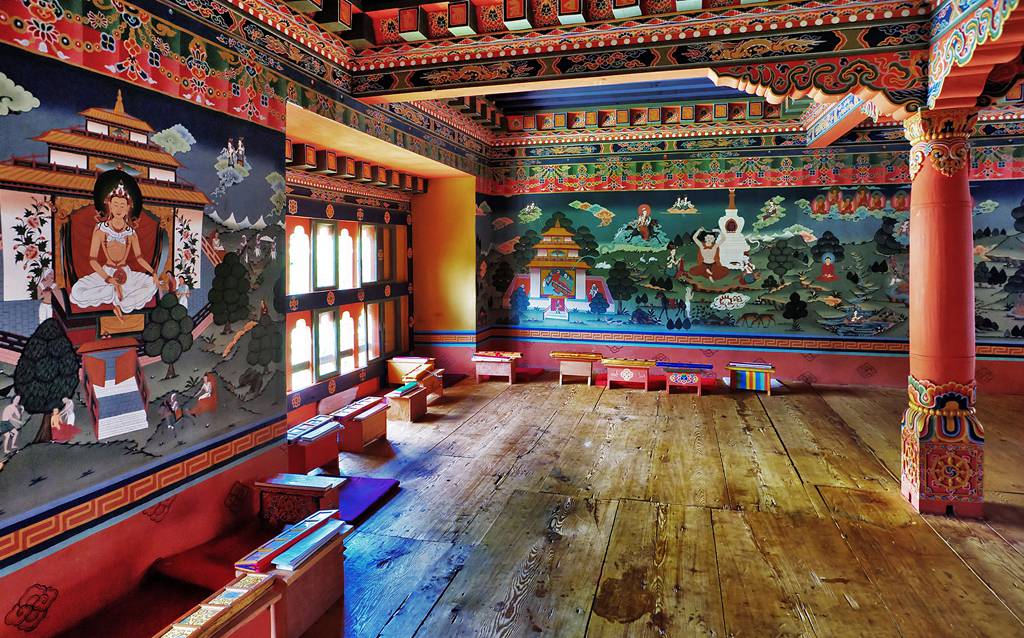 Simtokha Dzong also known as Sangkak Zabdhon Phodrang is a quaint fortress like monastery of Thimphu Bhutan. In Bhutanese dialects the name "Sangkak Zabdhon Phodrang" means "Palace of Profound Meaning of Secret Mantras". Situated in the southern region of Thimphu, Simtokha Dzong is the first structure of its kind to be built in Bhutan. Simtokha Dzong is one of the few monuments built in 17th century which are still intact in its original state.
Showcasing the skilled craftsmanship of Bhutanese architecture, Simtokha Dzong has become a one of the must visit place in Bhutan and a favored sightseeing place in Thimphu for the archeologist and tourist who are curious about the ancient Bhutanese era.
History Of Simtokha Dzong
The foundation of Simtokha Dzong was laid in early 17th century 1629 under the commandment of Zabdrung Ngawang Namgyal, the unifier of Bhutan. Strategically poised in the valley leading towards Dochula Pass and Eastern Bhutanese Region, Simtokha Dzong has repelled many forces from entering Thimphu Valley.
At the time of construction, Simtokha Dzong was attacked by an alliance of Tibetans and five Bhutanese lamas from rival Buddhist schools who opposed the rules of Zabdrung. However, their attack was repelled and the leader of the coalition, Palden Lama, was killed.
In 1630, the Tibetans again attacked and this time they successfully captured Simtokha Dzong. Later Zabdrung regained control of Simtokha Dzong when its main building caught fire and the roof collapsed, killing the invaders.
Interesting Fact About Simtokha Dzong
Did you know? Simtokha Dzong is believed to build on the stomach of a demoness who was spreading illness in that region.
Things To See In Simtokha Dzong
The ancient structure of Simtokha Dzong restored with the help of Japanese architecture
The amazing figurine of Sakyamuni Buddha sited in the central lhakhang of Simtokha Dzong
The slates near prayer wheels with the cravings depicting the revered saints and ingenious philosopher
The painting of Zabdrung and statues of Chenresig, and White and Green Tara kept in the western part of Simtokha Dzong
The preserved tigers' tails and gun hanging the pillar of Simtokha Dzong
Things To Do In Simtokha Dzong
Observing the ancient murals and resorted architecture of Simtokha Dzong
Spinning prayer wheels near the central utse of Simtokha Dzong
Watching the panoramic view of valley enclosing Simtokha Dzong
How To Reach Simtokha Dzong
Simtokha Dzong is located in southern side of Thimphu Valley. Visitors can reach Simtokha Dzong either by hiring a car from Thimphu and if they are feeling adventures they can walk their way to Simtokha Dzong.
Distance: The distance between Thimphu to Simtokha Dzong is 5 kilometers.