SUNTALEKHOLA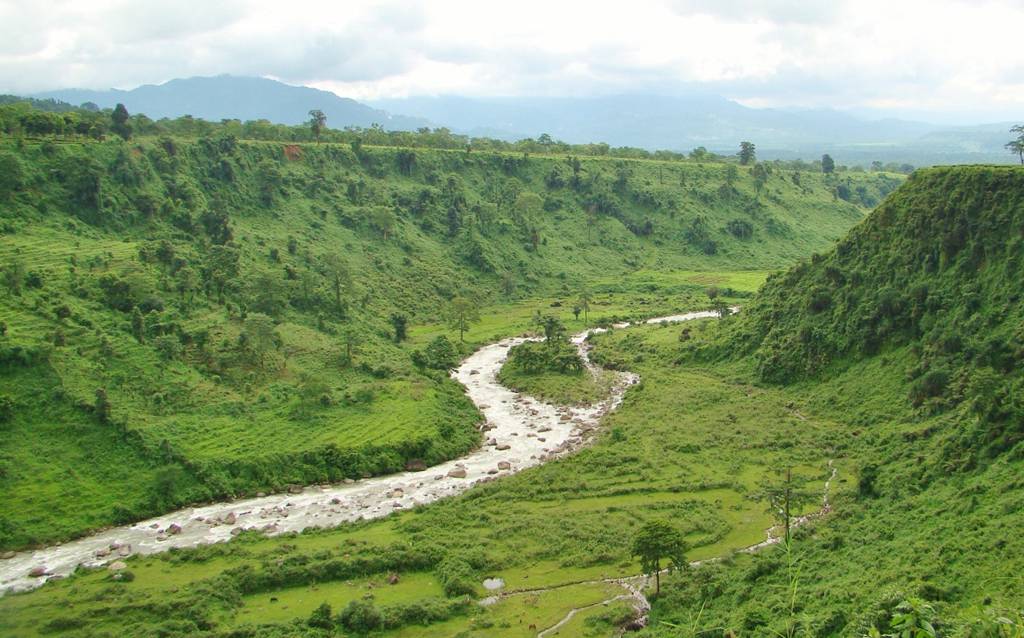 Suntalekhola also spelt as Suntaley Khola or Suntaleykhola is a famous offbeat destination of Dooars and North Bengal Region. With an altitude ranging between 650 to 950mt Suntalekhola derived its name from the native language where the word "Suntaley" stands for "Orange" and "Khola" for "Stream". Sited on the foothills of Eastern Himalayas Suntalekhola is a scenically blessed village. It is located 5km from Samsing.
Suntalekhola with its astounding location is an ideal place for an overnight stay in Dooars. A trek from Samsing to Suntalekhola with scenic green nature, flow of mountain streams will bring you very close to nature and refresh your mind and soul. Suntalekhola is located adjacent to Bhutan and one can have a quick view of Bhutan Hills from this point. Suntalekhola is home to many varieties of butterflies, and birds like Pond Heron, Black Eagle, Hill Partridge, Red-vented Bulbul, etc making butterflying and birding favored tourist activity.
There are many sightseeing places in Suntalekhola which has hyped the interest of travelers Rocky Island being the most favored one. Located 3km from Suntalekhola in Murti River Rocky Island is a famous adventurer hub of Dooars. With amazing trekking route and undulating view of scenic gorge and rolling mountains Suntalekhola has enthralled the mind of many travelers. One can trek to Rachela Pass with proper permission and a local guide. Perched at an elevation of 3152mt Rachela Pass Trek has lured adventurers towards Suntalekhola from far and wide. Suntalekhola is also admired for its trekking trails. Another popular trekking trail takes visitors to Tree Fern Point which is renowned for its camping site. From here visitors can witness the outstanding vista of the mighty Himalayan range and luxuriant forest and tea garden of Dooars. One can even see the Bhutan hills from this point.
When To Visit Suntalekhola
Every season has its own charm to relish in Suntalekhola. Suntalekhola is one of the few places in Dooars which can be visited throughout the year. But if visitor wants to partake in activities like trekking and nature walk the best time to visit Suntalekhola is just after the rainy season, from September to February. During these months along with soothing weather there is less to no rainfall in Suntalekhola.
Where To Stay In Suntalekhola
There are many accommodation facilities for the tourist traveling in Suntalekhola. Visitors can stay in cozy homestays while traveling in Suntalekhola. Here they can get an insight about the rustic lifestyle. They can also opt to stay in forest bungalow and lodges maintained by WBFDC. Suntalekhola Jungle Camp being the most preferred place to stay in Suntalekhola. Being maintained by government officials all the forest bungalow and forest rest house need to be booked in advance.
How To Reach Suntalekhola
Suntalekhola is well-connected with other major cities and town of West Bengal region as it lies at a distance of 80 km from Siliguri from where buses and cars are available. Visitors can also board a train for Chalsa Railway Station to reach Suntalekhola since it is the closest railway station located at a distance of 23km. They can also board a flight for Bagdogra to reach Suntalekhola since it is the closest airport located at a distance of 98km. Then from the respective junction, they can rent a car or hire a taxi to reach Suntalekhola.
Questions may arise while planning to visit Suntalekhola
Places to visit in Dooars