TACHOGANG LHAKHANG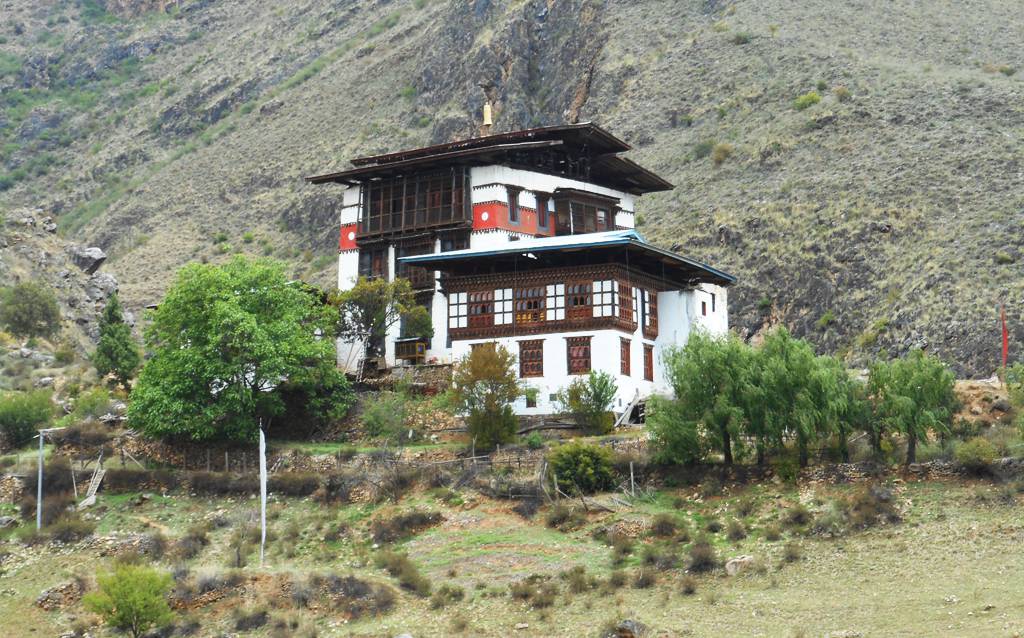 Tachogang Lhakhang overlooking the lofty mountain and gurgling river stream is a quaint monastery in Paro Valley. Situated across the main Paro-Thimphu highway it has become a favored place to visit in Paro. Tachogang Lhakhang was built by the successor of Thangtong Gyalpo to commemorate his memories and till date privately run by his successors.
The most iconic feature of Tachogang Lhakhang is its iron bridge. Festooned with colorful prayer flags the Tachogang Lhakhang Bridge suspended over Pa Chuu has enthralled the minds of many travelers visiting Bhutan.
Tachogang Lhakhang with its surreal vista of lofty mountain and shimmering river stream along with its iconic iron bridge has made it one of the must visit destination in Paro for the visitors traveling in Bhutan. Experience the thrill of walking across the ancient iron bridge while visiting the famous Tachogang Lhakhang of Paro.
Things To See In Tachogang Lhakhang
The historic Iron Bridge of Paro Valley
The astounding view of Pa Chhu meandering through the lofty mountain
The Masonry structure of the Tachogang Lhakhang Bridge
The exquisite paintings and figurine of Thangtong gyalpo adorning the hall of Tachogang Lhakhang
Thing To Remember While Visiting Tachogang Lhakhang
Tachogang Lhakhang is a private temple so visitors need to take permission from the monks to enter the lhakhang
Visitors need to be careful while crossing the Tachogang Lhakhang Bridge as most of the iron chains date back to 600 years
Visitors can visit the Tachogang Lhakhang Iron Bridge even without the permission
Who Built The Tachogang Lhakhang Bridge
According to the historical records the original iron bridge of Paro Valley was erected by the revered saint Thangtong Gyalpo. He collected the money to build the Tachogang Lhakhang Bridge by performing an opera.
Who Was Thangtong Gyalpo ?
Thangtong Gyalpo was a revered saint, blacksmith, poet, architect, and physician from Tibet. It has been reported that Thangtong Gyalpo built around 108 iron bridges throughout his life including the 8 bridges in Bhutan some of which are still in use.
History Of Tachogang Lhakhang Bridge
According to the historic records the original Iron Bridge of Paro Valley was erected during 1400 by Thangtong Gyalpo. In 1969 the original iron bridge of Tachogang Lhakhang was destroyed by the high water, but they could rescue few of the original chains built by Thangtong Gyalpo. After this event, a suspension bridge took place of the iconic iron bridge. Later in 2005 the 3rd Dragon King, Jigme Singe Wangchuck ordered to use the rescued iron chains to restore the bridge in its original form.
How To Reach Tachogang Lhakhang
Visitor can walk either walk or take a car to reach Tachogang Lhakhang as it is located at a 30mins walking distance and 10mins driving distance from the main town of Paro Valley.
Distance: The distance between Paro to Tachogang Lhakhang is 5 kilometers.