THIMPHU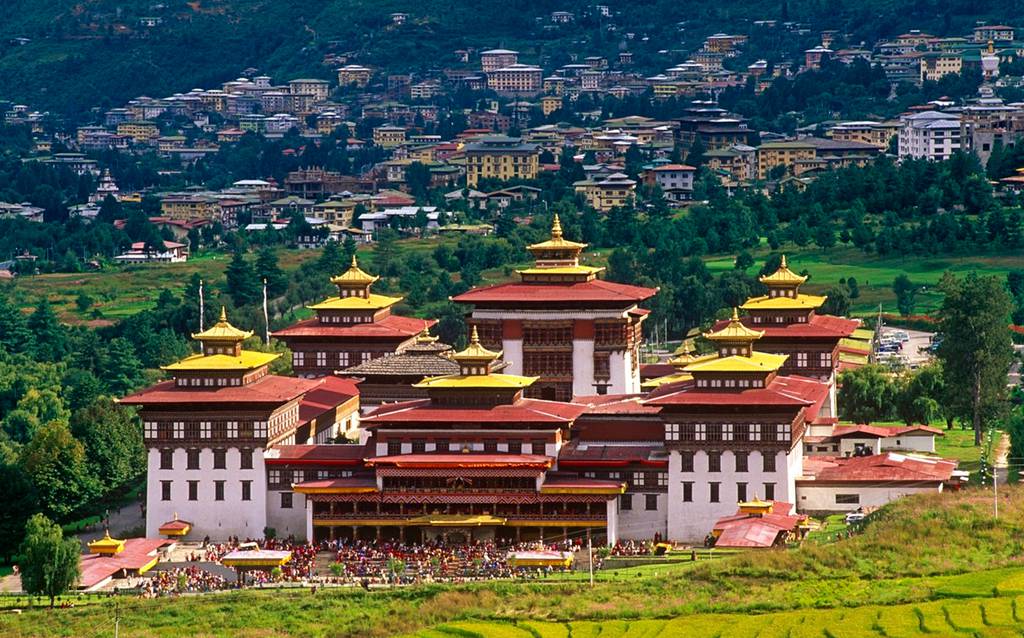 Thimphu also spelled as Thimbu, situated in the Central Bhutan is the capital city of the Himalayan Kingdom Bhutan. Since 1951, the scenic city of Thimphu has been the capital of Bhutan. Surrounded by lofty mountains and shimmering stream of Thimphu Chu, Thimphu has become one of the must visit tourist places in Bhutan. Thimphu with its scenic beauty and traffic free roads has attracted travelers from far and wide.
Adorn the flawless blend of indigenous Bhutanese culture with the modern tradition in Thimphu while being enthralled by the surreal beauty of this capital city.
Places To Visit In Thimphu
Dochula Pass
Mothitang Takin Preserve
National Folk Heritage Museum
Kuensal Phodrang
Religious Sightseeing Places In Thimphu
Cheri Monastery
Trashichhoe Dzong
Thimphu Memorial Chorten
Tango Monastery
Things To Do In Thimphu
Observing takin, the national animal of Bhutan, in Mothitang Takin Preserve
Getting an insight in the Buddhist philosophy by visiting the dzong and monasteries in Thimphu
Learning about the influence of ancient tradition in the present day community of Bhutan in Thimphu
Being part of the annual tsechu in Thimphu
With North Bengal Tourism Bhutan Tour Package, travelers can explore the beautiful city of Thimphu and its surrounding places. Bhutan Tour Package of North Bengal Tourism is budget friendly and tailor made according to travelers liking.
Hotels In Thimphu
Being the capital city of Bhutan, there are many options of accommodation in Thimphu. Visitors will find cozy homestay, resorts, and budget hotels in Thimphu. With hotel booking service of North Bengal Tourism travelers can save time and money for booking hotels in Thimphu.
Best Time To Visit Thimphu
April-June: During this time of the year, Thimphu is sprawled with the blooming vista of rhododendron and jacaranda. Along with pictorial view of vibrant landscape visitors can also relish the soothing weather of Thimphu.
July-September: During monsoon season, Thimphu receives an average amount of rainfall. But due to sudden rainfall accompanied with thunder storm the road leading to Thimphu becomes difficult to approach.
October-March: Winter season is the best time to visit Thimphu since there is little to no rainfall travelers can witness the unhindered view of scenic gorge and daunting hill enclosing Thimphu.
How To Reach Thimphu
Air: The nearest airport of Thimphu is in Paro. From Paro Airport it is an approx 2hrs ride to reach Thimphu.
Distance: The distance between Thimphu to Paro is 51 kilometers.
Rail: The nearest railway station of Thimphu is in Hasimara. It takes an overall 6hrs journey to reach Thimphu from Hasimara,
Distance: The distance between Thimphu to Hasimara is 183 kilometers.
Road: Visitors can also reach Thimphu by driving from Phuentsholing, the southern border town of Bhutan. It is an overall 5hrs ride from Phuentsholing to Thimphu.
Distance: The distance between Thimphu to Phuentsholing is 164 kilometers.
Visitors can cover this distance to reach Thimphu by directly hiring a car from Paro, Phuentsholing and Hasimara. With Car Rental Service of North Bengal Tourism, travelers can easily rent a car or hire a taxi from Paro, Phuentsholing, and Hasimara to Thimphu at a reasonable budget.