TRASHICHHOE DZONG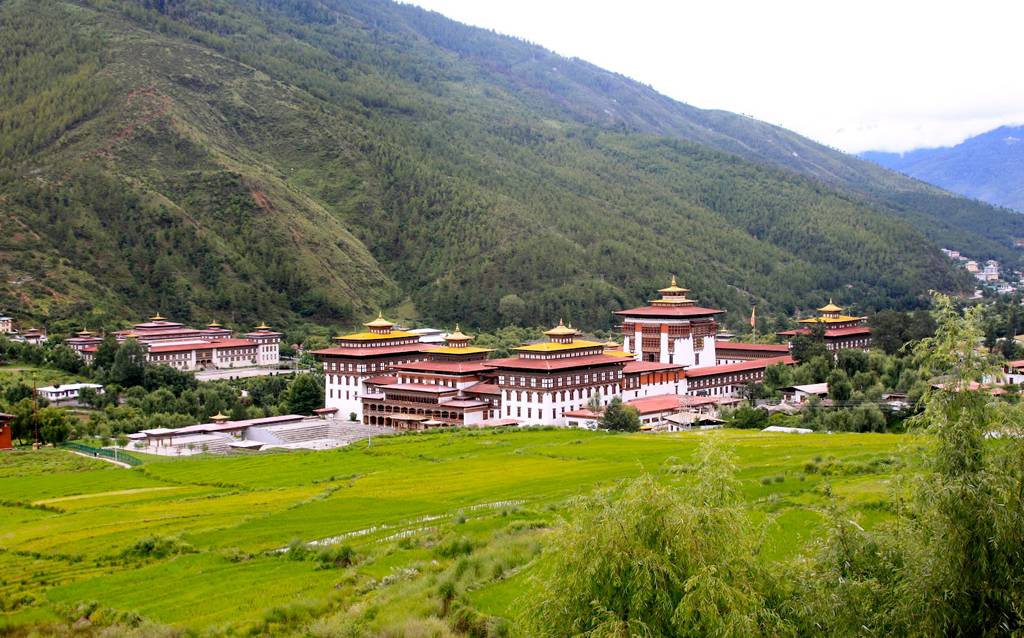 Trashichhoe Dzong situated along the river banks of Wang Chuu is a historic fortress like monastery of Thimphu Bhutan. In native language the word "Trashichhoe" stands for "Fortress of Auspicious Doctrine". Trashichhoe Dzong with its white washed walls and red roof has captivated the minds of many travelers visiting Thimphu.
Trashichhoe Dzong has been a must visit destination of Bhutan and a favored sightseeing place in Thimphu for the travelers who wish to admire the early era Bhutanese infrastructure while getting an insight about the philosophy of Lho-Drukpa sect Buddhism.
History Of Trashichhoe Dzong
According to the ancient records, the foundation of Trashichhoe Dzong was laid in 1216 by Lama Gyalwa Lhanangpa above the site of present dzong. During the fire of 1772 the original building of Trashichhoe Dzong was majorly destroyed. And later, the foundation of current dzong was established by the 16th desi, Sonam Lhudrup.
After an earthquake destroyed a major portion of Trashichhoe Dzong, it was rebuilt by the 3rd Dragon King, Jigme Dorji Wangchuk and since then Trashichhoe Dzong has remained the summer residence of the monastic body.
Interesting Fact About Trashichhoe Dzong
Did you know? Trashichhoe Dzong was the site where the 5th Dragon King was coroneted in 2008.
Things To See In Trashichhoe Dzong
The Central Utse tower, the Lhakhang Sarp, and main Gonkhang from the original infrastructure of Trashichhoe Dzong
The Thangkhas and painting adorning the prayer hall of Trashichhoe Dzong
Visiting Time Of Trashichhoe Dzong
Trashichhoe Dzong can be visited by the tourist anytime between 5:30am-6:30pm from Monday to Friday and from 8am-6pm on Saturdays & Sundays.
During winter season Trashichhoe Dzong closes by 5:30pm for tourist although the opening time remains the same but Trashichhoe Dzong.
How To Reach Trashichhoe Dzong
Visitors need to walk for 45 mins to reach Trashichhoe Dzong from the main city of Thimphu.
Distance: The distance between Thimphu to Trashichhoe Dzong is 5 kilometers.