NGT ordered WBFDC to shut down Accommodations in Buxa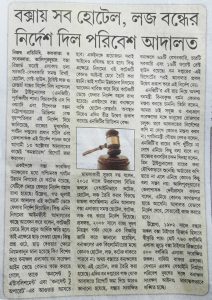 Buxa Tiger Reserve is the 15th Tiger Reserve in India and is one of the famous forest region of Dooars. Dooars are the alluvial floodplains of Eastern India. As we all know, Dooars is famous for its dense forest and jungle lodges. We will find many resorts, bungalow, and lodges in forested area of Dooars.
Lately there has been a huge increase in the number of hotels and resorts in the  Buxa. Mean while there are in total 89 accommodation facilities in Buxa which consist of 69 private resort and 20 lodges run by the forest department. As a result, National Green Tribunal ordered Forest Department to shut down all the resorts and hotels in Buxa. Not only will the hotels will be shut down but they will also be demolished.
What is reason behind closing the hotels and lodges in Buxa?
Well according to a news article of 31st August 17, National Green Tribunal had directed the government on July 27 to permanently shut down both private and government accommodations in Buxa. Originally on Dec 2105, Subhas Datta, an environment activist hailing from Calcutta had filed a petition in NGT.

According to that petition many accommodations in Buxa Tiger Reserve has violated the Forest Act which in the long term could have an adverse effect on biodiversity. In other word, all the resorts in Buxa were running without the proper clearance. And for this reason, NGT, after 2 years of filing the petition, has ordered the forest department to close down all the accommodation facilities in Buxa Tiger Reserve. And they have given them the deadline till 13th October 2017.
Although, visitors can no longer find lodging in Buxa, they can still go for jungle safari in Buxa Tiger Reserve.
"Conservation is a state of harmony between men and land." – Aldo Leopold